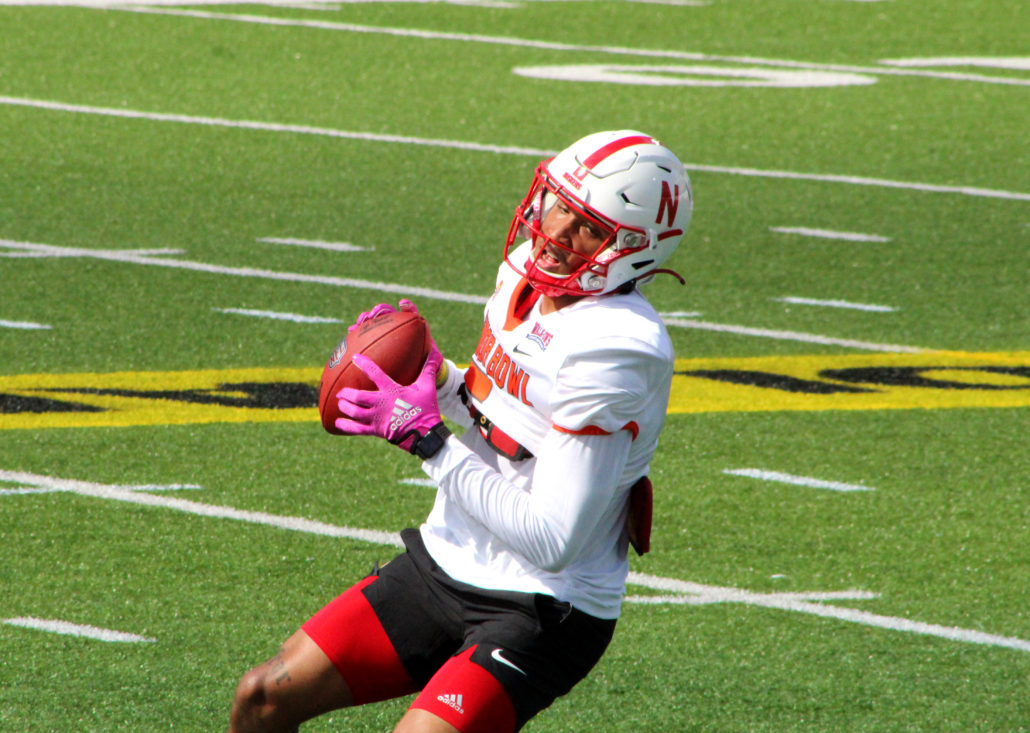 MOBILE, Ala. — The Nebraska wideout made a name for himself in the Big Ten after he broke the school's single-season record for receiving yards.
Now Trey Palmer is riding that big wave of momentum into the most important week of his life as an athlete. The path to draft has started with the annual Senior Bowl week, where the best of the best compete and try to leave a lasting impression on the NFL scouts.
Not to mention the coaches put the players through intense practices to see if they got what it takes to succeed at the next level. Palmer believes he's one of those individuals, and he's looking to raise a few eyebrows during his time in Alabama.
"It's just a blessing to be out here really," Palmer said. "Just show what I got to the world, to the coaches and people that may want to draft me one day."
Although Palmer is having fun, and it's a learning experience, he remains extremely confident. After all, Palmer is former five-star prospect, who's lightning fast and loves to stretch the field on defenses. Palmer also earned second-team, All-Big Ten honors in his lone season as a Husker. The Louisiana native believes he was in the right scheme offensively and is glad the quarterback got him the ball.
Being a Husker taught him patience and how to play like a veteran. Now he plans on applying that all week during practice. Everyone knows how fast Palmer is, but in the NFL everyone has speed, so he's trying to sharpen his skills in other areas. It's no mystery that he had a few drops last season. And he knows what it's going to take to make him an every down receiver in the pros.
"Consistent catches and my route-running," he said. "Just looking the ball in, hand to eye coordination."
The six-foot, 193-pounder has decent size hands, and a 77-inch wingspan, but he'll need to use that against elite cornerbacks for seperation. Still, Palmer feels he has what the other receivers competing at the Senior Bowl don't.
"Take the top off the defense, that's my skill, I run fast and make plays," the 21-year old said.
Palmer is taking notice of familiar faces during drills also. Iowa's cornerback Riley Moss caught his attention during Tuesday's practice. He's loving every bit of the action too, because they didn't line up against each other a lot during the Heroes Game.
Palmer understands the interview process is just as important as the results on the field. He grew up an hour away from New Orleans, so of course he can't wait to talk to the Saints organization. Above all Palmer isn't taking anything for granted, because he knows very few individuals get a chance to be in this position.
Which is why he's dialed in on the task at hand. And one of those tasks is running a 40-yard dash  in 4.2 seconds. With that type of speed Palmer will catch the attention of several scouts.