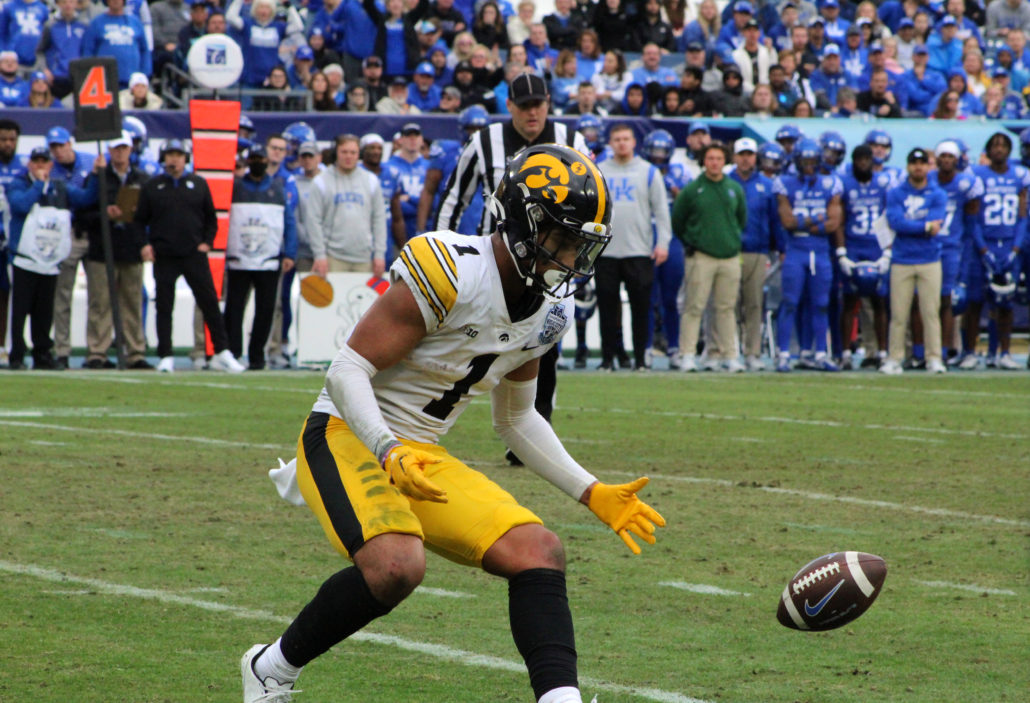 NASHVILLE, Tenn. — The former five-star prospect lived up to his billing in the Music City Bowl Saturday afternoon, and left a lasting impression with a stellar performance.
Xavier Nwankpa spent most of the season learning from Iowa's All-American safety Kaevon Merriweather, so when he got the opportunity to take his place he exceeded expectations. The true freshman proved he was a legit ballhawk, with eight tackles against Kentucky, plus he picked off a pass and returned it to the house.
Once the pigskin was in the air it became a pure adrenaline rush for Nwankpa, and he used his athleticism and instincts to take care of the rest.
"I saw the ball in the air and a chance to go get it," Nwankpa said. "I really blacked out after that and just ran in
the end zone, celebrated with my teammate and it was a special moment."
The Hawkeyes have gained notoriety through the years of fielding elite defensive backs, and Nwankpa is the latest version. He's looking to carry the torch Merriweather left behind and is building his own legacy in the process. Coach Kirk Ferentz has watched his growth through practice and trusted he was going to thrive in the secondary.
Nwankpa is very versatile for a defensive back, which is vital when playing safety in the Big Ten. The six-foot-two, 210-pounder excels against the run and in pass coverage, which solidifies he can play strong and free safety. Having the rare blend of speed and athleticism, plus pure physicality is going to make Nwankpa an elite defender in Ferertz's eyes.
"You watch him doing things on special teams, and that's usually where especially with the perimeter guys, you start getting a good feel about a guy," Ferentz said. "He has been doing that, he is attentive, he has a great attitude and works hard, and that goes back to January when he showed up."
The Iowa native has pushed himself everyday to get stronger, faster and smarter. And he's comfortable with playing close to the line of scrimmage or back in coverage. Nwankpa just wants to be around the ball at all times, and feels he has enough skills to blanket half of a field. So he's proud of his performance against the Wildcats, knowing all of his hard work paid off.
"I was trying to get better every day, working out two positions," he said. "I really played free throughout the year, so playing strong and just learning from the people around me, especially Kaevon."
Nwankpa still wasn't satisfied with his performance though. He felt he left some plays on the field. After all, he's his own worst critic and graded himself with a B for his heroics in the Music City Bowl. So there's the hunger for more and he's setting the bar high for himself.
"There were a couple of mistakes I made, and there's always room for improvement, so just focusing in on getting back after the new year."