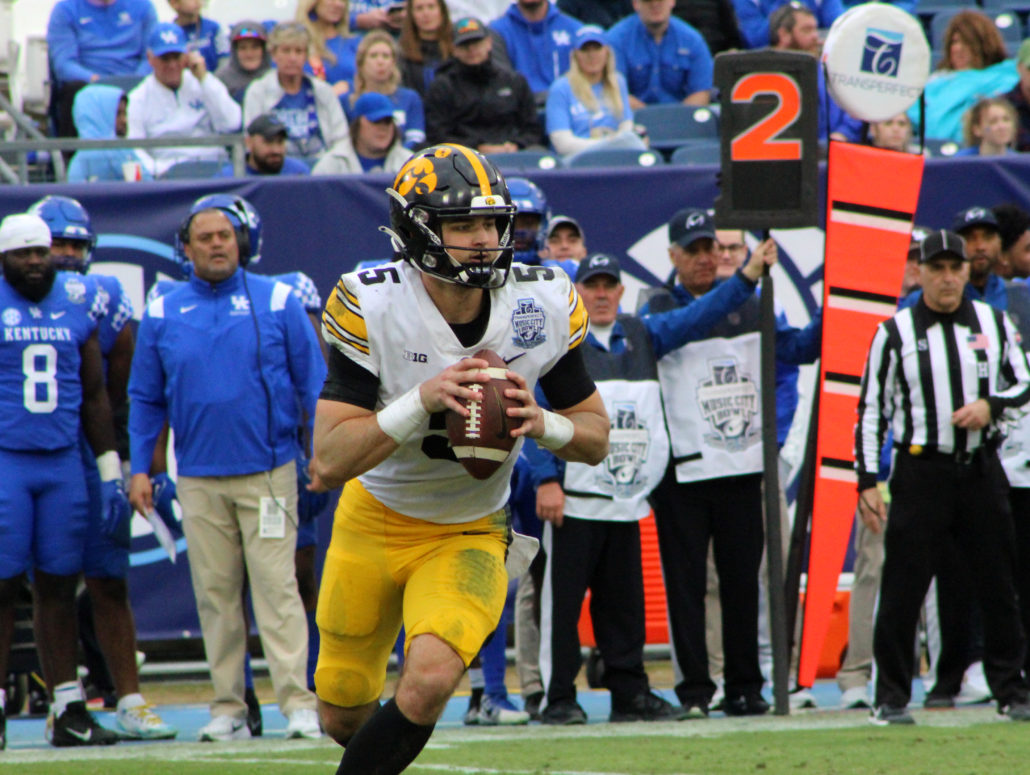 NASHVILLE, Tenn. — With Spencer Petras sidelined with an injury, and Alex Padilla in the transfer portal, Kirk Ferentz gave quarterback Joe Labas his first career start.
It wound up being a great decision too, considering the redshirt freshman put together a solid performance and led Iowa to a 21-0 victory over Kentucky in the Music City Bowl. None of his success came as a surprise to Ferentz though, After all, he has witnessed the signal-caller's maturation process through three weeks of practice.
"I got in trouble last year with this one, but if you saw him two weeks ago, whoa," Ferentz said. "The first couple of weeks were really bumpy, but last week he settled down a little bit, just an example, teamwork and being a good teammate."
That's mainly because Labas had Petras by his side guiding him through all of the mistakes. Fellow gunslinger Carson May also helped him through the growing pains during practice. Labas soaked up all of their knowledge and applied it with solid results on the gridiron.
The Ohio native completed 14 of his 24 passes for 139 yards and a touchdown. He also used his mobility at key times to extend plays, which added a new flavor to the offense.
Labas started off Iowa's scoring surge in the second quarter when he connected with tight end Luke Lachey for a 15-yard score. He didn't have to be a hero because Iowa (8-5) were up by 21 points at halftime. And Ferentz thought Labas was able to manage the game just fine, while dealing with a top-15 Wildcat defense.
"Petras was with him every play, and Carson had to get in the huddle with him every play even last week," he said. "So just guys helping each other out."
Labas was able to spread the wealth around too. The former three-star prospect connected with six different players on his passes, including All-Big Tight end Sam LaPort, who caught five.
Although the offense only racked up 206 total yards, and didn't convert a single third down, Labas never panicked and kept his composure throughout the contest. Most importantly he didn't make any mistakes as far as turnovers, and that's what really mattered to Ferentz.
"I don't mind telling you, we were worried about the 25-second clock, let's just start there" the 67-year old coach said. "Getting the ball snapped before that, that stuff isn't really reassuring sometimes."
Great quarterbacks make others around them better, and in Ferentz's eyes Labas showed how dynamic he can be in the offense. It's clear that the six-foot-four, 207-pounder was no statue in the pocket, and the rest of the offense was able to build off of his energy.
Michigan transfer Cade McNamara will make the position battle interesting approaching spring ball. As for now, Labas is 1-0 as Iowa's starter and is riding a big wave of momentum heading into the offseason, which is something Ferentz appreciates.
"He played with poise out there, and he has a little juice to him too, so that's fun to see."