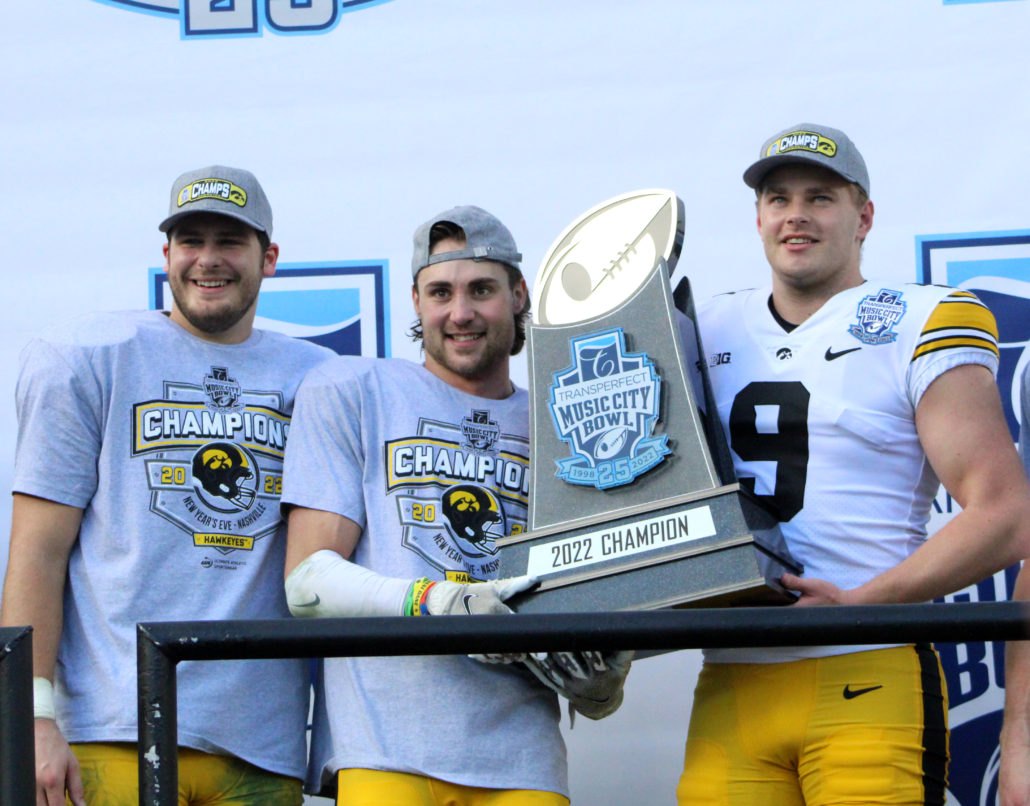 NASHVILLE, Tenn. — There's no denying the Hawkeyes were fueled by revenge when they stormed into Nissan Stadium Saturday.
After all, Iowa lost to Kentucky to end the 2021 season on New Year's Day. However, the Hawkeyes changed that narrative this time around, and downed the Wildcats 21-0 on New Year's Eve. Not only did Iowa rebound from its' home loss to Nebraska, but it also left Kentucky with a fat goose egg on the scoreboard for the first time, since October of 2019.
That's a jaw-dropping, span of 42 games. Everyone was anticipating a defensive slugfest, because that's what both teams are known for. And the Hawkeyes' defense dictated the contest throughout with tenacity, hard-hitting and discipline. Which is expected from a Kirk Ferentz-coached team.
Iowa jumped on Kentucky's neck from the start too. After a scoreless first quarter, the Hawkeyes found the endzone three times in the second, including two defensive touchdowns. First-time starter Joe Labas connected with tight end Luke Lachey for a 15-yard score. Not to mention defensive backs Xavier Nwankpa and Cooper DeJean returned their interceptions for touchdowns.
With a 21-point cushion heading into halftime, Iowa (8-5) was on cruise control the rest of the way. And that's how Ferentz liked it, because it took some of the pressure off Labas, and the freshman was able to play more loose in the pocket.
"Joe Labas might be as valuable as Cooper just in the fact that he didn't make any critical mistakes out there, and that's easier said than done," Ferentz said. "You know, just proud of the way he handled things and got thrown into it pretty suddenly."
Iowa's All-Big Ten tight end Sam LaPorta returned to the gridiron on a mission after missing the Nebraska game. He was very vital in the Hawkeyes' offensive strategy against the Wildcats, and even took a couple of snaps at quarterback. LaPorta also hauled in five passes for 56 yards, and was proud to play one last time in the black and gold with his teammates. The cherry on top for the John Mackey Award Finalist was seizing the victory though.
"Just really emotional, you pour a lot into this program," LaPorta said. "I said this a couple of weeks ago, but the more you put it in, the more it gives back to you."
Although Iowa was 0 for 11 on third downs, and finished with 206 yards of total offense, Labas had a solid debut and looked promising in Ferentz's eyes. The signal-caller completed 14 of his 24 passes for 139 yards and a touchdown. Labas performed like a seasoned veteran instead of a wide-eyed freshman that looked like a deer in headlights behind center. Most importantly, Labas didn't make any mistakes, thanks to a great supporting cast around him, which made his head coach proud.
"His growth, that's growth he wouldn't have gotten until the opportunity opened up," the 67-year old coach said. "He had a great attitude, he has really worked hard and I thought he did a really good job today."
Iowa dominated on defense, and helped the team record its' second shutout of the season. The Hawkeyes controlled the trenches and kept consistent pressure on freshman quarterback Destin Wade the entire afternoon. The Wildcats finished the game with a season-low, 185 yards of total offense.
Wade only completed 16 of his 30 passes, and Iowa never let him get comfortable in the pocket. He was pretty much on the run for his life most of the time, which solidifies that Defensive Coordinator Phil Parker's game plan worked to perfection. DeJean finished the contest with seven total tackles and an interception. For his heroics, he was named the Music City Bowl Most Valuable Player.
All-American linebacker Jack Campbell tallied a game-high, 10 total tackles. The Butkus Award winner also put Wade to the turf. Nwankpa added eight stops and Seth Benson recorded seven. Ferentz was very emotional after the game when he accepted the trophy and hugged his players at the podium. After the rollercoaster campaign the Hawkeyes had this season, everyone in attendance understood why.
"Just really happy for our guys, especially our seniors, what a way to send them off," he said. "It's been a great group, and I can't thank them enough for all they've done, each and every one of these guys has really embodied what it means to be a Hawkeye."
Now the nation's longest-tenured coach is 186-110 in his career with the Hawkeyes, which speaks volumes. It's no mystery with the new influx of players coming from the transfer portal, and a solid recruiting class, Iowa is trending up for the 2023 season.