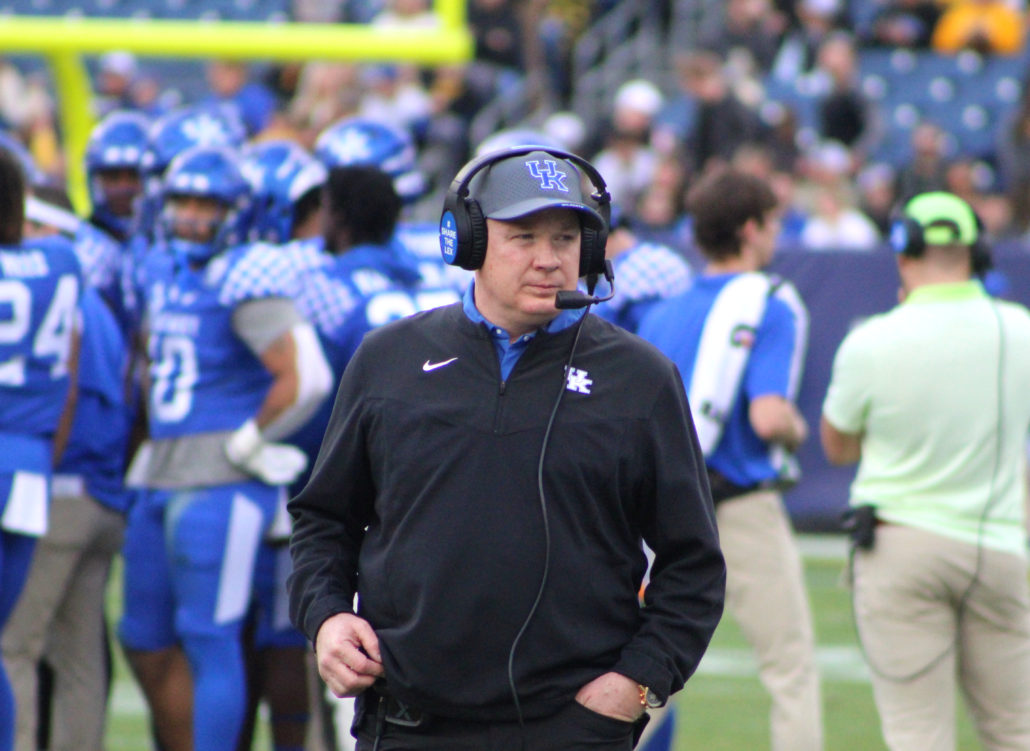 NASHVILLE, Tenn. — Mark Stoops had high hopes of winning his fourth-straight bowl game when Kentucky played Iowa in the Music City Bowl Saturday.
After all, the Wildcats beat the Hawkeyes in the Citrus Bowl 364 days ago. Not to mention Kentucky was basically playing in its' own backyard, considering Nissan Stadium is located three hours from campus. However, having no Will Levis or Christopher Rodriguez really made the offense one-dimensional. Stoops boys were abysmal offensively the entire afternoon and the Hawkeyes shut them out 21-0.
It was sweet revenge for Iowa that was best served cold. That's because it was the first time in 42 games that Kentucky (7-6) failed to score any points. The Wildcats racked up a season-low, 185 yards of total offense, including a mere 68 on the ground.
"Both of us were down some players and a bit short-handed, and they did what they had to do to win the football game," Stoops said. "Starting right at the onset I think just getting us in bad field position, they played very good defense."
Stoops started true freshman Destin Wade for the first time, and there was definitely some growing pains and mistakes. The signal-caller completed 16 of his 30 passes for 98 yards, no touchdowns and two interceptions. It just so happens that two of those picks were returned to the house. And in the blink of an eye, the Wildcats found themselves down 21-0 at halftime.
Having no consistency in the ground game frustrated Stoops the most. Kentucky only averaged 2.7 yards per play, and converted just two of its' 18 third downs. It didn't even matter that the Wildcats ran 21 more plays than the Hawkeyes, and led in time of possession, because their turnovers were so costly.
Kentucky punted the ball 10 times because the offense was so lethargic. It also didn't help Stoops that Iowa's punter Tory Taylor kept Kentucky's offense in bad field position.
"They played better than us in special teams in certain areas early and put us behind the 8-ball," he said. "Defensively I thought we played really good for the majority of the game, but by being backed up early, it helped them have a short drive and set up their one offensive touchdown, and really we were playing a bit of catch-up from that point on."
Defensively Kentucky played well enough to win the game. Take away Iowa's two defensive touchdowns, and it would've been a 7-0 game, because Iowa only racked up 206 yards of total offense. Linebacker Trevin Wallace racked up a team-high of six total tackles, and Jordan Wright added four, including a sack.
It's unfortunate that Kentucky has now has lost six of its' last nine games to end the 2023 season. Still, Stoops believes his team can learn a lot from their humbling defeat in Nashville. He wasn't even bothered by the fact that the Hawkeyes kept throwing the ball, despite being up by three touchdowns with under a minute left in the fourth quarter.
"I was ready to get the hell out of there myself, but that's to their credit" the 55-year old said. "On the other hand, I would probably hand it off, and I would still be ready to get the hell out of there."
Stoops will try to pick up the pieces as the Wildcats approach the offseason. It's no mystery that Kentucky will have a brand new roster in 2023. Regardless of the matter, Stoops is still proud of his team for the way they fought tooth and nail throughout. And he also believes the future looks bright for the Wildcats.
"I have a lot of work to do, but I'm really excited about it because I feel like there's a great nucleus of young players.