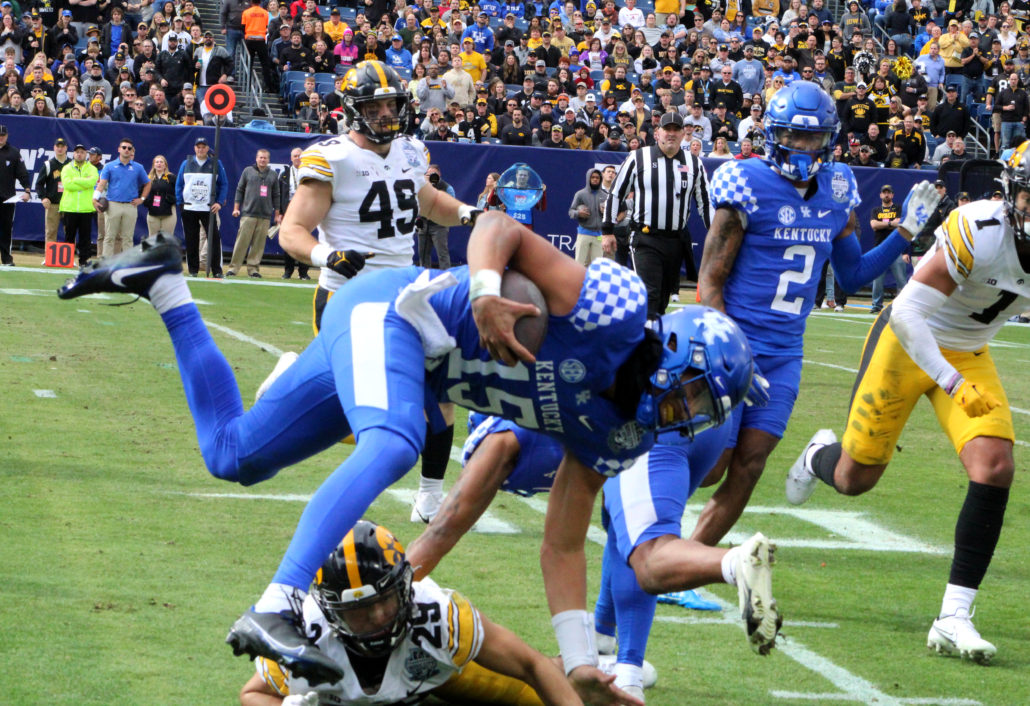 NASHVILLE, Tenn. — Mark Stoops decided to throw the true freshman to the wolves against Iowa in the Music City Bowl, and it turned out to be a humbling debut for the quarterback.
There's no denying Destin Wade looked like a deer in headlights behind center throughout the afternoon. It resulted to a 21-0 loss. Not to mention it was the first time since October of 2019 that the Wildcats were shutout, which was a span of 42 games.
Kentucky (7-6) only generated 185 yards of total offense, which was a season-low. The Wildcats converted just two of their 18 third down attempts. It didn't help that the Hawkeyes' superb punting kept the Wildcats in poor field position.
Still, Stoops feels Wade played the cards he was dealt, despite that it all resulted in embarrassing loss.
"We came in here to compete to win, but I also wanted to let Destin play," Stoops said. "I wanted to see the future and what it looks like and give him an opportunity to just go out there and play ball and play it with the confines of our offense and our system and down a coordinator."
Wade completed 16 of his 30 passes for 98 yards, no touchdowns and two interceptions. It just so happens that two of those picks were returned for touchdowns. It's hard for a team to win when the offense gives the opposition points. And Kentucky's offense isn't designed to come from behind. Stoops is more comfortable with controlling the clock by pounding the ball and playing good defense.
That wasn't the case for Wade. What made matters worse is the fact that he was playing in his hometown, with plenty of family in attendance. Regardless, Wade thought he proved he was capable of leading the offense, despite some rough patches.
"Some things that I felt like I did well was escape the pocket and try to find a play down field," Wade said. "I felt like I did a good job executing in and out of the huddle, making sure my guys are lined up, and just reading the coverages and seeing if it's man or zone."
It was already a daunting task going up an Iowa defense that ranked in the top-10 in total yards allowed per game. So of course Stoops knew moving the ball consistently was going to be a tall order. Kentucky ran 21 additional plays, and led in time of possession, but rarely crossed its' own 50-yard line. On top of that, the Wildcats only averaged 2.7 yards per play, compared to the Hawkeyes' 4.3.
Wade is his own worst critic though, and knows he has to make improvements. Turnovers are costly and discouraging, so it's hard to change the momentum when nothing is working. And Wade just wants to execute better in the future.
"Some things I would like to work on, making better decisions are, better accuracy and placement," he said. "Just overall leading the team."
Although Wade's numbers weren't impressive on paper, Stoops believes he's just starting to crack the surface of his potential. Now that he's faced a great defense, he'll know what to expect week in and week out in the almighty SEC. Which is why Stoops expects the young gunslinger to build on what transpired at Nissan Stadium Saturday afternoon.
"Destin was put in a tough situation today, he will learn from it without a doubt, and we look forward to that and his growth."