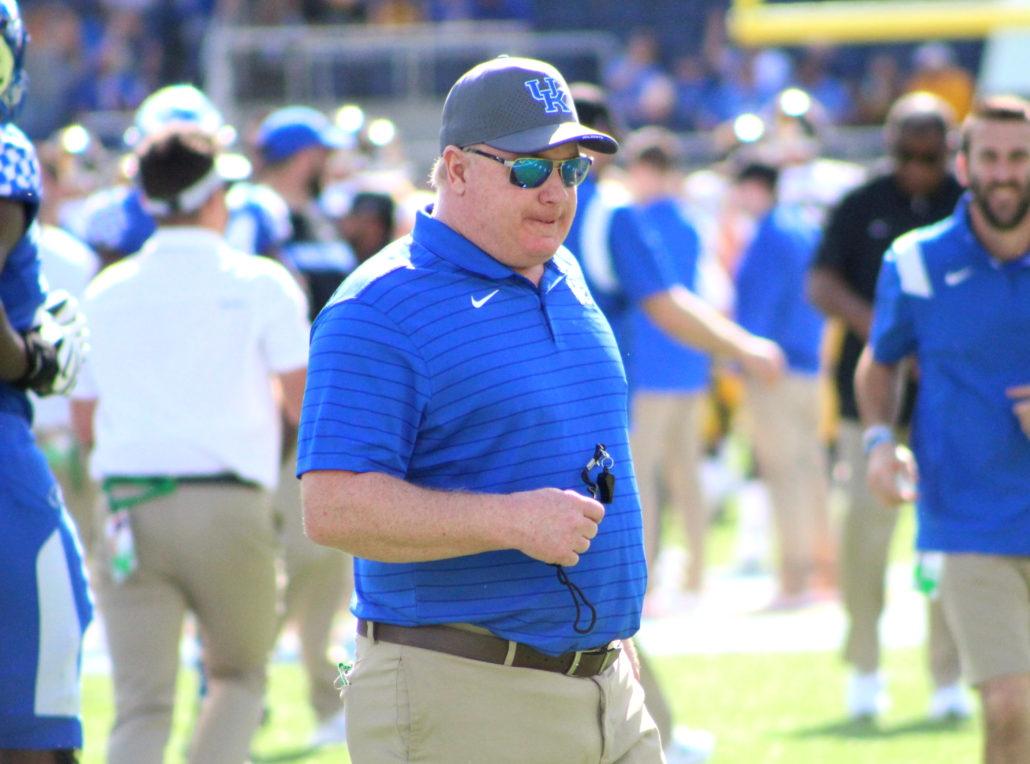 NASHVILLE, Tenn. — The Wildcats have an opportunity to end they year the same way they started it.
Kentucky squeaked out a victory against Iowa in the Citrus Bowl on New Year's Day last season, and now Coach Mark Stoops is looking to do it again on the last day of year. It just so happens that the Hawkeyes are close to his heart, and it's always emotional and fun whenever he gets to coach against longtime friend Kirk Ferentz.
"It's a special place to myself being that I played there, my brothers played there," Stoops said. "We have a long history with the Hawkeyes, and it will be an honor to go compete with them tomorrow."
The 10th-year coach has been successful in the postseason, and there's no denying that when Stoops has won his past four bowl games. However, he'll be without two of the best players on the team in quarterback Will Levis and running back Christopher Rodriguez. Both of them decided to skip the Music City Bowl and are preparing for the NFL combine.
That means Stoops will be operating with a few inexperienced quarterbacks. Redshirt freshman Kaiya Sheron, true freshman Destin Wade and sophomore transfer Deuce Hogan, who's a former Hawkeye, have all been in the rotation for the Wildcats.
Stoops refuses to let the rabbit out of the hat as far as a definite starter, but will insert the best players that gives Kentucky's offense a chance to be successful, and most importantly win.
"I mean, the first thing that you have to look for is just command, the guys that can operate the offense, move the football," he said. "It's going to be a great challenge with the Hawkeyes, they do a great job defensively."
Iowa (7-5) has one of the nation's best defenses, and currently rank fourth in the FBS in total yards allowed per game. Not to mention the Hawkeyes are going to be looking for revenge, so Stoops expects his players to get their best effort.
He just wants to close out the year on a high note, and build momentum for the offseason. After they started off 4-0, the Wildcats lost five of their final eight games. Regardless, Stoops feels his squad is determined to be successful in Nashville, which will be almost like a home game for Kentucky, despite how much Hawkeye fans are coming for this matchup.
"I'm proud of the way our team persevered and pushed through and finished strong," the 55-year old coach said. "We want to continue that, we won four bowl games in a row, and that's not easy, so it will be a great challenge."
The Big Ten is off to a 3-0 start to the bowl season, so the odds aren't in Kentucky's favor, but Stoops believes he can change that narrative. No one is really expecting offensive fireworks in this battle. Instead College football fanatics are preparing to watch a physical slugfest with two defenses ranked in the top-15 of the FBS. And Stoops is expecting the unexpected because of all the uncertainty on each teams' roster.
"I was thinking about that the other day, when you play a team like Iowa, it's hard to beat 'em once, then you go
back-to-back years and you know what a challenge that will be."