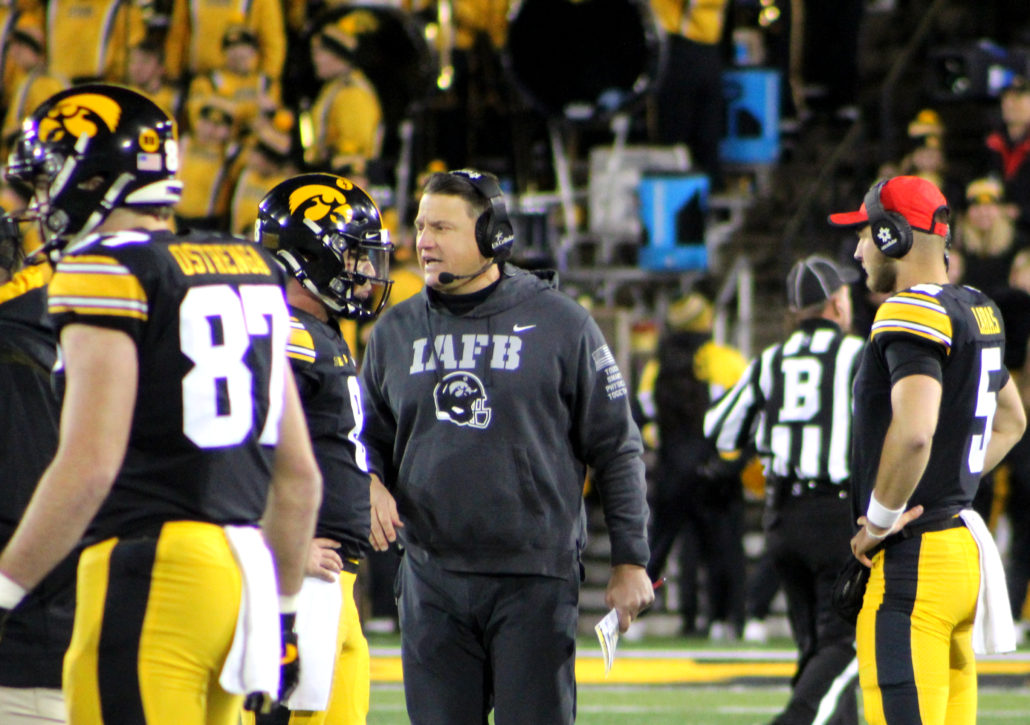 NASHVILLE, Tenn. — The Hawkeyes embattled Offensive Coordinator has one last chance to orchestrate a successful game plan this season, but he'll be operating with a key new piece in the Music City Bowl.
Although Iowa will be without Spencer Petras and Alex Padilla, Brian Ferentz is encouraged by what quarterback Joe Labas brings to the table. The redshirt freshman will be making his first career start against Kentucky, and has had a little over three weeks to prepare for the clash.
Unlike Petras and Padilla, Labas has dangerous dual-threat capability, which should give Ferentz options against a speedy SEC defense.
"Like anyone else, you want to tailor what you're doing to the player's strengths," Ferentz said. "I think Joe has some different strengths, maybe the two guys that have played for us the last several years, and you want to make sure you incorporate that into what you do."
It helps that Labas will have a safety net in his arsenal in the return of Big Ten Tight End of the Year Sam LaPorta. The John Mackey Award Finalist is back at full strength and will be a matchup nightmare out in space. There's no denying Iowa will have to run the ball efficiently to open up the play-action pass, and when in doubt LaPorta has the athleticism to snag balls from places defensive backs can't get to. And Ferentz plans on utilizing LaPorta's skills.
"I don't think you guys are going to get me to lose my composure here, but Sam LaPorta is as good a football player as I've ever coached, probably the best one," he said. "He's an exceptional competitor, very talented."
The Hawkeyes' biggest disappointment this season has been the big boys up front though. For decades Iowa has always prided itself on a blue-collar offensive line, and has put a plethora of them in the NFL, but the unit was a liability through the first 12 games. Whether the offensive woes came from injury or inexperience, the Hawkeyes haven't been able to thrive in the trenches like they're accustomed to.
Iowa fans continue to point the blame at Ferentz, because his job is to plug the players in the right places. Regardless, he's not one who makes excuses for himself, and accepts full accountability for everything that has happened on the gridiron.
"I do the best I could this year with the pieces we had to try to put the team in position to win," the 39-year old coach said. "Was I successful every week, no."
Iowa currently ranks dead last in the Power Five and 130th in the FBS in total offense. Embarrassing production has led to extreme criticism for Ferentz, but he understands it comes with the territory when an offense has been abysmal. So of course he hears all the outside noise, and can't deny there's pressure that comes with the job.
Yet and still, he rolls with the punches and sticks to the x's and o's. In his mind everything will take care of itself eventually, despite the negativity.
"All of this gets back to me in some form or fashion, but none of it matters because my job every day is to wake up, try to put our players in position to be successful."