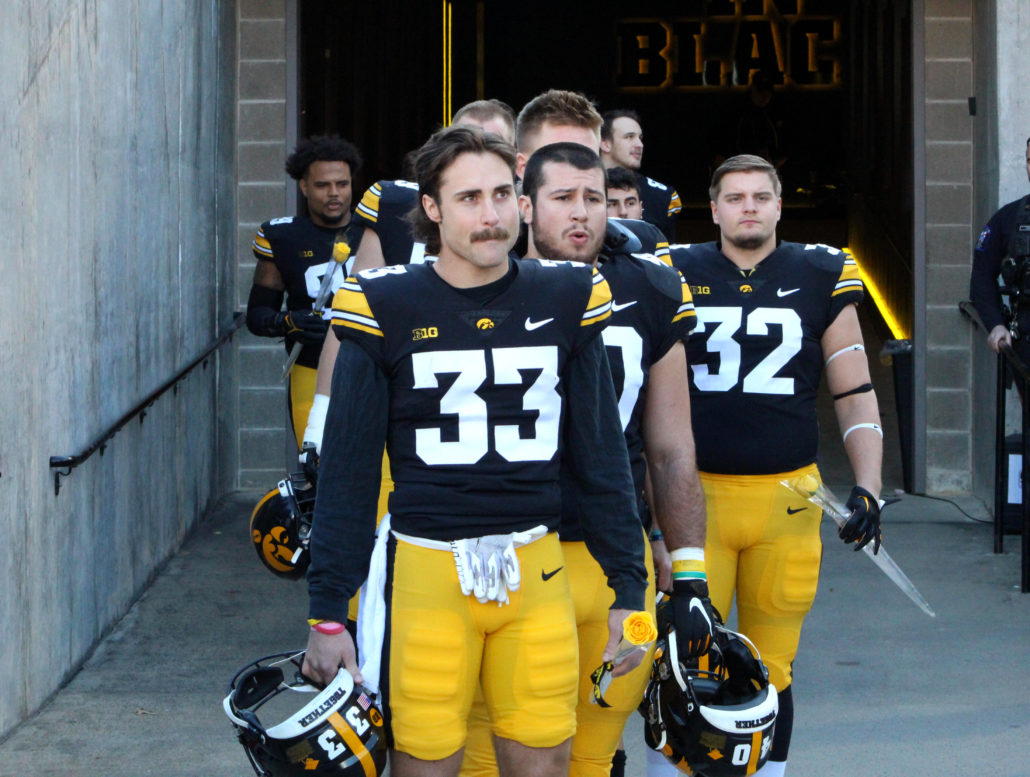 IOWA CITY, Ia. — There's no denying Iowa's home loss to Nebraska was a tough pill to swallow for all of the seniors, especially Riley Moss.
After all, it snapped the Hawkeyes' seven-game winning streak in the Heroes Rivalry, and kept them from clinching a second-straight berth in the Big Ten Championship Game. Moss refused to hang his head over the disappointing ordeal though.
Considering he's a team captain, Moss immediately encouraged his teammates that they had one game left to make everything right again. And they've been going full throttle in practice approaching their Music City Bowl clash against Kentucky.
"The Nebraska game hurt obviously, and it hurt every one who put time and effort into the preparation," Moss said. "We took a few days off during this time period over the past four weeks, but whenever we're in here, that bitter taste of the last game been kind of driving us during this bowl prep."
The former two-star prospect has had a stellar career with Iowa. Moss is a ball hawk and two-time, first-team, All-Big Ten performer. So it shouldn't come as a surprise that he wants to end his Hawkeye career on a high note. His experience, leadership and production in the secondary is going to be vital. It's no mystery the Hawkeyes are going up against a physical SEC team that they lost to back in January.
And there's nothing like getting revenge against a league that College football fanatics believe is almighty.
"With the team atmosphere and how we're all feeling, I think we're ready to actually go against Kentucky again," he said. "We've been going against each other in practice and it's been getting chippy and competitive, so I think we're ready for an opponent other than Iowa versus Iowa."
The Wildcats' Will Levis is skipping the Music City Bowl. Not to mention the Hawkeyes' Spencer Petras had season-ending shoulder surgery. So both teams will be operating with backup quarterbacks in Nashville. Kaiya Sheron is expected to replace Levis. However, he has only played in four games this season. Sheron started against South Carolina though. He completed 15 of 27 passes for 178 yards, two touchdowns and an interception in the loss to the Gamecocks.
Regardless of the matter, Moss and the rest of the Hawkeyes' secondary aren't overlooking Sheron's lack of experience. Instead he's keeping everyone focused on the task at hand. No doubt Moss wants the defense to compliment young signal-caller Joe Labas. Moss believes Labas brings some skills to the table Hawkeye fans aren't accustomed to from the quarterback position.
"He (Labas) is throwing some good balls, he's mobile and we're not typically used to that," the 22-year old said. "So that puts a little spin on things, and that's been getting us a little bit, having a mobile quarterback back there."
It helps that Labas isn't a statue in the pocket and can extend plays with his mobility. Those qualities alone will force the Wildcats to alter their game plan defensively. Moss just wants to deliver for the Hawkeyes when his number is called. The six-foot-one, 193-pounder could potentially haul in the 12th interception of his career, which would tie for seventh all-time in the program.
It's going to be an emotional morning for the seniors suiting up for the last time. However, Moss believes a victory over Kentucky (7-5) will cement his legacy with Iowa.
"I get to put on the black and gold down in Nashville, the Iowa native said. "It's an exciting spot for us to be in, and I'm excited to go out one last time with the boys, and hopefully cap off with a win."
The Wildcats will be ready and have won their last four bowl games. It just so happens that Kentucky's last postseason loss was to a Big Ten team and in the Music City Bowl. And Moss believes history will repeat itself. So expect the Hawkeyes to have a chip on their shoulder approaching this matchup.