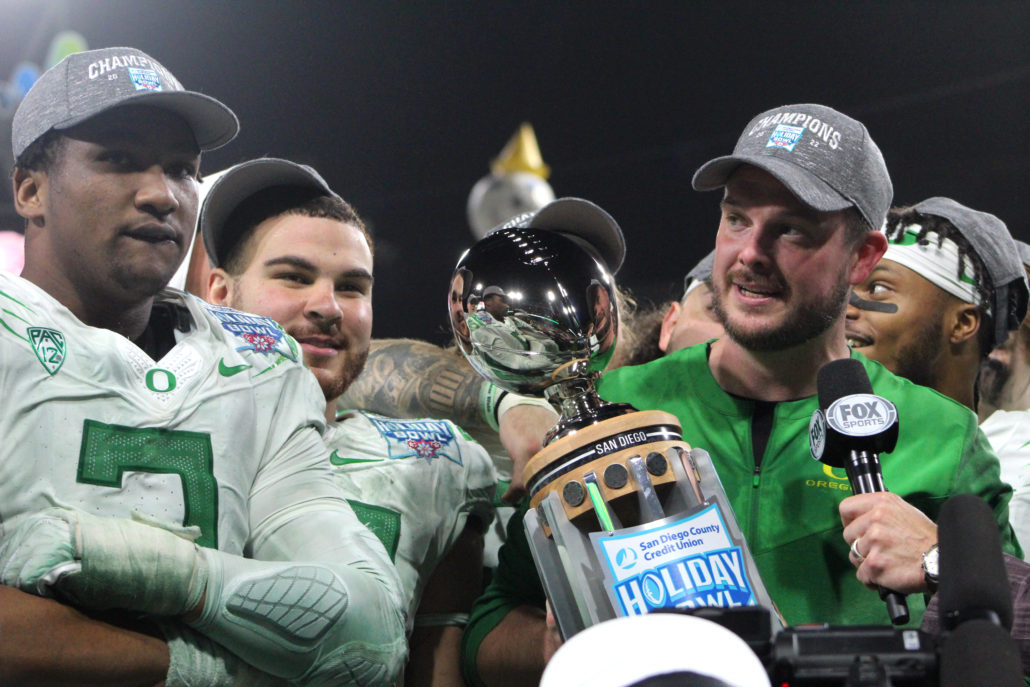 SAN DIEGO, Calif. — Petco Park hosted its' first-ever football game Wednesday night, and the Ducks made it a memorable one for everyone in attendance.
A crowd of 36,242 watched as Oregon stormed back late in the fourth quarter, and downed North Carolina 28-27 to win the Holiday Bowl. There's no denying the victory was the cherry on top to Dan Lanning's impressive first season in Eugene, and positive momentum for 2023.
The game was epic and had four different lead changes. Although the Tar Heels ran seven additional plays and led in time of possession, the Ducks finished with more yards and first downs. Oregon (10-3) fell down by double-digits midway through the fourth quarter. However, quarterback Bo Nix delivered for the offense in the clutch, and the defense made key stops down the stretch.
Lanning is proud that his players persevered when their backs were against the wall. And he couldn't be more proud that all of the Ducks' hard work throughout the year paid off in a big way.
"That was a game that came down to the very last second, as we all know," Lanning said. "We talked about it going into the game that we played 720 minutes of football this season, and we had to play 60 more, and we played all 60 of it."
Nix put the team on his back and carried them to the finish line. The former Auburn gunslinger completed 23 of his 30 passes for two touchdowns and an interception. It was almost like a light bulb came on for the signal-caller after he got picked off right before the end of the first half. And Nix had ice water in his veins in the waning minutes of the contest.
He orchestrated an eight-play, 79-yard touchdown drive. The impressive part was the fact that Nix capped it off with a go-ahead six-yard touchdown pass to wideout Chase Cota, with 19 seconds left in the game. It sent the venue into a frenzy.
Duck fans watched as Nix's experience, production and leadership was on full display. He showed moxie, looked poised in the pocket and made others around him better, which is what great quarterbacks do. So Nix knew what he was capable of doing with enough time on the clock.
"Finally there at the end we got a few drives together, and we went down and scored, and I couldn't be more proud of Chase and everything that he has done for the team and just battling through injuries, being there for each and every one of us," Nix said. "It's only right that he caught that last one."
The Ducks wouldn't have had any success without the legs of running back Bucky Irving though. The Chicago native rumbled for a game-high, 149 yards and two scores. Not to mention 108 of Irving's yards on the ground came after the first quarter. Not only was it Irving's fourth game this season of eclipsing the century mark in rushing yards, but he was also named the Holiday Bowl Offensive MVP for his heroics.
"Coach Lanning came up to me and asked, do I want to be great, and I said, of course," Irving said. "Then he told me to trust the guy in front of me, so I just want to thank him for telling me what I can do, and also I want to thank the O-line for always being there."
Oregon averaged 6.7 yards per play, compared to North Carolina's 4.9. That's credit to the Ducks' defense, especially the linebackers. Jeffrey Bassa tallied a team-high, six solo tackles and a sack. Keith Brown and Mase Funa each generated seven total stops. Funa also made quarterback Drake Maye eat grass, and was named the Defensive MVP.
After the win and a stellar recruiting class, everything appears to be trending up for Lanning's squad. And with Nix returning to Oregon in 2023, along with a host of other stud players, Lanning could potentially have a top-five team heading into next season. Regardless, the 36-year old coach is going to enjoy the epic bowl win with his players, because it means so much to him.
"These guys are my family, they'll forever be my family and they'll forever be part of my first team here as a head coach, and for that I'm forever grateful."