Mack Brown and Dan Lanning ready to match wits in Holiday Bowl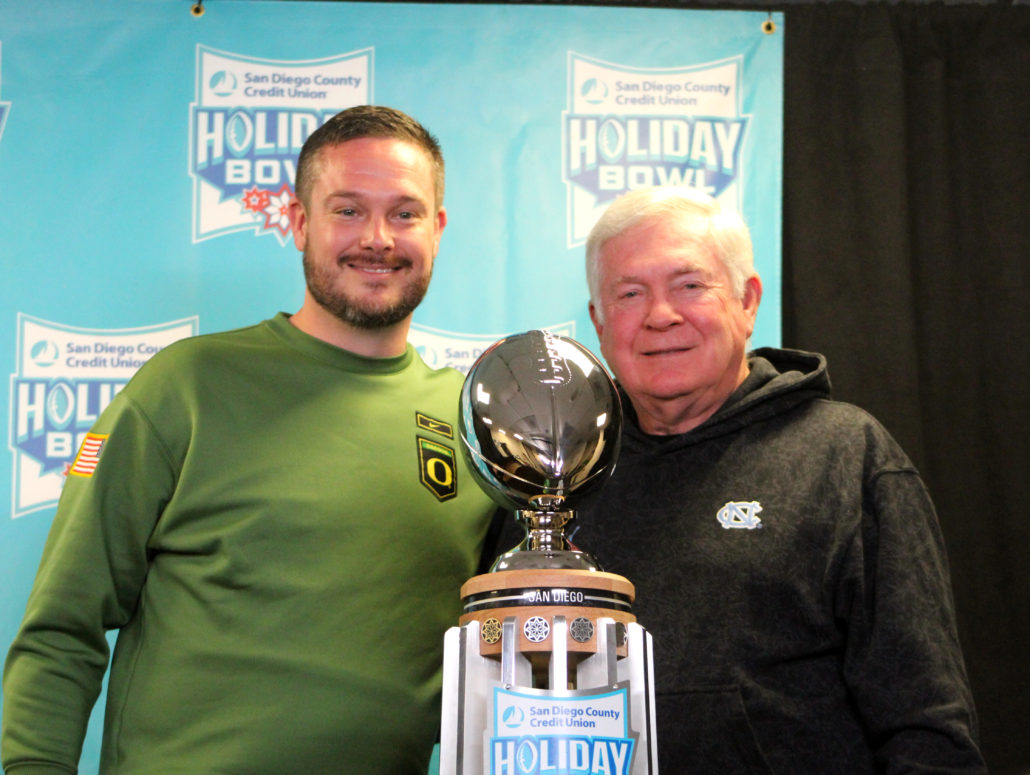 SAN DIEGO, Calif. — There's no mystery the Holiday Bowl was cancelled for the past two years because of the pandemic.
It only made the anticipation higher for a bowl game that fans been attending since 1978. However, this time around the bowl will feature the oldest coach in College football, and another that's in his first season of patrolling the sidelines. And both will be bringing their own type of spice to Petco Park.
North Carolina's Mack Brown is one of four FBS coaches with a National Championship under his belt. He even led the Tar Heels to their first ACC Championship Game appearance since 2015. Now Brown is looking to cap off his 2022 campaign on a high note by posting 10 victories, which will be the program's highest in seven years. It just so happens that North Carolina (9-4) is slumping and on a three-game losing streak.
Meanwhile, Oregon's Dan Lanning is trying to right the ship to his first season. Although the Ducks won eight of their first nine games, they've dropped two of their last three. What made matters worse for Lanning is the fact that Oregon led Oregon State 31-17 heading into the fourth quarter, but came up short.
Now both the Ducks and the Tar Heels are looking forward to changing the narrative Wednesday evening in San Diego. Brown is glad to be participating in the postseason and believes bowl games are vital for College football moving forward. After all, it's a reward to the players, their families and the fans.
Regardless, both teams will be without their Offensive Coordinators. Not to mention the transfer portal is more relevant than ever before, so Brown is grateful for everyone that came along for the trip.
"This is important to both teams because we get to compete against somebody that's really good, and at the same time we get to know more about our young players, and we get to prepare for next year," Brown said. "We're down coaches, which I don't like."
The good news for the Ducks and Tar Heels is that both team's starting quarterbacks are phenomenal and expected to play. North Carolina's Drake Maye is sixth in the FBS with 35 touchdown tosses. Meanwhile Oregon's Bo Nix is tied for 15th in the FBS with 27 touchdown passes and has 14 rushing scores.
Not to mention both gunslingers will be returning for the 2023 season. Which is why Lanning believes Nix can build a ton of momentum and confidence for the offseason with a stellar performance.
"The challenge is finding guys like Bo that have great experience and making sure they make it to the game healthy and ready to play, but I certainly think he feels a lot better than he did at the end of the season," Lanning said. "I expect to see him play some of his best football."
It's unfortunate that North Carolina will be without its' best offensive weapon in wideout Josh Downs, who's second in the FBS in receptions per game. The Ducks will be without their star defender in the secondary in Christian Gonzales, who earned first-team, All-ACC honors this fall.
Still, both coaches believe it's going to be an intriguing matchup, and can't wait to show the fans what they've been working on for the past three weeks. Oregon ended Brown's stellar tenure with Texas, by handing him a 30-7 beatdown in 2013. Brown emphasized how he has moved on from the loss, but couldn't deny it still resonates in the back of his mind.
"The last game I coached at Texas we were so unfortunate that Mariota was there, and he had been hurt for most of the year, but they all got really, really healthy to send me off right," he said. "I think it was 30-13, it was really bad, it wasn't good, but that has nothing to do with tomorrow."
The fact that North Carolina has lost its' last two bowl games, should add more fuel to the fire for Brown. As for Lanning, he's just grateful to be going up against a veteran coach like Brown, that he respects so much.
"Really excited to compete against a phenomenal team in North Carolina and a coach that I have a lot of admiration and respect for in Coach Brown," the 36-year old said. "They have a great team and this is going to be a fun competition for our guys, and I know they're ready to get out there and hit somebody else besides themselves."
Oregon (9-3) has lost its' last two bowl games too. Still, Lanning is looking forward to changing the program's postseason woes. Everyone is expecting an offensive shootout, since both teams have firepower. A matchup like this will likely come down to which offense has the ball last. And the fans are anxious to end the two-year Holiday Bowl drought.