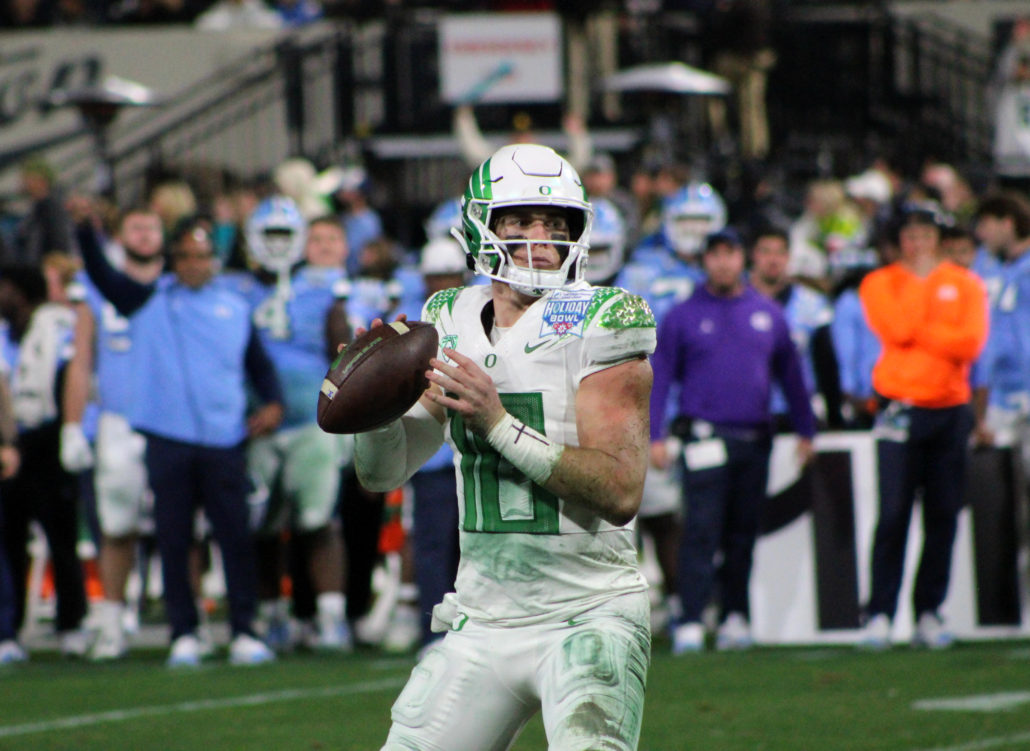 SAN DIEGO, Calif. — There's no denying the quarterback put the Ducks on his back and carried them to the finish line Wednesday night.
It took all of Bo Nix's experience, leadership and production, but Oregon was able to put away North Carolina 28-27. And he did it in dramatic fashion.
However, it didn't start out smooth for Nix, and he looked sluggish throughout the first half. The Alabama native was even picked off right before halftime. And at that moment all of the Ducks' momentum appeared to fade out of Petco Park.
Still, the gunslinger refused to hang his head, displayed the heart of a warrior and battled back to keep Oregon within striking distance.
"I was ticked off, I was mad that I put my team in that position and it wasn't a great play on my part," Nix said. "At the end of the day it goes back to the 11 guys."
The former five-star prospect came out a different player in the second half. Although Oregon was held scoreless in the third quarter, and trailed by double-digits midway through the fourth, Nix never panicked. It was like he'd been there before. After all, he responded with two amazing touchdown drives with under seven minutes left in the game.
Nix threw a pair of six-yard touchdowns to wideouts Troy Franklin and Chase Cota. It gave the Ducks the go-ahead lead for good. At that point Nix knew the Ducks were in good hands just as long as the defense did its'part with making key stops.
"Could have easily kind of tanked at the moment," he said. "Bowl games sometimes happen that way, guys start falling apart, and start to not want to play, but that wasn't us tonight."
The rest of the Ducks' offense fed off Nix's energy. It quickly became obvious to everyone in attendance that Oregon (10-3) wanted it more. Nix completed 23 of his 30 passes for 205 yards, two touchdowns and an interception. Oregon's offense was very balanced, and racked up 414 total yards.
Nix's stellar outing was the cherry on top to his best season as a student-athlete. The six-foot-two, 213-pounder currently ranks second in the Pac-12 and seventh in the FBS in passing efficiency. Not to mention he already promised that he's returning for the 2023 season, which should make the Ducks one of the favorites to win the conference title.
Above all, Nix is proud that his teammates came out swinging after their backs were against the wall. And he believes that's a testament to the maturity of the team. The way everyone responded to adversity, made him amplify his game down the stretch.
"We're going to compete until the final whistle," the 22-year old said. "You give credit to each guy that played a part, each guy that went out on the field tonight, you can tell they were playing for more than just themselves."
Nix had complete command of the huddle, despite working under a new Offensive Coordinator. Oregon also averaged 6.7 yards per play, compared to North Carolina's 4.9.
Coach Dan Lanning reached 10 victories in his first season, and he credits a lot of his success to Nix, and believes the best is yet to come for him.
He was so impressed with Nix's moxie, especially on the Ducks' final drive of the game. And when a coach trusts in his quarterback, there's no limit to what he can accomplish in the gridiron.
"Bo did a good job of calling what he wanted on that one."