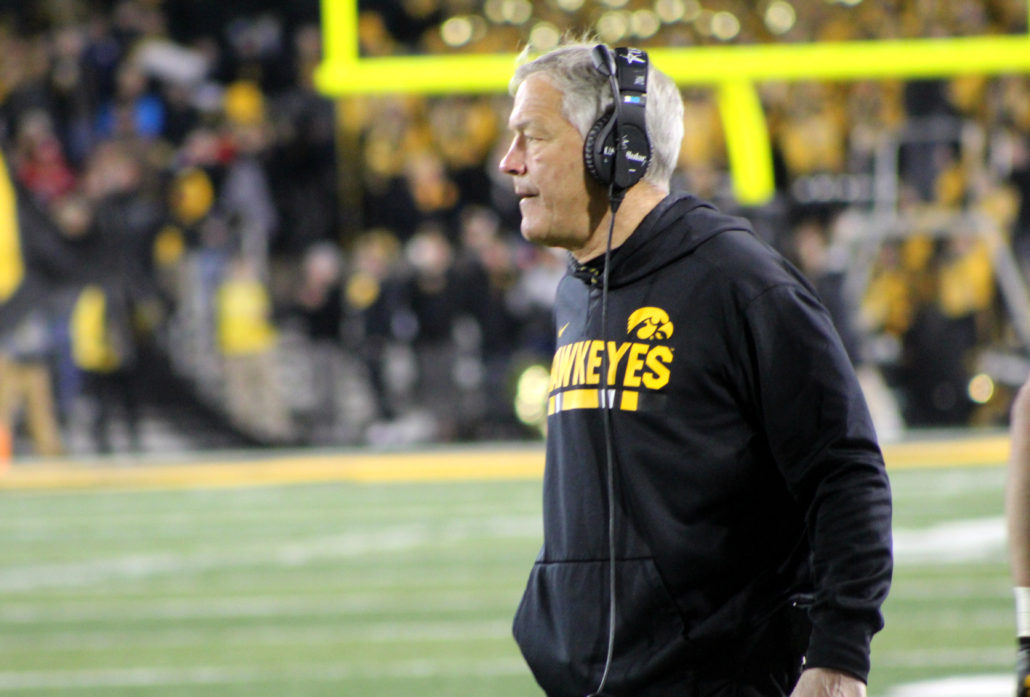 IOWA CITY, Ia. — The Hawkeyes will be making their 10th-straight bowl appearance and 20th overall under Kirk Ferentz, but this time around there's more questions than answers surrounding the team.
The Music City Bowl clash with Kentucky is still over three weeks away. In the meantime, Ferentz is going to have to do some major patchwork on his roster. Since Iowa's loss to Nebraska, quarterback Spencer Petras has had season-ending shoulder surgery. Not to mention his backup Alex Padilla hit the transfer portal.
Sam LaPorta, who's the Big Ten's Tight End of the Year, hasn't played since suffering a leg injury at Minnesota. However, it's not just the offensive side of the ball that has question marks. All-Big Ten cornerback Cooper DeJean is close to being back fully healthy since suffering an injury in the first quarter against the Huskers.
So Ferentz understands the Hawkeyes are lacking in the experience and production department heading into the bowl season. Still, he's encouraged by the progress LaPorta and DeJean been making.
"They would not have played if we played yesterday or this weekend, but I would expect Cooper for sure to return here at the end of the week," Ferentz said. "I think Sam's very close, he's out on the field, moving
around pretty good, but he would not have been game-ready this week, nor would have Cooper."
It's no mystery that Ferentz will be operating with two young quarterbacks that have zero game experience. There's no deny Joe Labas and Carson May are as green as they come. To make matters worse is the fact that they'll be commanding an offense that finished the regular season ranked 130th in the FBS. And the Wildcats are very good on defense too. Kentucky (7-5) is currently third in the SEC, and 18th in the nation in total yards allowed.
So Ferentz knows there's going to be some growing pains for the young signal-callers. Regardless, both of them are going to gain valuable experience along the way, which is going to be priceless.
"We'll let those guys work the next four weeks and see how they do," he said. "We were on the field yesterday and
both, I thought, did some good things, but obviously we got some work to do with both guys."
Ferentz feels patience is going to be a virtue with their reps and chemistry with the receivers and tight ends. So depending on how fast they learn the playbook will be what separates Labas and May when Ferentz names his starter for New Year Eve.
The Hawkeyes' defense is still trying to pick up the pieces from the Husker loss. And every defender on the unit wants to redeem himself. After all, Iowa is No. 4 in the nation in total defense. So of course the players want to prove their last performance was a fluke. It should help Phil Parker's boys that Kentucky has been just as abysmal on offense as Iowa (7-5) has. The Wildcats are dead last in the SEC and tied for 106th in the country in total offense.
Kentucky gunslinger Will Levis is still unsure of whether he'll play in the bowl game. Levis threw for 233 yards, a touchdown and an interception against the Hawkeyes back in January. Running back Christopher Rodriguez is also uncertain if he'll play. He eclipsed the century mark in rushing against the Hawkeyes in the Citrus Bowl, and needs 96 more yards to go to reach a 1,000.
So with two struggling offenses, and two elite defenses, the matchup is looking like it's going be a low-scoring affair. That type of game should play right into the Hawkeyes' hands, and revenge should be the motivation for every Hawkeye player and member on the coaching staff.
"We kicked off the calendar year, 2022, playing Kentucky and now ironically we're going to finish it on the 31st with the same opponent."