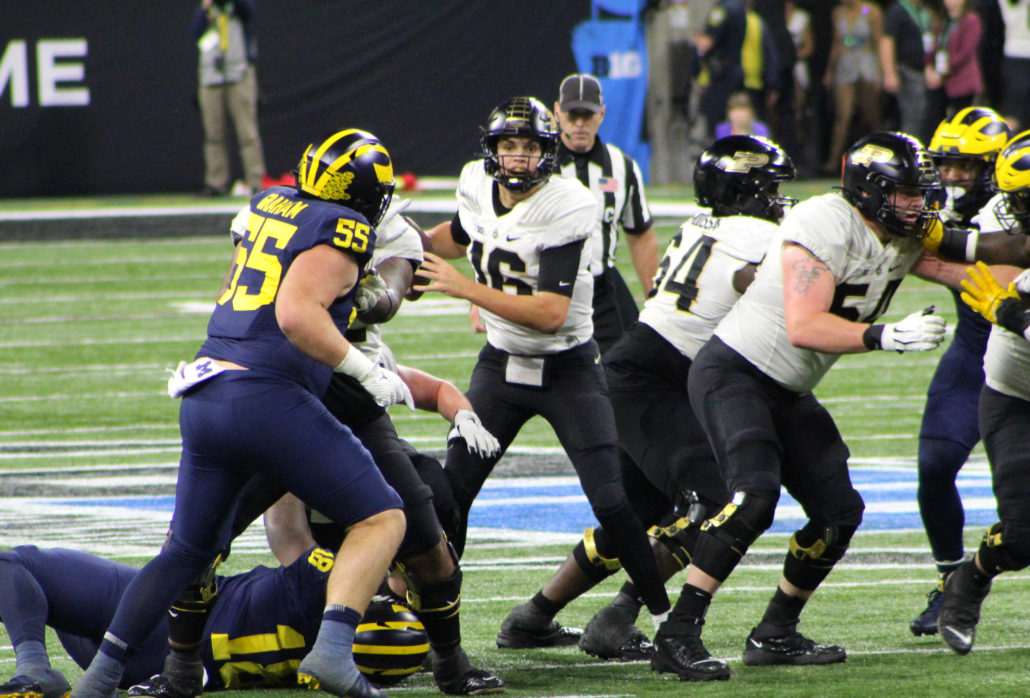 INDIANAPOLIS — There's no denying the quarterback played through Purdue's last two games under unusual circumstances.
Aidan O'Connell's oldest brother Sean passed away the week of the Indiana game, and the gunslinger had to make a big decision. Although he and his family were grieving, the Boilermakers needed to beat the Hoosiers to clinch a berth in the Big Ten Championship Game.
O'Connell started that game though, and had a stellar outing with 290 passing yards and two touchdowns. However, he wasn't mentally there because his thoughts remained on his brother.
"You know, when you first hear of news like that, it's shock and denial and just a lot of emotions," O'Connell said. "Going into the IU game, my head wasn't really there, if I'm honest, but the coaching staff was gracious enough to let me go home for a few days and spend some time with my family."
The Illinois native reached another milestone in his legacy by leading Purdue to its' first-ever appearance in the Big 12 Championship Game. His teammates and the coaching staff rallied behind O'Connell as Purdue approached the clash against Michigan. The fact that he was willing to play in the first place, earned their respect.
Coach Brohm knew the gunslinger would give the Boilermakers a chance to win the game, with experience, production and leadership. After all, O'Connell earned second-team, All-Big Ten honors this fall. Not to mention he led the Big Ten in passing yards and completions per game.
Although he wound up completing 32 of his 46 passes for 366 yards against the Wolverines, the Boilermakers still lost the 43-22. It was his sixth game this season of throwing for 300-plus yards, but O'Connell was also picked off twice. Still, Brohm was proud of his signal-caller's outing, and the way he battled throughout the game.
"You have Aidan O'Connell who put on a tremendous passing performance, and he has since he has gotten here, and just continues to work and get better," Brohm said. "He is a great teammate and hangs in there and makes throws and competes to the end."
It's unfortunate that the Boilermakers lost by three touchdowns, but they were only down by a point at halftime. O'Connell picked apart Michigan's secondary through most of the contest though, and connected with wideout Charlie Jones a jaw-dropping, 13 times. The Wolverines are third in the FBS in total defense, and O'Connell kept them on their toes.
"We were going to have to play a near perfect game to win, and, you know, just touchdowns and turnovers is what football is about, and we turned the ball over and didn't score touchdowns, so it's hard to beat a team like that, but I'm proud of our guys," he said.  "We did a great job of battling, guys playing hurt, guys playing backs against the wall, and just finding a way to make plays."
There's no shame in losing to the No. 2 team in the nation, and the 24-year old doesn't regret playing in the game either.
Now Purdue (8-5) will play its' final game of the season against LSU in the Citrus Bowl. It just so happens that O'Connell led the Boilermakers to a bowl victory over an SEC team last year. The six-foot-three, 210-pounder already accepted an invite to play in the 2023 East West Shrine Bowl. So what better way to end his career with Purdue by defeating a ranked squad from the almighty SEC.
And Brohm believes O'Connell can accomplish anything he puts his mind to because of his work ethic and perseverance as a student-athlete. Most importantly, he's confident O'Connell has a bright future.
"He has always been a hard worker, and he has always been able to figure out what was right and how to handle it."