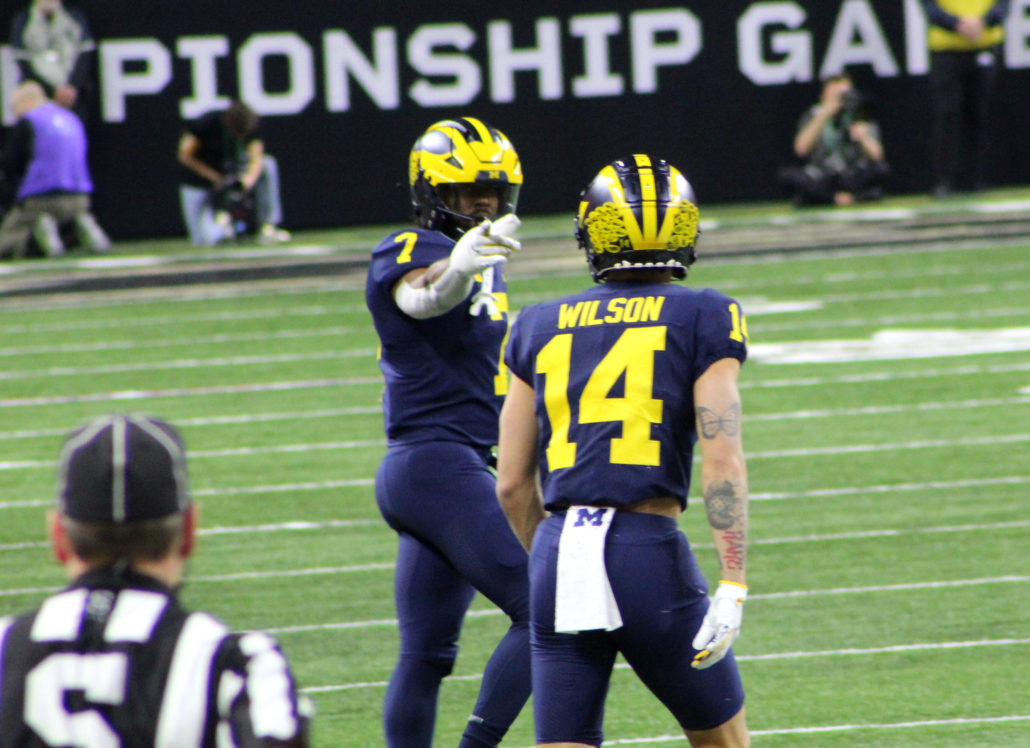 INDIANAPOLIS — When it comes to that next man up mentality, very few players have embraced it the way Michigan's sophomore rusher has this season.
So when Blake Corum left the Ohio State game after two carries, Donovan Edwards knew he was going to receive a heavy workload, despite playing with an injured hand. And he had a magnificent outing, with 216 yards on the ground and two touchdowns. Not to mention Edwards averaged nearly 10 yards per carry against the Buckeyes.
His breathtaking performance in the biggest game of the season, left Michigan fans speechless. So much so, that they wanted to see what Edwards could do for an encore. And in the Big Ten Championship against Purdue, he exceeded expectations.
Edwards finished with 185 yards on the ground, including 179 of those after the first quarter. Not to mention he was named the MVP afterwards for his heroics in the 43-22 victory. Coach Jim Harbaugh has been impressed by Edwards ever since he recruited him out of high school. Harbaugh believes Edwards embodies everything a Wolverine running back is supposed to be.
After all, the former four-star prospect is a Michigan man, who grew up 37 miles from campus. So Edwards basically has the pride of the state tucked in his arm every time he carries the ball. And Harbaugh has been in awe of the way Edwards elevated his game in Corum's absence.
"This guy (Edwards), when it's a big game, I mean, his whole career, whether it was high school, college now, I mean, he just hits another gear," Harbaugh said. "Blake is so good, it's not a next man up, but when this is the next man up, it's that good."
It's tough to argue against that when Edwards has rushed for 401 yards over the past two games. And he accomplished those feats while the Big Ten's Running Back of the Year was sidelined. He's remaining humble through all of the success though, which shows he's a determined player and dedicated teammate.
"Like Coach Harbaugh said, I believe, I rise to those occasions and I thrive for that," Edwards said. "You know, it's just easy too when I have tremendous teammates that I call my brothers around me."
Michigan (13-0) is first in the Big Ten and sixth in the country in rushing offense because of players like Edwards. However, he knows none of it would be possible without the big boys up front opening gaping holes for him to run through. Which is why Edwards is very thankful for everything the offensive line and values their trust. The 19-year old repays the unit by hitting the holes as hards as he can.
"I have 100 percent confidence in my line, our line," he said. "I love those boys to death, and they play a full complete football game, you know, and that just makes it easier."
Corum had season-ending leg surgery, so Edwards understands it's going to be his responsibility to keep the wheels rolling on offense in the Playoffs. The No. 2 Wolverines are one of the hottest teams in the country, and they're playing their best ball. The players all full of confidence and they have a more favorable matchup this time around, because of better seeding.
Regardless, it's going to be the perfect opportunity for Edwards to showcase his talents on the biggest stage. And he can't wait to show that his skills against the Buckeyes and Boilermakers weren't a fluke.