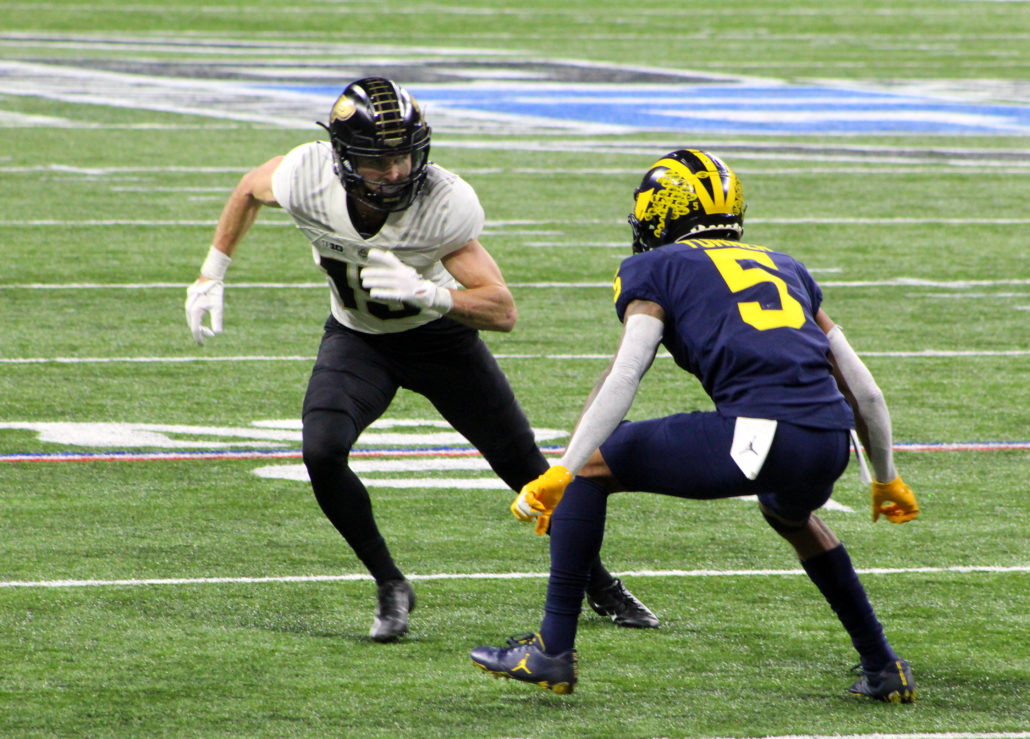 INDIANAPOLIS — The wide receiver made himself a household name around the Big Ten this fall, and all it took was a new home.
Charlie Jones' collegiate career dates back to 2017, and his journey has been all about perseverance. After all, the former two-star prospect signed with Buffalo out of high school when Lance Leipold was the coach. He didn't play that year, but caught three touchdowns, and averaged nearly 22 yards per catch in 2018.
Jones later transferred to Iowa and earned some valuable Power Five experience. However, the Hawkeyes' offense stayed stuck in neutral. So even though Jones generated promising numbers last season, he was unable to utilize his skill set. So the Illinois native took his talents to Purdue and the rest been history.
There's no denying Jones set the conference on fire with his heroics on the gridiron as a Boilermaker. Not only did he break the school's single-season record for receiving yards, but Jones also earned first-team, All-Big Ten honors. Coach Jeff Brohm knew what the wideout could bring to the table. Which is why he's proud of Jones' success. Not to mention Jones lived up to the hype he arrived to campus with.
"He has been a great teammate and our players love him," Brohm said. "He competes every day, has been injured quite a bit of the year and not able to practice as much as you like, but he comes out here and works."
Jones has had great chemistry with quarterback Aidan O'Connell all season, so it shouldn't come as a surprise that he leads the league in receptions per game. The six-foot, 185-pounder's rare blend of speed and quickness was on full display in the Big Ten Championship against Michigan.
Jones had a stellar performance with a career-high, 13 catches for 162 yards. He generated most of that production while being matched one-on-one with All-Big Ten corner D.J. Turner. At times Jones made the Wolverines' secondary look silly with how he ran circles around them. And Brohm did a great job of using him in multiple ways, including out on the edge, in the slot, and in motion. Jones drew so much attention that he often required double coverage.
Regardless, the wideout wasn't surprised at all that he had success against one of the best defenses in the country. He believes it was a testament to all of the hard work he put in over the past six months.
"I feel like that just comes with preparation and believing in the things that we do here," Jones said. "Believing in the training that I've put in this, this team has put in just to be able to go out there in games like that, and be able to perform."
It's no mystery that Jones is O'Connell's go-to receiver and the focal point of the Boilermakers' offense. His presence alone on the field, allows Brohm to be creative, he has even been effective with using Jones as a decoy. Brohm was proud of the way Jones played in the Big Ten Championship. He even thought Jones gave it everything he had and left it all out on the field.
"Of course, Charlie was fearless," the 51-year old coach said. "Not only how he plays, but also taking chances, going from one school to the other just to go out and prove what exactly what he can do."
Purdue has received another a second-straight bowl bid against an SEC opponent. And if Jones decides to play, he'll be going up against that SEC speed. Which will showcase his talents to the NFL. Analysts have already been describing him as a hybrid between Cooper Kupp and Hunter Renfrow.
Still, at the end of the day, Jones is just grateful that he was able to boost the Boilermakers offense this season, and confident that he proved he's more than just a return men.
"I feel like that was the purpose of making the transition to Purdue to come in and prove that I'm a receiver, and I'm capable of doing that as well as special teams."