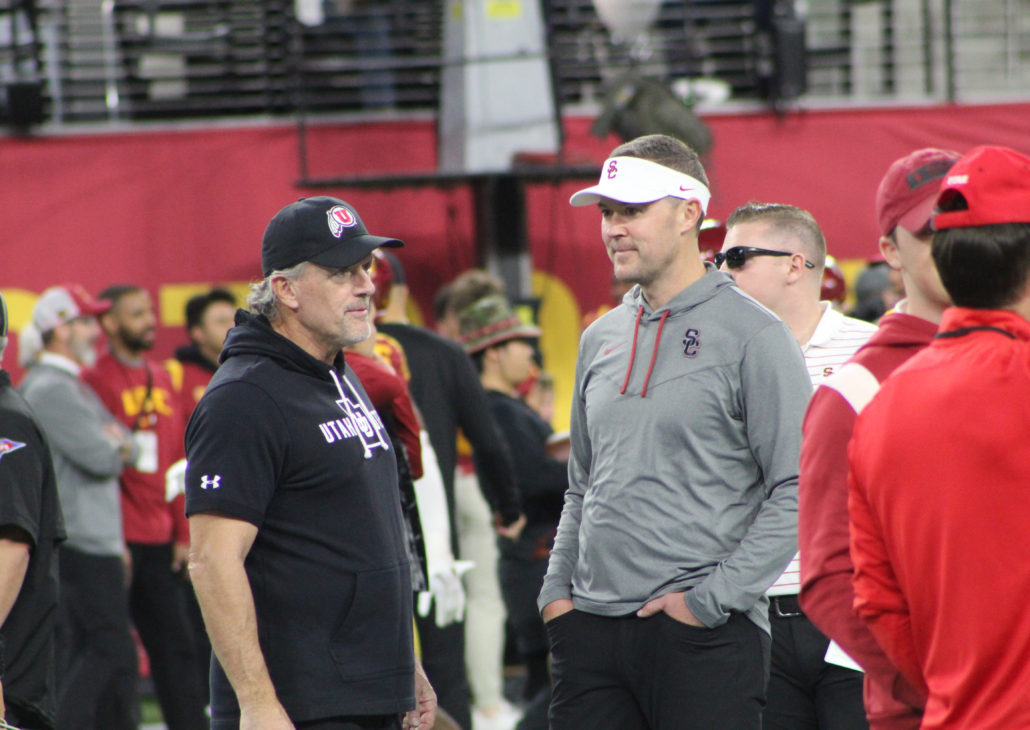 LAS VEGAS, Nev. — When USC and Utah met in the Pac-12 Championship Game, it was about more than just some hardware.
Not only was it two of the best coaches in the country matching wits with each other, but the clash was also a rematch from the thriller at Rice-Eccles Stadium back in October. It's no mystery that Kyle Whittingham and Lincoln Riley are the complete opposite when it comes to coaching style.
Riley is in his first season in the Pac-12, while Whittingham is league's longest-tenured coach. Not to mention Riley is an offensive-minded coach, who's a quarterback guru, while Whittingham is about defense and special teams. Whittingham is also 63, and old enough to be the father of the 39-year old Riley.
When it comes to longevity, Whittingham has coached the Utes for a jaw-dropping, 18-plus seasons. Meanwhile Riley is in his first campaign with the Trojans, after coaching Oklahoma for five years. None of Whittingham's success happened overnight either. There were some bumps along Whittingham's journey to Pac-12 supremacy. So everyone understands the sacrifices he made along the way, and the people he built rapport with.
"First of all, it's an anomaly to be at a school as long as I have," Whittingham said. "That just don't happen this day and age."
That means Whittingham loves his job and isn't in it for the money. Riley needed a contract worth over $100 million and a big house built on the ocean front to leave Oklahoma for USC. And he sort of burned bridges with the Sooners by leaving the cupboard bare and taking all of the talet with him to Los Angeles. Regardless of how they move, everything both coaches do, they do it to win on the field. And no one knows that better than Whittingham.
"This job, you gotta win to keep your job," he said. "But it's all about relationships, building those relationships with your players and coaching staff, even coaches from other teams."
After all, Whittingham is one of the most respected coaches in the game, but he had to pay the cost to be the boss. Utah went through some rough seasons transitioning to the Pac-12 from the Mountain West. The Utes even suffered back-to-back 5-7 campaigns along the way. Which is why it's mind-boggling that Whittingham built Utah into a Pac-12 powerhouse.
Leading up to the game on Friday, it didn't even matter to the national media that Whittingham's boys were the reigning Pac-12 Champs and won the first contest over the Trojans. Instead the focus was on how Riley took the conference by storm with his Heisman hopeful quarterback Caleb Williams.
That's why Whittingham used all of the outside noise as motivation on the gridiron for his players. He even orchestrated a better game plan than Riley, which is why Utah laid down a 47-24 whipping on USC.
The Trojans were flashy and finesse, while the Utes were physical and scrappy. The trenches is what separated Utah from USC. Whittingham built his team along the lines on both sides of the ball, while Riley's focus was on skill position players. And that mattered in both games. So Riley couldn't do nothing but give Whittingham his props on fielding such a good team.
"They've go some really good skill, defensively they're very strong," Riley said. "Had a system in place, guys recruited for a long time, you see the continuity, how that's built."
The two coaches will meet again next season though, but it will be at the Coliseum, and USC is undefeated at home under Riley. He'll be hoping the third time is going to be a charm. Still, Riley realizes the Pac-12 runs through Utah, and will continue as long as Whittingham is patrolling the sidelines.