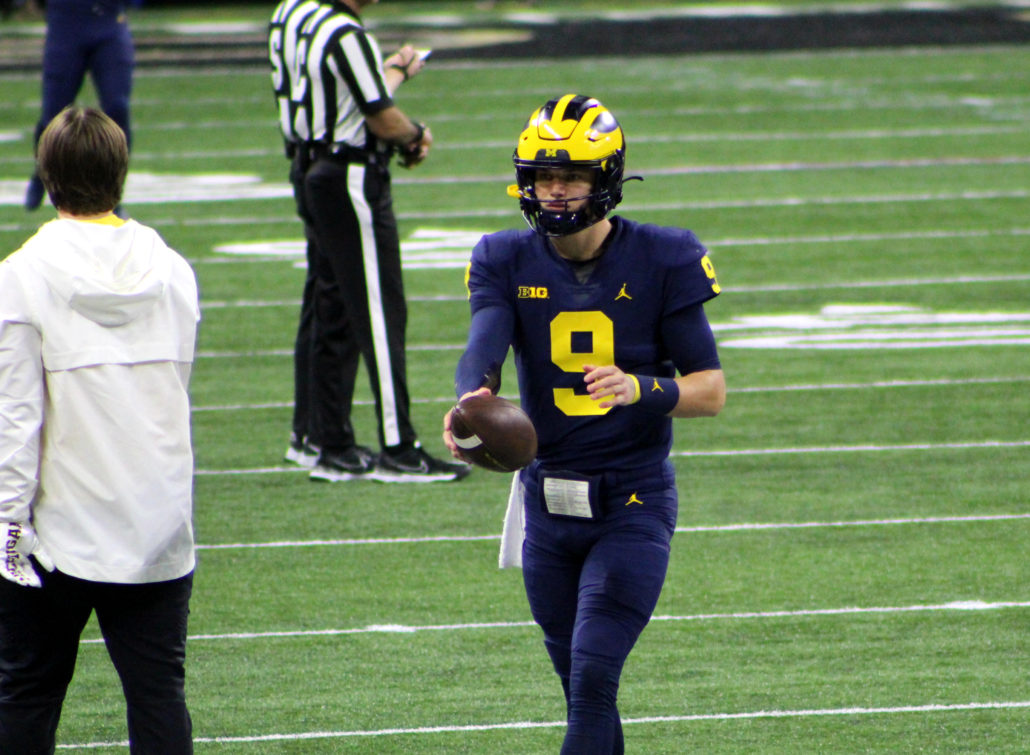 INDIANAPOLIS — The Wolverines have won 17-straight games against Big Ten opponents, are back-to-back conference Champions and will be making their second appearance in the College Football Playoffs.
So there's no denying that Coach Jim Harbaugh has a dynasty in progress. After all, everything appears to be trending up for postseason glory. The Wolverines are the No. 2 seed this time around, which gives them a more favorable matchup. Not to mention Michigan has the best rushing attack and defense in the Playoffs.
Which is why quarterback J.J. McCarthy is excited about what his team can accomplish. Although Michigan got smashed by Georgia last year in the semifinal, McCarthy believes his teammates learned from their mistakes. Everyone got a taste of what it feels like to be on the biggest stage and what it takes to compete with a top team from the SEC.
"Last year it was kind of the bright lights, everything was new, Big Ten Championship, College Football Playoff," McCarthy said. "Going into the offseason it gave us so much momentum, and we knew that we could get there, and we could get back."
The Wolverines did just that, by orchestrating the first 13-0 start in school history. Considering Michigan has one of the oldest programs in the country, that's an impressive feat by this year's bunch. McCarthy knows all of the success came with some sacrifice along the way though.
Last year's starting quarterback Cade McNamara got injured and transferred to Iowa. Not to mention Blake Corum, who's the Big Ten's Running Back of the Year, had season-ending leg surgery. There was even some distraction before the Big Ten Championship Game about Mazi Smith's felony gun possession.
Still, the Wolverines turned off the outside noise and were able to overcome adversity. And after the 43-22 victory over Purdue, it finally hit McCarthy that Michigan is truly ready for a Playoff run.
"Ultimately, this whole offseason it was about winning it," he said. "So at the end of the day everything is great that happened today, but the job is not finished."
The Illinois native has complete command of the Wolverines' offense since taking over for McNamara, and he's playing his best ball. McCarthy has six touchdown tosses and a rushing score over the past two games. He's showing qualities of a quality quarterback, like making others around him better and being a great leader. Not to mention Michigan's offense feeds off his energy.
McCarthy understood that more responsibility was going to be put on his shoulders after Corum went down. The six-foot-three, 196-pounder has held his own and then some. It helps a lot that Donovan Edwards stepped up in Corum's absence and rushed for 401 yards and three touchdowns over the past two contests.
None of the running back's success has surprised McCarthy. Instead the gunslinger expected Edwards to thrive in the backfield. And there's nothing like that next man up mentality in McCarthy's eyes.
"That's something that we preach no matter who goes down or what position goes down," the 19-year old said. "It's like Coach Harbaugh said, it's a brotherhood that leans on each other."
McCarthy has weapons in his arsenal in wideouts Ronnie Bell and Cornelius Johnson. The signal-caller also has big safety nets in tight ends Colston Loveland and Luke Schoonmaker. However, Michigan's biggest strength on offense is the offensive line. The big boys up front have been mauling defenders all season long, which is why the Wolverines average a jaw-dropping, 243 rushing yards per game.
Michigan's defense has been impressive too, especially against the run, only allowing a mere 85.2 yards per contest. The defensive line is relentless, the pass rush is ferocious and the secondary is full of ballhawks. The cherry on top for the Wolverines is having the best kicker in the country in Jake Moody.
Having a great ground attack, stifling defense and solid special teams will definitely be a recipe for success this postseason. And McCarthy trusts that the Wolverines will show the nation how much they've improved from last year's that lost by 23 points in last year's Playoffs.
"We've got a lot bigger plans in mind, and I love our chances."