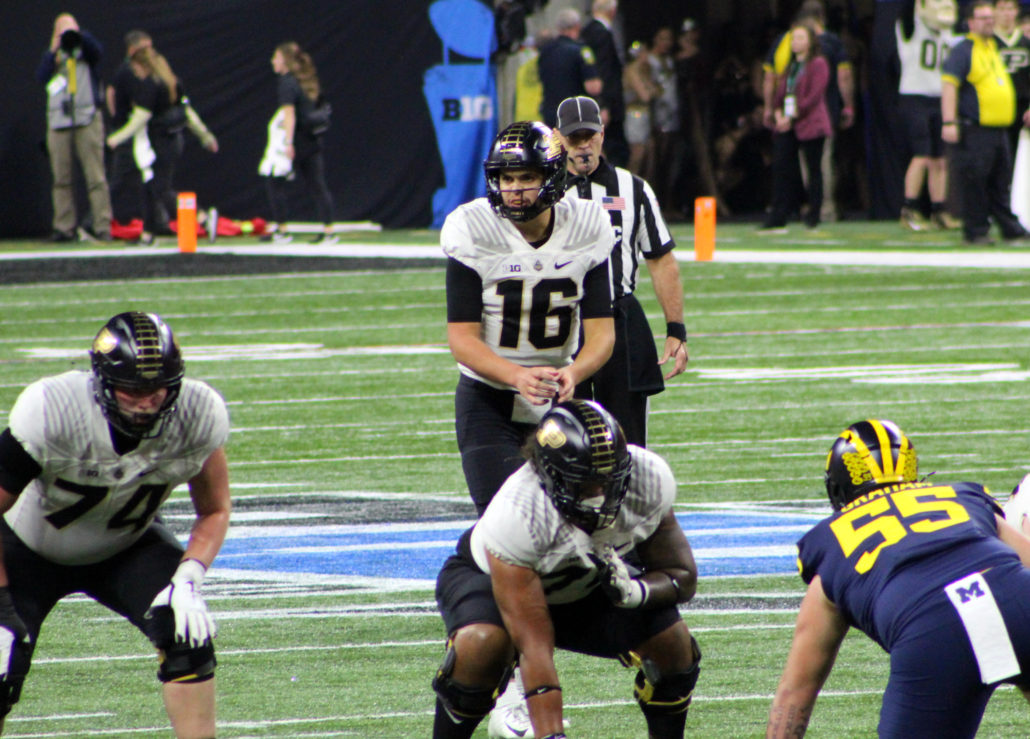 INDIANAPOLIS — The Boilermakers overachieved their way into the Big Ten Championship Game, and no one gave them a chance to win it.
That didn't stop Coach Jeff Brohm from inspiring his team to play their best on the biggest stage of the season. Purdue trailed Michigan by one point at halftime, but couldn't maintain the same intensity for the final two quarters and lost the game 43-22.
Despite the 21-point loss and the three-game winning streak snapped, Brohm was proud of his team for never giving up and fighting to the end.
"Unfortunately, the other team came out in the second half and imposed their will on us a little bit and got after us," Brohm said. "We couldn't answer the bell, so credit to Michigan."
Although the Boilermakers finished the game with more yards, first downs and plays than the Wolverines, they couldn't overcome two costly interceptions thrown by quarterback Aidan O'Connell. It didn't even matter that Purdue had the advantage in time of possession, because it was trying to come from behind the entire second half. And the Wolverines outscored Purdue 29-9 during that span.
O'Connell completed 32 of his 47 passes for 366 yards. However, it was the first time in three games that he failed to throw a touchdown. That's because Michigan's defense provided a consistent pass rush throughout the evening. O'Connell was sacked three times, including twice by Wolverine edge rusher Jaylen Harrell.
"We were going to have to play a near perfect game to win, and, you know, just touchdowns and turnovers is what football is about, and we turned the ball over and didn't score touchdowns, so it's hard to beat a team like that," O'Connell said. "But I'm proud of our guys, and we did a great job of battling."
O'Connell's chemistry with wideout Charlie Jones was evident in the matchup. After all, Jones hauled in a game-high, 13 catches for 162 yards. He even broke the program's single-season record for receiving yards. At times Jones ran circles around Michigan's secondary, and often required double-coverage.
However, the Wolverines were able to contain him in the second half, and that's when they started to pull away. The momentum of the game at that point clearly shifted to the Wolverines side for the remainder of the contest as the Boilermakers' offense became one-dimensional. And that frustrated O'Connell.
"We just needed some touchdowns," he said. "I think if we scored a couple of touchdowns early on instead of field goals, I think it feels a lot different."
Purdue's defense couldn't stop the run in the second half either. Michigan runninback Donovan Edwards scored twice and finsished the contest with 185 yards on the ground, after generating six in the first quarter.
It was bad enough that Lucas Oil Stadium was filled mostly filled Michigan fans. It made it feel like a road game, even though Purdue's campus is located an hour away from the venue. The crowd got louder and louder as the game went on too. And it was the loudest when the Wolverines built a comfortable lead.
Still, Brohm is glad his team knocked down a milestone this fall by winning the West, and no one can take that from them.
"They've battled through a lot, like other teams do, but some ups and downs, and they continue to play hard and work hard," the 51-year old coach said. "They found a way to get in a championship-level game, like we did today, which is tremendous."
Now Purdue (8-5) will find out its' bowl opponent late Sunday afternoon, which should have all of the players pumped and ready to redeem themselves.