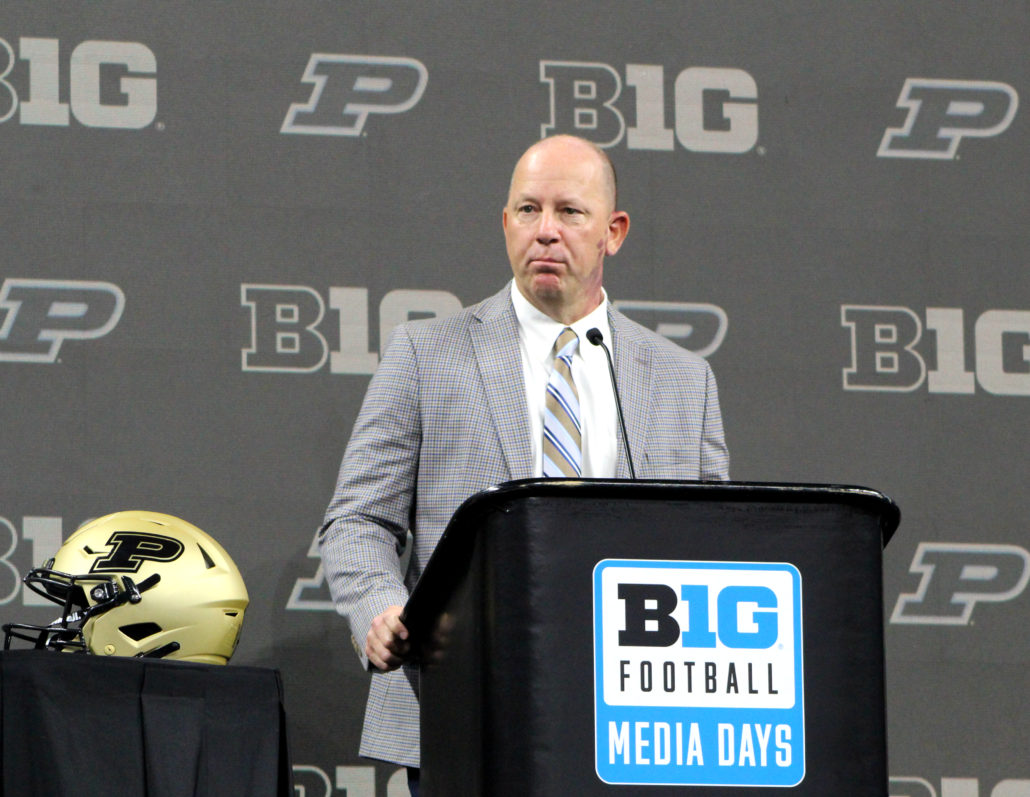 WEST LAFAYETTE, Ind. — There's no denying Purdue has made tremendous moves in Jeff Brohm's sixth season on the job.
After all, the Boilermakers just clinched a berth in the Big Ten Championship Game for the first time in program history. Everything appears to be trending up under Brohm's watch. Which shouldn't come as a surprise, considering Purdue has won 11 of its' last 15 games overall, including the last three.
However, the Boilermakers will be facing their toughest test of the season against the reigning Big Ten Champs in Indianapolis Saturday night. Michigan is No. 2 in the Playoff rankings and has won 14-straight games over Big Ten opponents.
Still, Brohm isn't backing down to the Wolverines, despite nobody giving his team a chance to win this game.
"I do think we're battle-tested, and I think we have been every year," Brohm said. "We had to work our way to the best record we can every year, and this year we had some tough football games."
Although Purdue lost by four points to Penn State and three to Syracuse, Brohm believes his players have learned how to close out tight games. The Boilermakers will have to be within striking distance approaching the fourth quarter in order to pull off the upset against the Wolverines.
That means slowing down Michigan's punishing ground attack. It helps that the Wolverines will be without the Big Ten Running Back of the Year Blake Corum. He's out for the rest of the season and will have surgery on his leg. Regardless, Brohm knows Donovan Edwards is just as deadly. Edwards rushed for 216 yards, two touchdowns and averaged nearly 10 yards per carry in the victory over the Buckeyes.
Brohm's boys don't have much to lose and everything to gain. And Brohm feels that makes the Boilermakers very dangerous.
"I think that's why we've been able to occasionally upset some teams because we do give it our best shot, and we let it hang loose come gameday," he said. "So without question we're going to have to do that this Saturday, we're going to have to play at the highest level we've played to date, and we hope Michigan makes some mistakes so we can capitalize on those, but it's going to be a challenge."
The Boilermakers are 17-point underdogs, which is clear disrespect on a national scale. Brohm appreciates all of the fan support and since Lucas Oil Stadium is in Purdue's backyard, he expects them to show up in droves. It's no mystery that the Wolverines are the more talented team, but the Boilermakers are scrappy, and Jim Harbaugh's squad has a tendency to play down to their competition.
"We fought hard all year, our guys have a chip on their shoulder, they play that way and they're out to prove themselves," the 51-year old coach said. "A lot of them think they been overlooked in the recruiting process, and they want to go out there and show what they're made of."
One of those players will be quarterback Aidan O'Connell, who announced he was going to play against Michigan earlier this week after dealing with death of his brother.
O'Connell has some weapons in his arsenal too, including All-Big Ten wideout Charlie Jones. The Buckeyes' aerial attack was  able to expose a few weak spots in the Wolverines' secondary, and that should have O'Connell licking his chops if he has time in the pocket. He'll be facing one of the most ferocious pass rushes in the FBS though.
Brohm has confidence in his players and believe they'll be up for the task. All they have to do is be better than Michigan for 60 minutes.
"I think College Football is set up that on any given Saturday anybody can win a football game if you do a lot of things correctly."