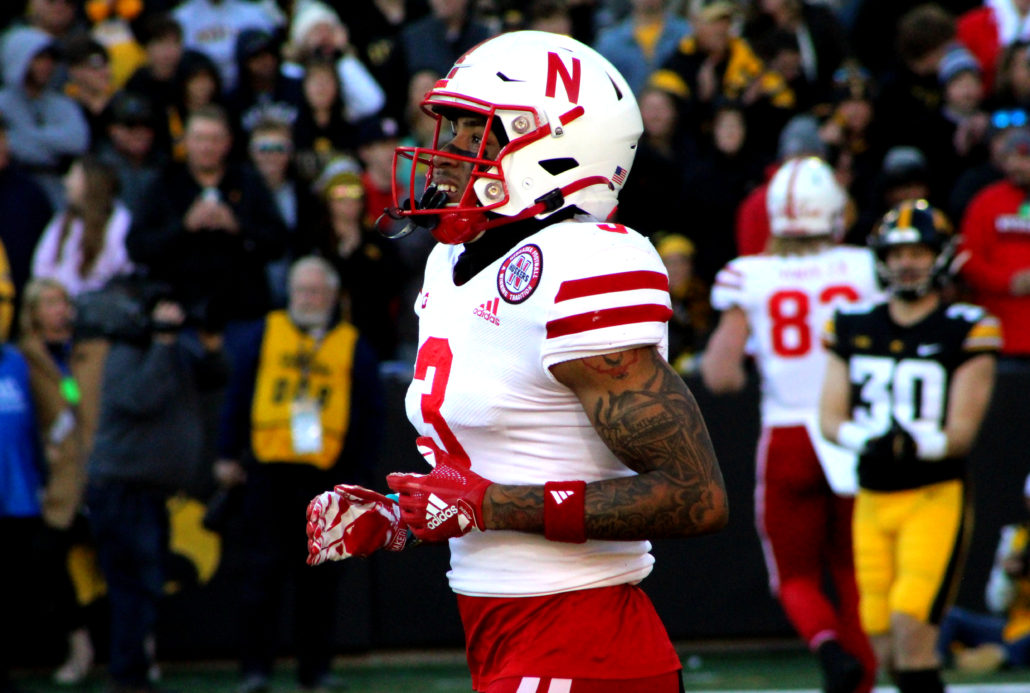 IOWA CITY, Ia. — The Nebraska wideout raised several eyebrows with his stellar performance in Friday's victory at Iowa.
Trey Palmer looked like a man among boys against the Hawkeyes secondary, with the way he stretched the field and those acrobatic catches. No doubt he left a lasting impression, which is why it wasn't a shocker that Palmer decided over the weekend to forego his senior season to enter the NFL Draft.
After all, he led the Huskers in receptions, receiving yards and touchdown catches this fall. No to mention Palmer broke Nebraska's single-season record for receiving yards with 1,043. His numbers rank third in the Big Ten and 14th in the FBS. Not to mention Palmer's nine touchdown catches tied for third in the league.
The former five-star prospect's rare blend of speed and quickness will fit him well at the next level. Palmer is confident, has swagger and never afraid to express what he's feeling. He let it be known that he didn't like Nebraska's last two opponents Wisconsin and Iowa. And he combined for 13 receptions, 212 yards and five touchdowns in those games.
It was obvious Palmer was glad to have quarterback Casey Thompson back for those matchups, and he displayed his athletic prowess to the fullest.
"It felt good, we got the win, we got the job done, that's all we wanted all season," Palmer said. "We fought, we never gave up and you see the results when you fight and never give up."
It's no mystery that he needed a quarterback with an arm like Thompson to get him the ball. Thompson missed the second half against Illinois. The signal-caller also missed the entire game against Minnesota and Michigan. And Palmer's production suffered with the gunslinger on the sidelines.
Palmer only had one receiving yard against the Fighting Illini, 37 against the Golden Gophers and 12 against the Wolverines. However, with Thompson throwing him the ball he was able to eclipse the century mark in receiving yards against Indiana, Purdue and Iowa. Palmer's 237 receiving yards, and 60 on the ground against the Boilermakers were both season-highs.
Thompson believes Palmer will do big things at the next level. He even noticed Palmer's skills from the first time he met the pass catcher on campus. So his success on the gridiron never surprised Thompson.
"I remember the first day we ran routes, we had about three or four incompletions our first time throwing together, and every time after that we said we're going to have no incompletions," Thompson said. "So just working with him this offseason, he's going to be a good player, and I'm really happy for Trey and the way he played this season."
It was inevitable that Palmer was going to enter the NFL Draft, especially with interim coach Mickey Joseph not landing the head coaching job. Joseph is the main reason Palmer became a Husker in the first place. He even followed Joseph from LSU to Nebraska. And that's why Palmer was proud to send Joseph off on a high note.
"He (Joseph) always talked about finishing, and just finish for the brother next to you, and that's what we did," the 21-year old said. "We fought for each other and never gave up."
With no bowl game, Palmer will have plenty of time to rest his body and think about his future. The NFL Combine is still a few months away, so Palmer can get a jumpstart on refining his skill set.
"I'm just going day by day."