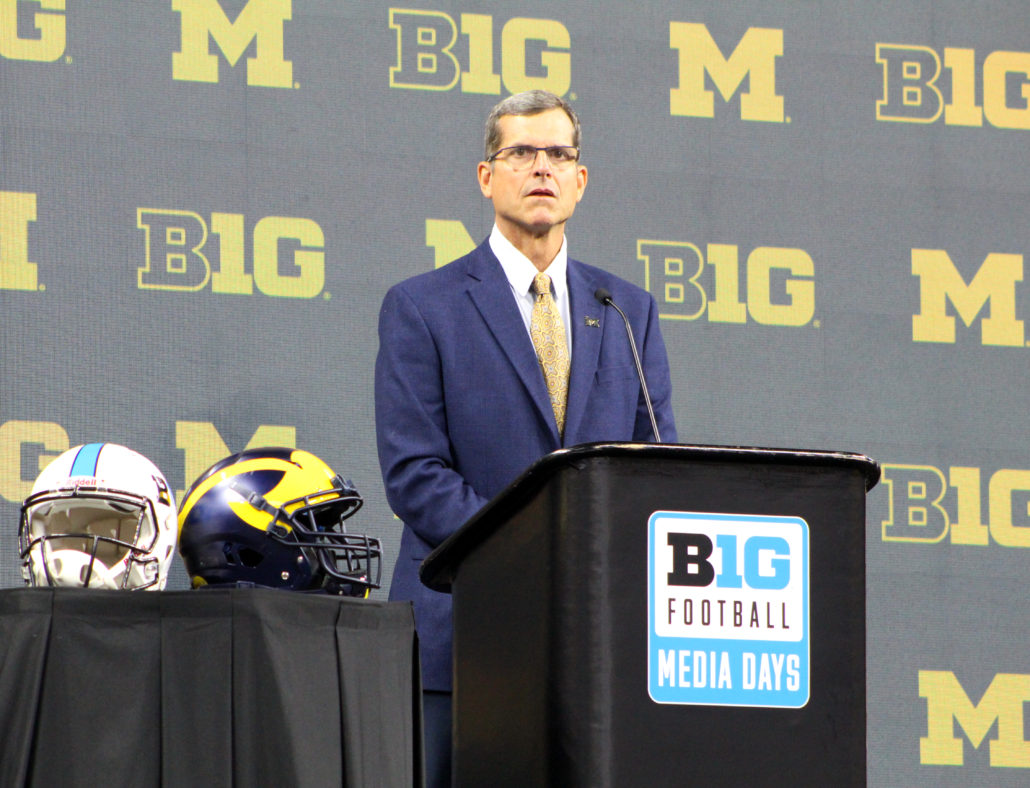 ANN ARBOR, Mich. — The reigning Big Ten Champs are looking to defend their crown against an opponent they haven't played in five years.
Michigan is one win away from capturing a second-straight berth into the College Football Playoffs and claiming Big Ten notoriety. Everything appears to be coming full circle for Coach Jim Harbaugh.
After all, he's been already named the league's Coach of the Year. The Wolverines are 12-0 for the first time since 1997, the year they won their last National Title. Not to mention Michigan is No. 2 in the latest AP Poll and Playoff rankings. The Wolverines have won 17-straight games against Big Ten opponents. So there's no denying that it couldn't be a better time for the fans that represent Go Blue.
However, Harbaugh must keep his players focused because a scrappy Purdue team is preparing to be the ultimate spoiler to Michigan's stellar campaign. The Boilermakers have won three-straight games, punched their first-ever ticket to Indianapolis and are flying under the radar.
Harbaugh is very familiar with Jeff Brohm and been watching Purdue from afar for quite some time. He believes Brohm is doing a tremendous job and remembers being in his shoes.
"I remember his position now, and what that feels like, so filled with optimism and good feeling with your team," Harbaugh said. "I remember the feeling last year and nobody expected us to be there, and here's his opportunity to go play in the Championship Game, so I know how dangerous his team can be."
Harbaugh embraced all the times his team were underdogs, and the Boilermakers are projected to lose by three scores. Harbaugh knows Purdue (8-4) has pretty much nothing to lose in this matchup and everything to gain. Which is why the Boilermakers have his full attention, regardless of what the analysts are predicting. Brohm has his team riding a big wave of momentum, so Harbaugh knows their state of mind approaching this matchup.
"It inspires your team and invigorates it, the preparation, the plans, the practices," he said. "I mean they're just easy, they flow and everybody is just so into it, so I know that's the kind of position they're in, the position we're in and that makes both teams very dangerous."
Michigan will capture its' 44th Big Ten Title with a victory at Lucas Oil Stadium. Harbaugh is confident his boys will be ready to play, but understands that they'll be getting the Boilermakers' best. It's nothing new to the Wolverines, because the players are used to being the hunted.
Harbaugh is making sure his team dialed in and prepared for the biggest stage. No doubt Michigan is hungry and appears to be a better squad than last season. It's unfortunate that the Wolverines will be without Big Ten Running Back of the Year Blake Corum, who is undergoing season-ending surgery. Still, Corum's backup Donovan Edwards rushed for 216 yards and two touchdowns in last week's victory at Ohio State. So Harbaugh is confident the offense is in good hands and the entire team is can't wait for the action on the gridiron.
"It's just a great thrill, a great thrill of winning and being able to go for a championship," the 56-year old coach said. "There's a time to live, a time to die, but there's never a time to reject the moment, and our players get to go through that."
All eyes will be on this game with it being the last clash to shape up the Playoff Committee's final top-four Sunday morning. So the anticipation will be high as ever for Michigan fans.