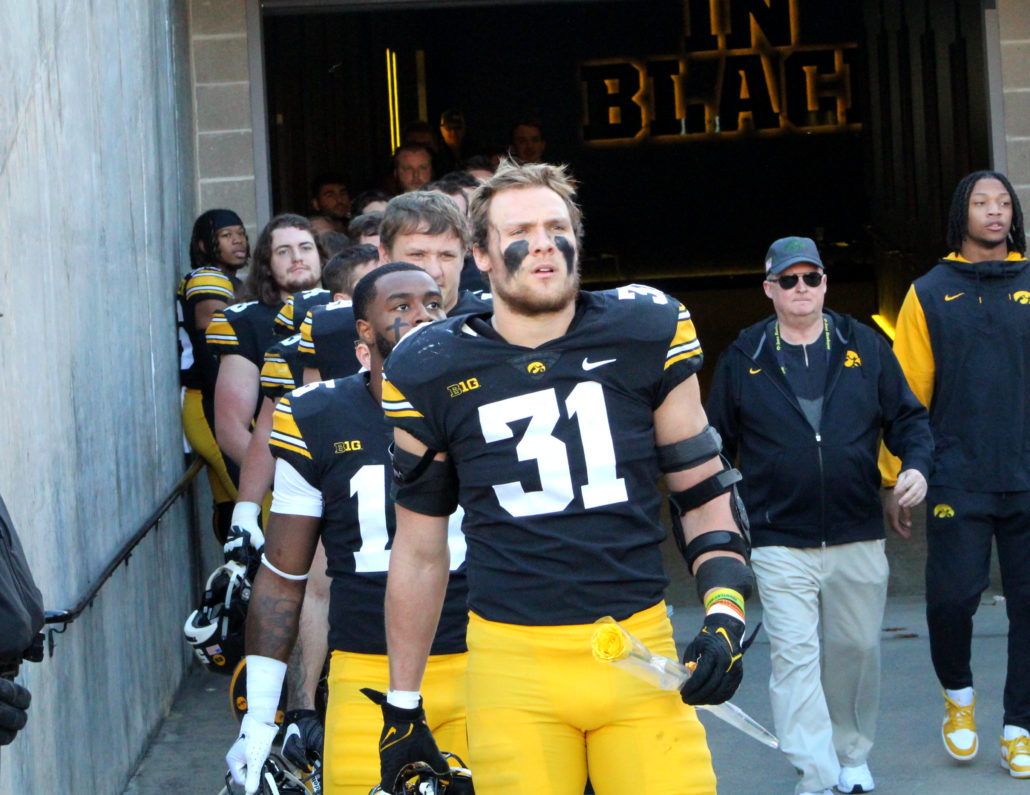 IOWA CITY, Ia. — Iowa's star linebacker didn't envision his last game at Kinnick Stadium would end in losing fashion.
After all, the Hawkeyes were one win away from clinching a second-straight berth in the Big Ten Championship Game. Not to mention Iowa had won seven-straight over Nebraska. So Jack Campbell was confident the Hawkeyes' defense was going to be ready and perform well.
He didn't want to disappoint his teammates, or his family and fans in attendance, but couldn't ignore the pressure of the moment.
"It was emotional running out onto that field for the last time," Campbell said. "Everything that this program has done for me, and those guys in that locker room, it meant a lot."
Shockingly, Iowa came out sluggish on defense, while Nebraska played inspired like it had nothing to lose. In the end it was the Huskers that spoiled the Hawkeyes Big Ten Title hopes and they walked off the field hoisting the Heroes Trophy. Unfortunately, all Campbell and a stunned sold out crowd could do is watch.
Nebraska orchestrated two touchdown drives early on, led 17-0 at halftime, and never trailed. Which raised several eyebrows, because the Hawkeyes have one of the best defenses in the country. Regardless, games aren't played on paper and Campbell and his teammates found that out the hard way, with a big humble piece of pie.
"Obviously an opportunity to go to Indianapolis is huge, so it hurts, but no one is going to hang their heads, we're going to keep going," he said. "Right now my main focus is pushing forward, and we have another game and we're looking forward to that."
The Iowa native has been one of the program's most decorative and productive defenders. There's no denying Campbell's legacy with the Hawkeyes is official. And he's not done yet. The character of a true leader is all about responding to adversity. And priority No. 1 for Campbell is getting the rest of the team to believe in the common goal.
So it's no surprise that Campbell is eager to get that nasty taste of defeat out of his mouth. Iowa (7-5) will find out its' bowl opponent on December 4. In the meantime Campbell plans on pushing himself and his teammates with trying to correct all of the mistakes.
In his mind, the loss to the Huskers was a fluke, but he gives them credit on a hard-fought victory. It's going to make Campbell and his teammates look at themselves in the mirror, and realize that their best hasn't been good enough. So motivation won't be an issue because everyone is ready to end the 2022 campaign on a high note.
Campbell understands he won't just be playing for himself, but he'll be doing it for every Iowa defender that came before him and the ones that'll come after. And there's nothing like having that Hawkeye pride.
"The opportunity to throw the tigerhawk on the side of your head and put that jersey on, that is something that every kid should try to seize."