Ryan Day not concerned about winning ugly in remaining games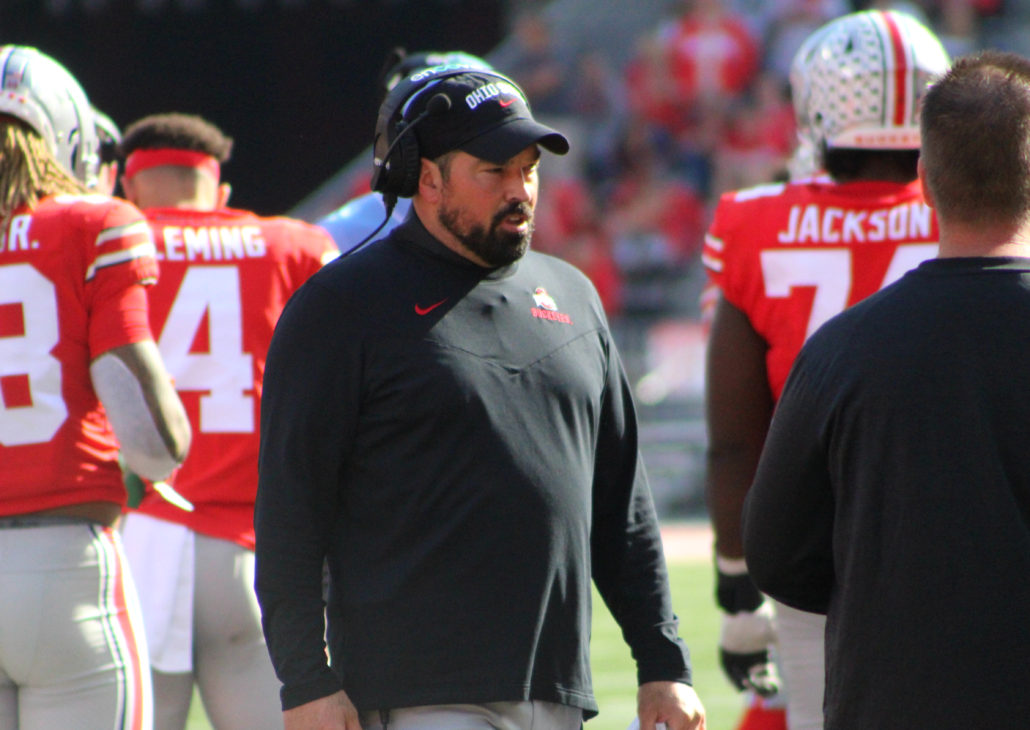 COLUMBUS, Ohio — The Buckeyes are coming off their worst performances of the season, despite earning a 21-7 road victory.
Northwestern held Ohio State to its' lowest point total in Big Ten play this year. Not to mention the 283 yards of total offense was a season-low for Ryan Day's team. Mother Nature played a huge factor in the game though. The wind was absolutely insane and the rain made the pigskin five pounds heavier.
November weather in Big Ten football can get extremely ugly. Which is why Day thought his team should've been better prepared for those conditions, but the conditions even took him by surprise.
"I think last week was just one of the most unique things I've ever been around," Day said. "I think someone said at one point that there was an 80-mile per hour wind gust in the area, it was just very strange."
The weather basically took away the Buckeyes' prolific aerial attack, which forced quarterback C.J. Stroud to carry the ball more than Day wanted him to. Stroud finished the game with 79 yards on the ground, easily a career-high for him. However, Day wants to keep his Heisman hopeful healthy. So Stroud absorbing hits is not part of the plan, but if Day has to do it again he will.
"I think we all need to do a better, going back and watching the film, we got to block better, we got to run better, we got to do a better job of equating numbers, and all the above," he said. "Certainly games when they know you're going to run it, you have to come up with answers, but just moving forward in general, we know we can do a better job."
Day wasn't expecting Northwestern to finish with more yards, plays, and first downs than Ohio State. The Wildcats even dominated in time of possession. Which is why Day credits his staff for making the right adjustments. The players were put in the right positions to be successful and stepped up in the clutch.
What Day is really proud of his the fact that his team offense didn't turn the ball over, despite playing with a slippery ball on a wet field. Sophomore running back Miyan Williams captured his third 100-yard performance of the season. And that was encouraging in Day's eyes, because Ohio State will need great outings from its' rushers down the stretch.
The Buckeyes' defense did their part, and held the Wildcats to single-digits. All eyes will remain on Ohio State approaching week 11. Day understands the Buckeyes' success through the years and notoriety, is why they get every opponent's best effort. And games aren't played on paper.
So Day has to come up with a different motivational tactics for his team each week. Winning close games, especially in dreadful weather conditions means the players are battle-tested. It's going to prepare them for a team like Michigan.
And Day emphasized that's an everyday grind. Regardless, he's all about winning games in the fourth quarter, like Ohio State did against Notre Dame and Iowa.
"If you keep winning, you're going to keep moving on, so style points or no style points, win," the 43-year old coach said. "That being said, when you look at the film we are playing really clean football in all areas, are we getting better every week, those are the things we're focusing on."
Ohio State (9-0) is ranked No. 2 by the Playoff Committee and in the AP Poll. So with each passing Saturday the stakes get higher and there's more to lose. At the end of the day, it's the big reason why kids come to play for Ohio State. Exposure, competing with the best of the best and to win championships.
Still, the players got to do the blue collar work on the gridiron, with everyone out there striving for perfection and no one giving any handouts. Which is expected of a Buckeye in Day's eyes.
"It's not like you can show up and just throw your helmets out there, it doesn't work that way."