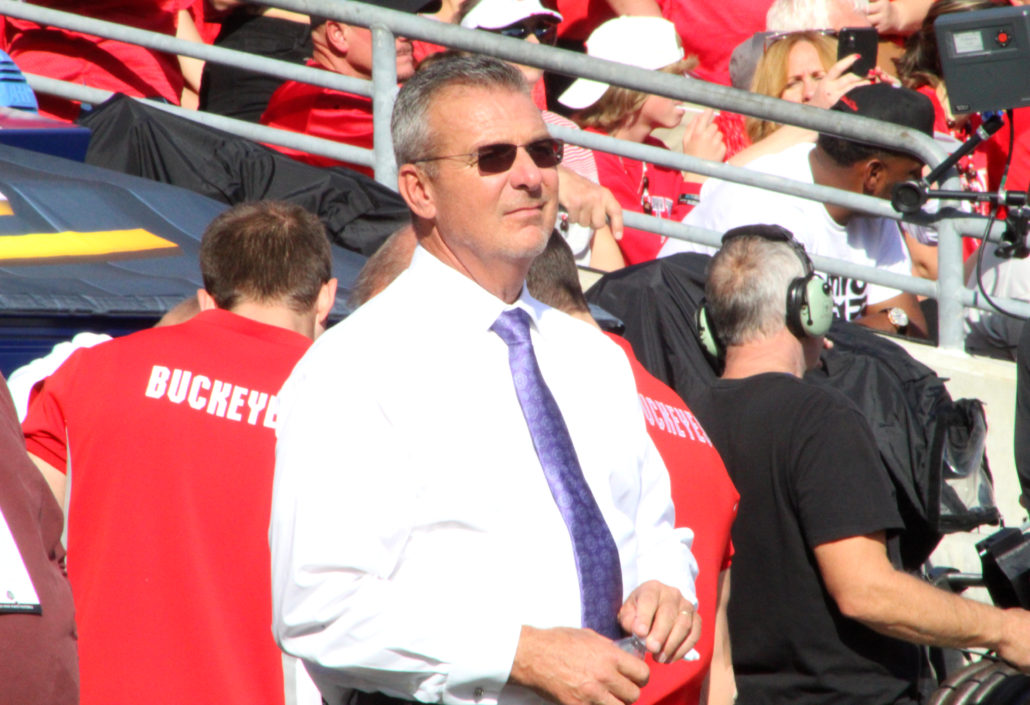 Any way you slice it, Nebraska's 2022 campaign has been disastrous.
Athletic Director Trev Alberts fired Scott Frost with pay after three games, and placed the interim tag on Mickey Joseph. Although Joseph is well-respected, and a great recruiter, he's 2-4 with his alma mater this fall. For whatever reason, the Huskers are staring down the hole of a sixth-straight losing season. And Joseph is starting to show why he's not ready for the job with his lack of adjustments and poor clock management.
Which is unfair, considering he's never been a head coach and is trying to clean up another man's mess. It's not Joseph's players or coaches on the roster. He looked promising early on though, and won two of his first three Big Ten contests. However, lately Joseph been losing games in the same fashion Frost had done. And that has Nebraska fans anticipating the inevitable.
Alberts been searching for candidates since game four anyway, and likely has a narrow list by now. The fans want a coach that checks all of the boxes in terms of Power Five experience, stellar recruiting, and success on the gridiron. Nebraska is still one of the original blue-blood programs, with great tradition and the best fans in the land. The Huskers have a strong financial backing and lucrative NIL deals for players, so there's no denying it's one of the best jobs in the Big Ten.
All Big Red Nation needs is the right coach to turn it all around and bring Nebraska back. And these 10 individuals should be on Alberts' short list.
Craig Bohl, Head Coach, Wyoming: He has strong ties to the program as a player and an assistant coach. So Bohl clearly understands the culture and passion of Big Red Nation. Bohl has an extensive coaching resume, that dates back to the early 1980's. He's also been one of the most successful coaches in the Mountain West over the past seven years. Since the start of the 2016 season, Bohl has stockpiled a 45-35 record at Wyoming. Not to mention the Cowboys have only suffered one losing campaign during that span. Bohl is up there in age at 64, but he continues to evolve with the game, which explains his longevity. It helps his cause that Wyoming is 6-3 this fall, including  a 4-1 mark in conference play. Husker fans need to put the dreadful 2002 season in the rearview mirror and welcome Bohl back home.
Dave Aranda, Head Coach, Baylor: He has one of brightest defensive minds in today's game. Aranda is a former Wisconsin Defensive Coordinator, so he understands the speed and physical style of play in the Big Ten. Although he won a Big 12 Title with Matt Ruhle's players, Aranda accomplished that feat in year two on the job. The Bears love to run the ball on offense, control the clock, and play stifling defense. That type of scheme will work just fine in the Big Ten. Baylor is 6-3 on the season, and currently tied in second place in the Big 12 standings. The Bears control their own destiny and the race to the league title will run through Waco. Aranda is smart, a winner and a champion, making him the ideal candidate. If hired, he'd quickly upgrade the Blackshirts and have them as one of the Big Ten's best units.
Gary Patterson, Assistant Coach, Texas: He made TCU a mid-level powerhouse when the program was in the Mountain West. Patterson had a highly successful 21-year tenure with the Horned Frogs, which included multiple conference championships and a couple of undefeated seasons. There's no denying he has won at the highest level. People must remember the players Sonny Dykes is winning with are the ones Patterson recruited, including quarterback Max Duggan.  Patterson has an eye for defensive talent, which is what the Blackshirts need. The veteran coach is having a major impact on Steve Sarkisian's staff this fall too. Texas is starting to put away opponent and finish games.  That was something that was missing last season, when the Longhorns gave up several double-digit leads.
Lane Kiffin, Head Coach, Ole Miss: The Lincoln native knows all about the tradition of Big Red Nation. Kiffin grew up during a time when Nebraska was arguably the country's top program. He has put himself together an amazing resume too. Kiffin been a head coach and put together winning campaigns at Tennessee, USC, Florida Atlantic and Ole Miss. There's no denying he has one of the game's best offensive minds. Kiffin is also a quarterback whisperer. His charm and sense of humor might not bode well with the old school Husker fans, but he appeals to the young generation. Kiffin is also an elite recruiter, which would swiftly upgrade the talent in Lincoln. No doubt the Rebels have been one of the SEC's best teams under Kiffin's watch. Ole Miss is 8-1 on the season and very much in the Playoff race.
Tom Herman, CBS Sports Analyst: There are several fans out there that feel like he deserved more time at Texas. After all, Herman has been a successful head coach at Houston and Texas. Not to mention he was Ohio State's Offensive Coordinator for three years under Urban Meyer, so the Big Ten experience is there. Herman also does exceptional work with his quarterbacks. The Ohio native won 23 games in two seasons with the Cougars, including a 13-1 campaign in 2015. Herman led the Longhorns to four-straight winning seasons, and never suffered a losing record in Big 12 play. Although Herman hasn't coached since the 2020 season, he's definitely a solid candidate, with a winning background. Husker fans know what Herman is capable of accomplishing, so he'd be welcomed with open arms.
Urban Meyer, FOX Big Noon Analyst: He has been one of College football's best coaches over the past two decades. Meyer is a future Hall of Famer, who has a resume that's unmatched. With three Nattys under his belt,  and multiple conference championships, Meyer would be a homerun hire anywhere he decides to go. The Ohio native has an eye for elite talent, and can recruit like no other. Meyer molds his quarterbacks into All-American gunslingers. However, controversy seems to follow him everywhere. Meyer's success is why he has so many haters though, and everything he does is scrutinized. Regardless, he's a proven winner at the highest level. Meyer can revive the sleeping giant program, but will be a pricey hire. Husker fans would need to just sit back and let the man do his job.
Deion Sanders, Head Coach, Jackson State: Talk about a coach who can change a culture overnight. Coach Prime has been successful at everything he's done. And he loves proving his doubters wrong. He's all about winning, and it appears to be contagious with his players. The job he's done at Jackson State is nothing short of remarkable. The man has single-handedly taken over the SWAC in such a short period of time. Coach Prime is so respected and admired by the young generation, that elite prospects from all across the country would love to play for him. His swagger, winning mentality and clear vision on the future of the game is why CBS 60 minutes and ESPN College Gameday invaded Jackson, Mississippi. Coach Prime tells it like it is, always accepts accountability and never make excuses.
Matt Rhule, Former NFL Coach: The way he revived Baylor after the program's fallout with Art Briles' regime, was nothing short of phenomenal. Rhule finished 1-11 in first season with the Bears. However, he stockpiled an 18-9 record over his last two seasons in Waco, including an 11-3 campaign  in 2019. His teams were physical, played with passion and looked like they had a lot of fun while doing it. It's no mystery Dave Aranda won the 2021 Big 12 Title with most of Rhule's players. It's unfortunate Rhule's stint with the Carolina Panthers was very disappointing. However, his personality and style of play was better fitted for the College game. He's a highly sought-after candidate, who won't be on the market long. It would be a complete shocker if Alberts hasn't already been in serious conversations with Rhule.
Jamey Chadwell, Head Coach, Coastal Carolina: The Chanticleers have been one of the most successful Group of Five teams under his watch. Chadwell is no one-season wonder either. He has put together back-to-back 11-win campaigns over the last two years. Chadwell is well on his way to making it three in a row, with Coastal Carolina 8-1 this fall. Not to mention Chadwell was named the Coach of the Year by several publications in 2020. The Sun Belt is a very competitive conference, but Chadwell has basically ruled the league with an iron fist. His consistency with winning and getting the most out of his players would benefit Nebraska tremendously. Chadwell also works closely with the quarterbacks, and has made Grayson McCall's one of the most successful signal-callers in the game.
Kevin Wilson, Offensive Coordinator, Ohio State: He has a boatload of experience in the Big Ten as an assistant and head coach. Wilson was Indiana's head coach for six seasons, and lifted the program from the Big Ten cellar. He led the Hoosiers to a bowl game in each of his final two seasons in Bloomington. There's no denying Wilson has worked with the best, considering he was an Offensive Coordinator under Bob Stoops and Urban Meyer. Wilson has been orchestrating the Buckeyes' offense ever since he left the Hoosiers. And Ohio State has stockpiled video game numbers under his direction. Year in year out Wilson fields some of the country's best offenses. The players who are currently on Nebraska's roster will transition well to Wilson's scheme. And he knows what it takes to be successful in the Big Ten.