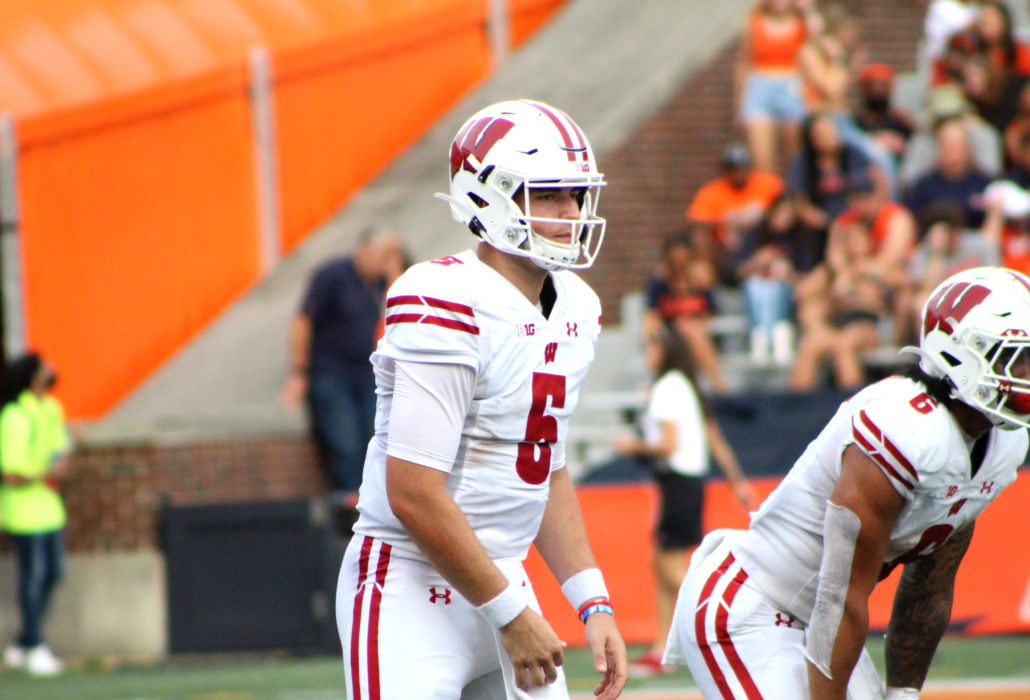 IOWA CITY, Ia. — The quarterback is playing his best football as a Badger, and that has the Hawkeyes' attention.
Ever since Jim Leonhard became Wisconsin's coach, Graham Mertz has elevated his game on the gridiron. The veteran signal-caller is coming off three victories over the past four games, and appears to be extremely confident. And at the right time because the Heartland Trophy is on the line.
Mertz and his teammates will likely be walking into a snake pit when they invade Kinnick Stadium Saturday afternoon. After all, Iowa is on a two-game winning streak for the second time this season, and Coach Kirk Ferentz is trying to keep the momentum going.
In order to do that his defense will have to make life hard for Mertz in the pocket, and force him to commit some mistakes. The Hawkeyes are third in the FBS in total defense, and will be one of the toughest units Mertz will face this season.
When Mertz has time in the pocket he can make all the right throws, which is why Ferentz is preparing his defenders to be disruptive and relentless in their pursuit.
"You can't let him get comfortable, it starts there," Ferentz said. "With any quarterback that's a big thing, because he's a good football player, and it feels like he's been there for like five years, six years."
Mertz was an embattled player through most of his career with the Badgers, but this fall he has turned the corner. His 2022 campaign didn't start out promising though. Mertz threw five interceptions through the first five games under Paul Chryst's watch. However, under Leonard's leadership Mertz has thrown for nine touchdowns and only been picked off once.
Not to mention Wisconsin (5-4) has averaged 32 points per game during that span.  So it's obvious a light bulb has turned on with Mertz, and he's making others around him better. Ferentz has coached against the Badgers for over 20 years and knows their punishing rushing attack is what opens up the play-action pass from Mertz.
"He's played really well for them, they have good receivers, too, and they do a good job off the play action," he said. "But he can make every throw there is, so it's going to be a challenge."
Wisconsin lost its' last trip to Kinnick, and during that contest Mertz completed 20 of his 38 passes for 169 yards and an interception. Iowa's defense also held Wisconsin's offense to seven points, 225 total yards and forced two turnovers. Which is why Ferentz is looking for similar numbers this time around.
Iowa's defense is tied for third in the Big Ten in interceptions, plus Riley Moss and Kaevon Merriweather are ballhawks. Wisconsin running back Braelon Allen is one of the best in the country, and he has eclipsed the century mark in rushing yards in each of the past four games. His production is vital to the Badgers' play-action scheme, so the Hawkeyes need to be ready to slow down Allen.
"They have the balance, the ability to be balanced and the ability for play action," the 67-year old coach said. "He (Mertz) certainly knows what he's doing, and he's got a good feel for the game."
Iowa (5-4) has lost five of the last six meetings in the Heartland Trophy series, and this will be Mertz's final time playing in Kinnick. Regardless, the Hawkeyes want the hardware back in the trophy case. So it's obvious the defense has to go hard in the trenches and get after Mertz to earn it.
"Hopefully we can get him off his spot a little bit so he doesn't get comfortable."