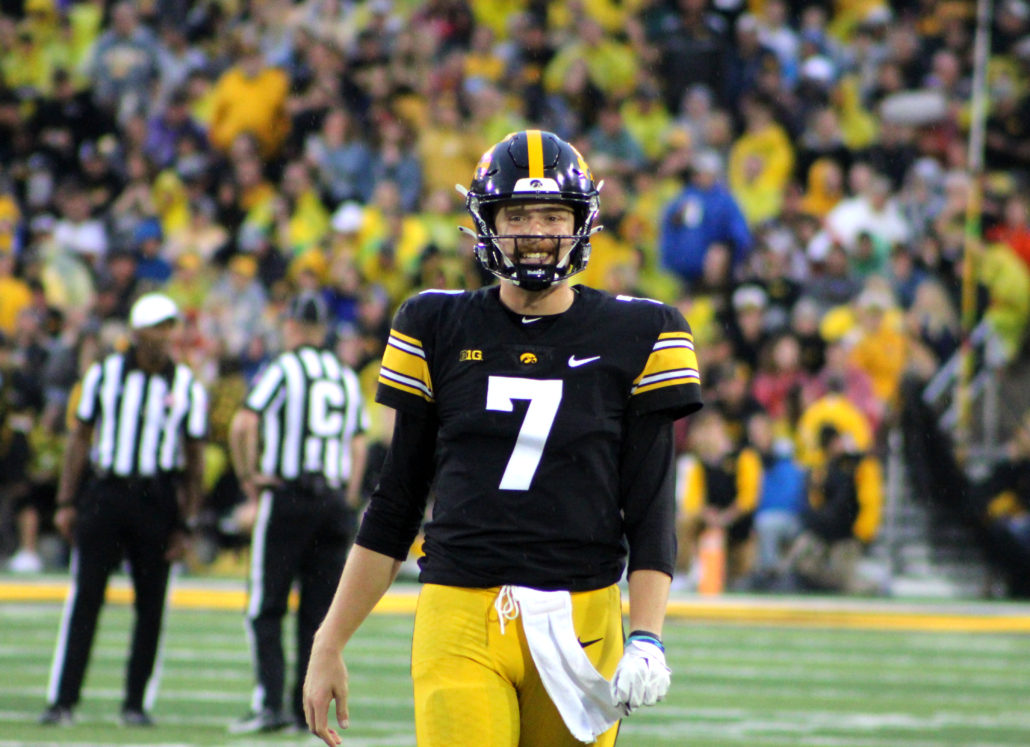 IOWA CITY, Ia. — Throughout the week Iowa fans were wondering which quarterback Kirk Ferentz was going to start against Northwestern.
After all, Spencer Petras and Alex Padilla had struggled over the previous two games, and combined for four interceptions during that span. Ferentz watched the two signal-callers through an intense of week of practice and decided to give Petras the nod against the Wildcats.
And it turned out to be a great decision. Iowa's offense racked up 393 yards, scored 33 points and generated 25 first downs, which were all season-highs. Most importantly the Hawkeyes committed no turnovers on offense, and led in time of possession.
As for Petras, he had arguably his best outing on the year. The senior completed 21 of his 30 passes for 220 yards, and scored two total touchdowns. Ferent thought Iowa (4-4) played complimentary football, and Petras was able to utilize the weapons around him.
"It's hard to play quarterback if you don't get help from everybody," Ferentz said. "And I'm not trying to kick the can down the road a little bit, not that they were perfect, but it really works better if you get a little bit more help."
Petras led the offense on a scoring drive in every quarter for the third time this fall. Not to mention he spread the ball around and connected with eight different Hawkeyes. Ferentz knows having that type of outing from his embattled quarterback builds momentum. It was obvious he made others around him better, and the rest of the offense fed off Pertras' energy.
"No question, this was our best offensive performance, and when you can play balanced, it starts up front," he said. "We certainly blocked better today, more productively that way, both run and pass, and gave Spencer some protection where he could set his feet a little bit and work through his progression."
It remains to be seen if Petras did enough to silence his critics. Although the Californian put up impressive numbers, he did against a defense that's ranked 95th in the FBS in yards allowed. Naysayers may argue that the Hawkeyes had a great day on the gridiron against a 1-7 team.
However, Ferentz will take a conference victory anyway he can get it. And he's starting to watch Petras' maturation process surge as the the Hawkeyes navigate through the Big Ten gauntlet. Petras' back was against the wall, but he came out swinging. Now Ferentz believes it's up to Petras if he's going to ride that wave of momentum the rest of this campaign.
One thing for sure, he doesn't regret his decision on starting Petras. Whether it was his experience, production or leadership, something had Ferentz confident Petras would carry the team to finish line.
"Probably his consistency; the things that we look at at practice every day," the 67-year old coach said. "And maybe we made the wrong choice, I don't know, but I think Spencer did a good job."
Iowa has four games left on the slate, with all against Big Ten West foes. Maybe a light bulb has turned on with the Hawkeyes' offense and they're ready to take it up a notch the rest of the way. Regardless, it's the perfect time to climb up the West standings.
"We have four weeks left in conference play, but the biggest thing is we're moving in November, and November is about playing your best football."