Ranking the Big Ten approaching week eight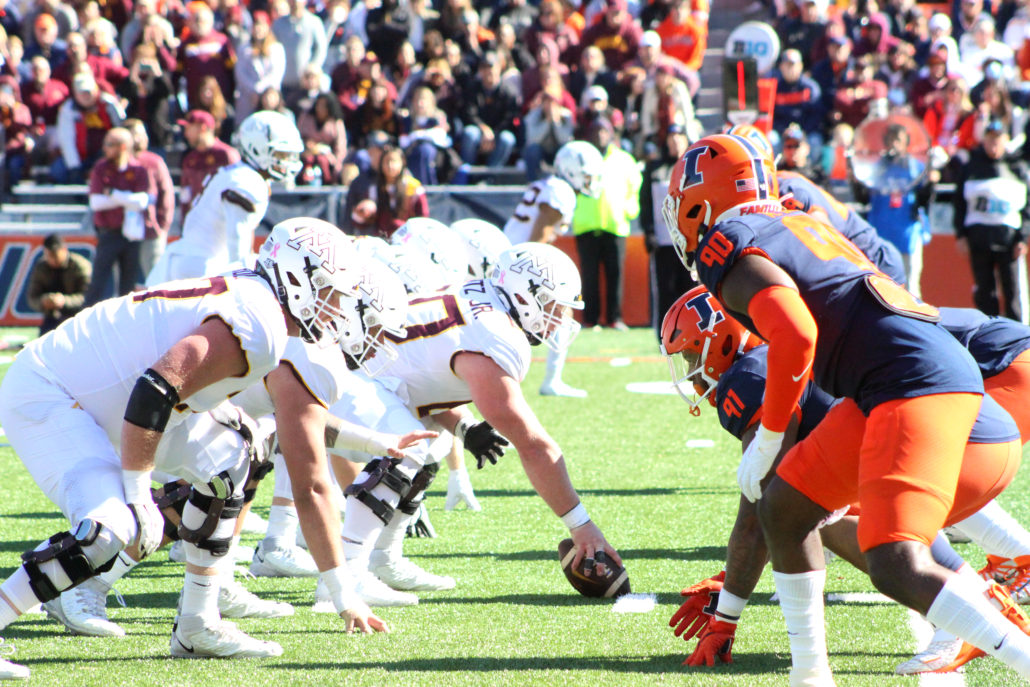 It's the most physical league in College football, where games are won in the trenches.
With half of the season in the books, the Big Ten has revealed its' contenders and pretenders. Only two undefeated teams remain in the Playoff race and they both hail from the East.
There's no denying the Big Ten contains the best defenses out of all the Power Five conferences, with five teams in the top-10 in yards allowed. Quarterback play has been solid too. One particular program has emerged from the shadows and been making noise.
Regardless, there's still a lot of football left to be played, and scenarios can change during the process as week eight kicks off in the Big Ten.
14. Northwestern, (1-5): The Wildcats are on a five-game losing streak since their conference victory in the season opener. Northwestern has been outscored 87-45 in Big Ten play in 2022. The glaring weakness for Pat Fitzgerald's squad is their rushing attack. The Wildcats are averaging a mere 112.2 rushing yards per game, which ranks 110th in the FBS. Those numbers won't cut it in the physical Big Ten. Northwestern has also been held to single digits in each of the last two games. Quarterback Ryan Hilinski has thrown three interceptions during that span. It helps that the Wildcats are coming off a bye-week. However, the schedule is flat-out brutal down the stretch. Currently none of the Wildcats' remaining opponents have a losing record. It's possible Northwestern might not win another game this fall.
13. Rutgers, (3-3): The Scarlet Knights are the only team winless in Big Ten play approaching week eight. Rutgers got off to a fast start and went undefeated in non-conference play. Greg Schiano's bunch outscored their opponents 104-42 in those contests. However, Rutgers is 0-3 in conference play this season, and been outscored 90-33 in those matchups. Not to mention the Scarlet Knights are on a five-game losing streak in Big Ten play. Schiano's offense has been stuck in neutral, and was held under 14 points in each of its' past three tilts. Rutgers let one slip away against Nebraska and had all of week seven off to correct what's been going wrong. Everyone should be healthier for the battle with Indiana, and ready to end the losing streak. The offense will have to score more touchdowns the rest of the way.
12. Indiana, (3-4): The Hoosiers lone Big Ten win in 2022 was over a ranked team in the season-opener. However, Indiana is currently on a four-game losing streak, which is the second-longest in the conference. The Hoosiers' defense has been a liability. It's tough to argue against that when Indiana has allowed 30 or more points in each of its' last five games. Not to mention Tom Allen's team is 97th in the FBS in total offense. The offensive line has been disastrous, allowing three sacks a game, which ranks 109th in the country. And that's the main reason why quarterback Connor Bazelak has been a turnover machine over the past four contests. Bazelak has thrown six interceptions during that span. Saturday's clash at Rutgers will be Indiana's best chance for a win, with four brutal games remaining after that.
11. Wisconsin (3-4): Interim Jim Leonhard led Wisconsin to a victory at Northwestern, but couldn't deliver the same results at Michigan State. The Badgers came up short in overtime, and have lost three of their last four games overall. Quarterback Graham Mertz seemed like he turned the corner after he threw five touchdowns against the Wildcats. However, he looked average last week and only completed 14 of his 25 passes. Running back Braelon Allen is having a magnificent campaign in 2022. He has eclipsed the century mark in rushing yards against Illinois State, Ohio State, Northwestern and Michigan State. Allen can only do so much when defenders are loading the box to stop him. The Badgers' defense have been a huge disappointment, allowing 34 or more points in three of the past four Big Ten games.
10. Michigan State, (3-4): The Spartans finally earned their first Big Ten victory of the season last week, which snapped a four-game losing streak. Mel Tucker's boys needed overtime to do it though. And that's mind-boggling, considering Michigan State started out the season ranked in the AP top-15. The Spartans have been one of the biggest underachievers in 2022. The offense has struggled with consistency. Michigan State is 12th in the Big Ten and 103rd in the FBS in total offense. Tucker's defense has been a major embarrassment also. The Spartans are allowing 422.3 yards per game, which ranks 12th in the league and 103rd in the country. Quarterback Payton Thorne hasn't played up to expectations. Michigan State has thrown eight interceptions, which is tied for second-worst in the conference.
9. Nebraska, (3-4): Mickey Joseph is trying to clean up the mess Scott Frost left behind. He's done a solid job, and led the Huskers to two victories out of the four games he's coached. The offense has played well enough to win games. After all, Nebraska has scored 35 or more points in five of its' seven contests. However, it's the Blackshirts that continue to be a liability for Joseph. The numbers don't lie, and the Huskers are dead last in the Big Ten and 123rd in the FBS in total defense. Having a non-existent pass rush and poor tackling will not improve overnight. Which is why Big Red Nation should expect more shootout games down the stretch, like last week's clash with Purdue. Those types of games can go either way, depending on which offense has the ball last. Huskers are on a much-needed bye this week.
8. Iowa, (3-3): The Hawkeyes are having one of their worst seasons in recent memory. Iowa lost at home to an Iowa State team that's winless in Big 12 play. It's no mystery that the Hawkeyes' offense has been the biggest embarrassment of the season. Poor play-calling and terrible blocking up front, has led to Iowa being dead last in the nation in total offense. Quarterback Spencer Petras has struggled mightily. He continues to overthrow open targets and receives very little help from the running backs. Brian Ferentz has received the shoulder of the blame for Iowa's offensive woes. The embattled Offensive Coordinator also works closely with the quarterbacks, and that position has been spotty at best this fall. The Hawkeyes are No. 7 in the nation in total defense though, and that's what has kept them in ball games.
7. Minnesota, (4-2): The Golden Gophers got off to a hot start and won their first four games. Minnesota outscored the opposition 183-24 in those contests. However, P.J. Fleck's squad has hit a roadblock and lost two-straight games. The Golden Gophers have been outscored 46-24 in those tilts. Minnesota only generated 180 yards of total offense in last Saturday's road loss at Illinois, which was its' lowest output of the season. The status of quarterback Tanner Morgan remains unclear also. Two Fighting Illini defenders sandwiched tackled him, which knocked Morgan out of the game and sent him to the hospital for further evaluation. Minnesota has one of the nation's best defenses though. The Golden Gophers are sixth in the FBS in total defense, and Fleck will need better play from the unit in Happy Valley.
6. Maryland, (5-2): The Terrapins are vastly improved from last season, and won four of their first five games. Both of Maryland's losses has been by single digits. Mike Locksley has a scrappy bunch. He earned a victory at Indiana last Saturday, but it was bittersweet because quarterback Taulia Tagovailoa got injured. Maryland's offense has been a strength this fall because of the production, experience and leadership of Tagovailoa. However, if he's sidelined for an extended period of time, the Terrapins could be in trouble, with a brutal schedule down the stretch. Locksley's defense is starting to crumble. Maryland has allowed 31 or more points in three of its' four Big Ten games. The good news is a one-win Northwestern team is up next for Maryland. And the Wildcats have struggled mightily scoring points this fall.
5. Purdue, (5-2): Jeff Brohm has the Boilermakers in a good position approaching week eight. After all, Purdue is tied in first place with Illinois in the Big Ten West standings. It has been a great turnaround by Brohm, considering the Boilermakers lost two of their first three games. Now Purdue is on its' first four-game winning streak during the regular season since 2018. All-Big Ten quarterback Aidan O'Connell has caught fire over the past two games against Maryland and Nebraska. The gunslinger combined for 751 yards through the air, six touchdown tosses and two interceptions in those contests. The Boilermakers have been in some tight battles this fall, with five of their seven games decided by single digits. And in order for Purdue to stay atop the West, it has to play better defense through the last five games.
4. Penn State, (5-1): The Nittany Lions were riding high unscathed, with a top-10 AP ranking coming out of their bye-week. However, Penn State ran into a snake pit at the Big House, and lost by four touchdowns. Manny Diaz's defense got exposed in the trenches, and took poor angles on several tackles. Penn State allowed Michigan to rumble for a jaw-dropping, 418 yards on the ground. The underwhelming performance raised eyebrows across the Big Ten, because the Nittany Lions had two weeks to prepare, and played solid through their first five games. James Franklin emphasized during his post game press conference that his staff need to take a deep look in the mirror. Penn State only fell six spots in the AP Poll. Franklin's bunch is still in the mix in the East standings, with half of a season left to play.
3. Illinois, (6-1): Bret Bielema has his team a year ahead of schedule. It's hard to argue against that when the Fighting Illini are tied in first place in the Big Ten West. Not to mention Illinois is No. 18 in this week's AP Poll, its' highest ranking in 11 years. The Fighting Illini are also on a five-game winning streak heading into their bye-week. Running back Chase Brown leads the entire nation in carries and rushing yards. He's also the first and only rusher in 2022 to eclipse a 1,000 yards on the ground. Quarterback Tommy DeVito has made a big impact on the offense too. He's 11th in the FBS in completion percentage, and hasn't thrown an interception over the past four games. Illinois' defense is what has taken the Big Ten by storm in 2022. The Fighting Illini are numero uno in the FBS in total defense.
2. Michigan, (7-0): The Wolverines have won nine-straight games against Big Ten competition. Opponents have failed to match Michigan's physicality. Jim Harbaugh has his alma mater ranked No. 4 in this week's AP Poll. The Wolverines have a punishing rushing attack, led by Heisman hopeful Blake Corum. Harbaugh has used him as a battering ram, and he's tied for first in the country in total points scored. Not to mention Corum is second in the FBS in rushing yards, and rushing yards per game. Michigan's defense has been tenacious all season long. Harbaugh's boys are second in the Big Ten and fourth in the nation in total defense. The Wolverines' defense have been eating quarterbacks for breakfast. The unit averages 3.43 sacks a game, which is best in the league, and tied for ninth in the country.
1. Ohio State, (6-0): The Buckeyes had week seven off, and watched everything unravel in the AP top-10. Ohio State kept its' No. 2 spot though. And rightfully so, considering the video game numbers Ryan Day's bunch is generating on the gridiron. Ohio State leads the nation in points per game, and is second in total offense. Quarterback C.J. Stroud is having a Heisman worthy campaign. He has a jaw-dropping, 24 touchdown tosses, which is tied for first in the country. Stroud is No. 1 in the country in passing efficiency. Wideout Marvin Harrison Jr. is having an All-American campaign. And the Buckeyes have had a 100-yard rusher in each of their last four games. Ohio State has been dominant on defense too, and is fifth in the FBS in points allowed. And up next is an Iowa team that's struggling to score points.