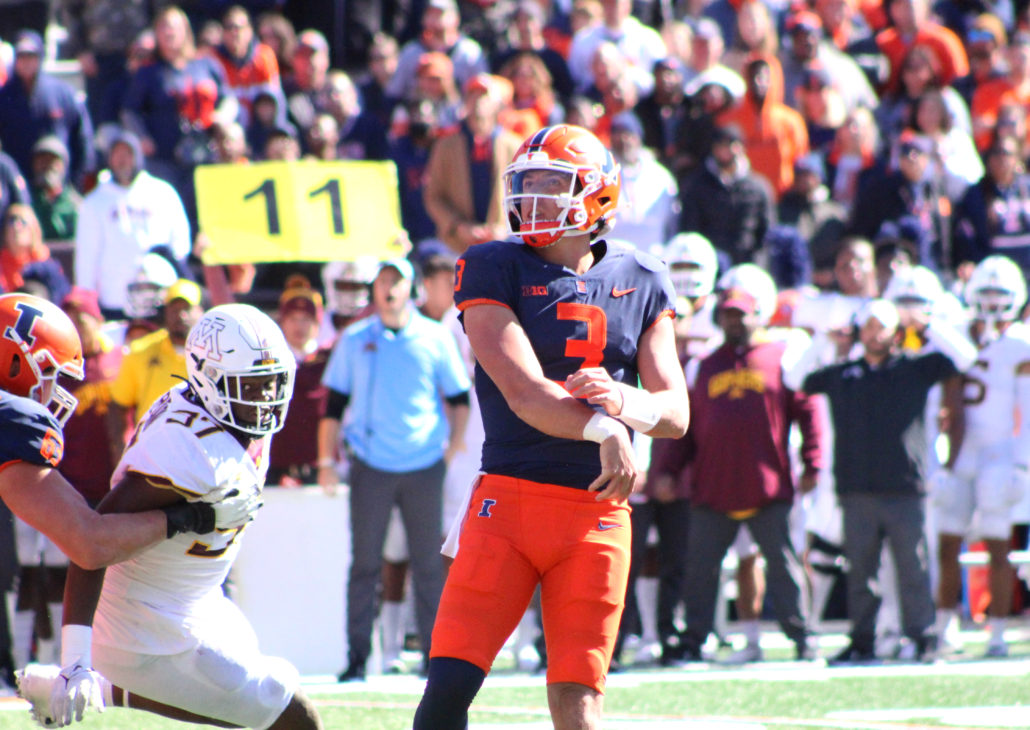 CHAMPAIGN, Ill. — The Illinois quarterback showed no lingering issues during Saturday's victory over Minnesota.
Tommy DeVito was a game-time decision heading into the matchup after he injured his ankle against Iowa the week prior. DeVito knew he would be ready to go against the Golden Gophers, but wore a walking boot throughout the week as a precaution.
The New Jersey native wanted to deliver something special for the offense after a underwhelming performance against the Hawkeyes. And DeVito did just that, by completing 25 of his 32 passes for 252 yards and a touchdown. He also rushed for a score.
The former Syracuse signal-caller has been wowing fans all season with his accuracy. Which shouldn't come as a surprise, considering he's 11th in the FBS in completion percentage. DeVito hasn't thrown an interception in the past four games, which included 99 pass attempts.
The gunslinger picked apart Minnesota's secondary with ease, and six different players caught a pass from him. DeVito is proud of his performance, but knows he wouldn't have had that success without the blocking from the big boys up front.
"We controlled the ball very well, we did exactly what we wanted to do, when wanted to do it, and that's credit to our offensive line," DeVito said.
Although DeVito believes the offense played their best game since the win over Chattanooga, he recognizes the unit should've scored more points. The six-foot-two, 210-pounder wants more touchdowns and less field goals the rest of the way.
And DeVito is confident that will come as the offense builds more chemistry. DeVito is enjoying the rhythm he has with running back Chase Brown. The two always seem to be on the same page, thanks to all of their reps together in practice.
DeVito was in awe of Brown's career day in carries. He was glad to compliment the running game with some efficient play-action passes, that constantly burned the Golden Gophers' defense.
"It made my job easier, and I didn't have to run as much with Chase Brown back there, and our offensive line did an awesome job," he said. "No sacks, a couple of hits here and there, but that's part of the game."
Illinois (6-1) more than doubled Minnesota in yards, ran 44 additional plays and generated 27 first downs. Not to mention the team finished with 472 yards of total offense, which was their highest output in Big Ten plays this fall
Now the Fighting Illini are bowl eligible, and moved up to No. 18 in this week's AP Poll. Illinois is also tied in first place with Purdue in the Big Ten West standings.
DeVito is glad to be part of the revival and the program being bowl eligible for the first time since 2019. However, he strongly believes the Fighting Illini have a higher ceiling.
"I don't think that's the team's goal, we want to go way past that," the 24-year old said. "It's just another notch under our belt."
The last three games have been extremely physical, and the bye-week couldn't have come at a better time for DeVito and his teammates. Everyone will have time to get healthy, watch film and expand their knowledge of the playbook.
DeVito refuses to let his teammates be complacent, and he's planning on keeping everyone dialed in during the time off.
It helps that only two of the Fighting Illini's remaining five opponents currently have a winning record. Still, DeVito understands it's any given Autumn Saturday in the Big Ten. So he has to keep his head on a swivel as Illinois navigates through the Big Ten meat grinder.
"The way the schedule has been set up is awesome, three games, a bye-week, four games, a bye-week, and now we're going into a giant five-game stretch."