Ryan Day refuses to overlook a struggling Hawkeye team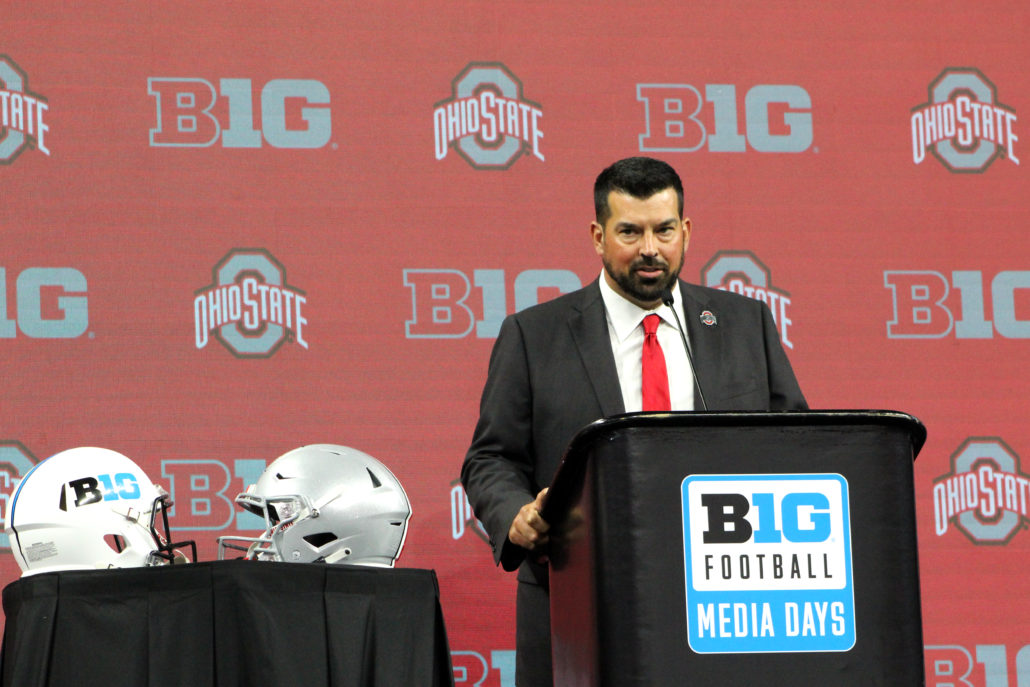 COLUMBUS, Ohio — The Buckeyes have plenty of motivation returning from their bye-week, and will clash with a Big Ten foe they haven't played since 2017.
After all, Ohio State held onto its' No. 2 ranking in this week's AP Poll. Even after Michigan and Tennessee put together impressive victories over ranked opponents. Now Coach Ryan Day is out to prove his Buckeyes' ranking is legit, plus the players and fans believe they deserve that No. 1 spot.
It just so happens that Iowa will be invading the Horseshoe Saturday morning. And it's hard for the College football world to forget the 31-point beatdown the Hawkeyes laid on the Buckeyes at Kinnick Stadium five years ago. Day was Urban Meyer's Offensive Coordinator that season and he vividly remembers that game.
However, this year's version of the Hawkeyes is nothing like the team that scored 55 points on the Buckeyes. Iowa has had a glaring weakness all season long, which is its' offense. The Hawkeyes are dead last in the FBS in total offense, and have only scored seven touchdowns. Not to mention Kirk Ferentz's boys are coming off two-straight losses.
Regardless of Iowa's shortcomings, Day is preparing for this matchup as if the opposition was undefeated.
"I think they're very good, been working hard in trying to figure out how to attack them, but they're very good in what they do," Day said. "Just the minute you think they're not going to change it up, they do, and very well-coached."
Day respects Defensive Coordinator Phil Parker's track history, because he annually fields one of the country's top defenses. Ohio State is the cream of the crop in the Big Ten, so Day expects every opponent's best effort. And he feels the Hawkeyes are going to show his offense something the unit hasn't seen this fall.
"So there's a reason why they're ranked so high, and year in and year out they're one of the better defenses in the country" he said. "They do a great job, so this will certainly be a challenge for our offense."
Iowa is currently ranked seventh in the nation in total defense. The Hawkeyes have an All-Big Ten caliber player at every level of their defense. There's no denying Parker's group will be the best defense the Buckeyes have faced. Still, quarterback C.J. Stroud should be licking his chops, considering the weapons he has in his arsenal.
Ohio State (6-0) is No. 1 in the FBS in points per game, and No. 2 in total offense. Stroud has had great protection from the big boys up front too. The Buckeyes are first in the league and fifth in the nation in sacks allowed. And that has given Stroud ample amounts of time to locate his targets.
Which is why he ranks first in the country in passing efficiency. The gunslinger is also tied for first in the FBS with 24 touchdown tosses. With Stroud having receivers that can stretch the field, and running backs that can take the pigskin to the house at any given moment, the Hawkeyes' defense may have to pick their poison.
So Day expects Iowa's offense will try to sustain long drives to control the clock and keep Ohio State's firepower on the sidelines.
"They want to control the game, they're not interested in scoring a million points or getting a ton of yards, they just want to win the game," the 43-year old coach said. "That's their focus, they're complimentary and they've done that for a long time and it's a winning recipe."
The Hawkeyes' offense have their work cut out for them, going up against one of the top defenses in the country. Ohio State has been just as dominant on the defensive side of the ball. The Buckeyes are in the top-10 nationally in scoring, rushing, passing and total defense.
First-year Defensive Coordinator Jim Knowles has made a major impact in 2022. There's no denying that when Ohio State's defense is No. 1 in the Big Ten in tackles for loss. Ohio State hasn't lost to a Big Ten foe at home since 2015, but Day understands that games aren't played on paper.
"The emphasis this week will be on Iowa, but we still will be hammering the fundamentals and techniques."