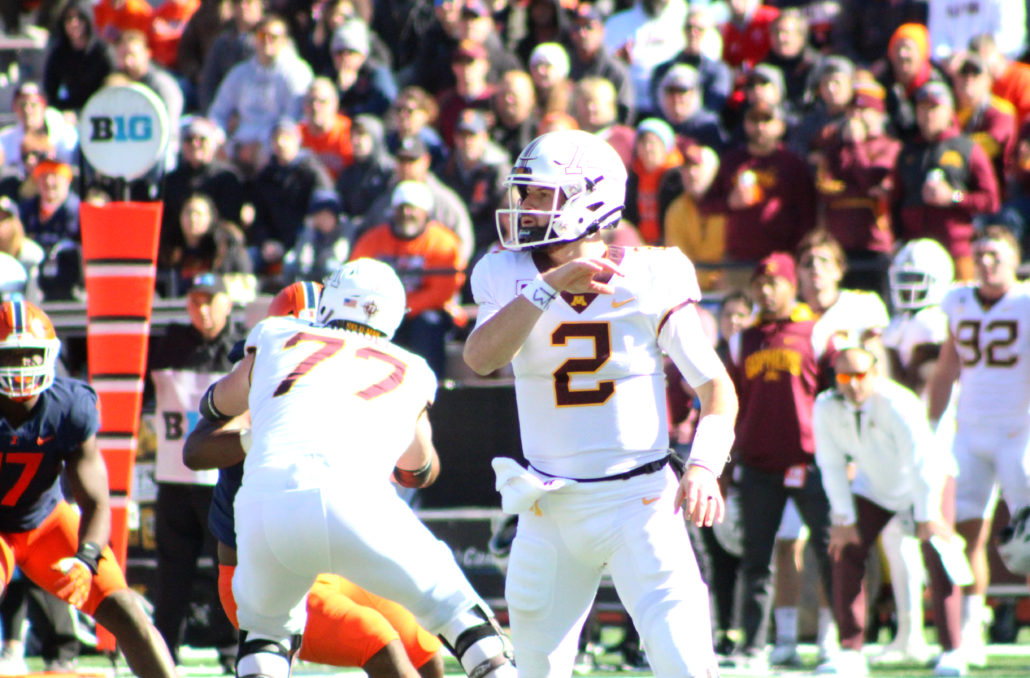 CHAMPAIGN, Ill. — Minnesota's head coach cringed as his quarterback struggled to get up, after he took a blow to the side of the helmet by a Illinois defender.
After all, Tanner Morgan has been vital to the Golden Gophers' offense all season. Not to mention he's been on the roster for P.J. Fleck's entire tenure with the program. So when Morgan left the game early in the fourth quarter and was transported to the local hospital for further evaluation, the entire team looked distraught.
Minnesota was already down nine points, and its' offense had been sputtering throughout the contest. Fleck inserted freshman Athan Kaliakmanis for the remainder of the game, but he struggled and threw two interceptions. The sixth-year coach couldn't help the distraction Morgan's injury caused and the uncertainty of his status as the game prolonged.
"We don't know the extent of it yet, and I think that's where they spring into action," Fleck said. "That's why they took him to the medical center to get a full evaluation, from probably the chest up."
Morgan got sandwiched tackled on a scramble for a first down by linebackers Gabe Jacas and Isaac Darkangelo. On Morgan's way down, Jacas punched the side of his helmet with a closed fist as he landed awkwardly on top of the ball. And Fleck knew at that moment something wasn't right.
"Tanner is a tough kid, but I think that one, we all kind of saw that, and everybody ran on the field," he said. "When you kind of get your hands pinned down, and then you get driven into the turf, that's hard."
The gunslinger was using his mobility a lot up to that point. And that's because Minnesota's passing attack couldn't gain any traction or consistency. Although Morgan had a rushing score, he only completed four of his 12 passes. The Kentucky native had no touchdown tosses and an interception at the time of he exited the game.
Not to mention the Golden Gophers looked one-dimensional without Morgan in the lineup. Fleck wanted to eagerly check on his four-year starter, but knew Morgan was in good hands with the medical personnel and his wife Heather by his side. Which is why he expects the signal-caller to bounce back from this episode.
"Tanner is a really tough individual, our medical team has our eyes on him constantly, and all our our players," the 41-year old coach said. "He's a competitor, he's tough, which is why he got up, went to the sidelines and fixed his socks."
Minnesota (4-2) has lost two-straight games, and have a tough road trip to No. 16 Penn State this Saturday. And Fleck hopes to have Morgan back in the starting lineup by then.