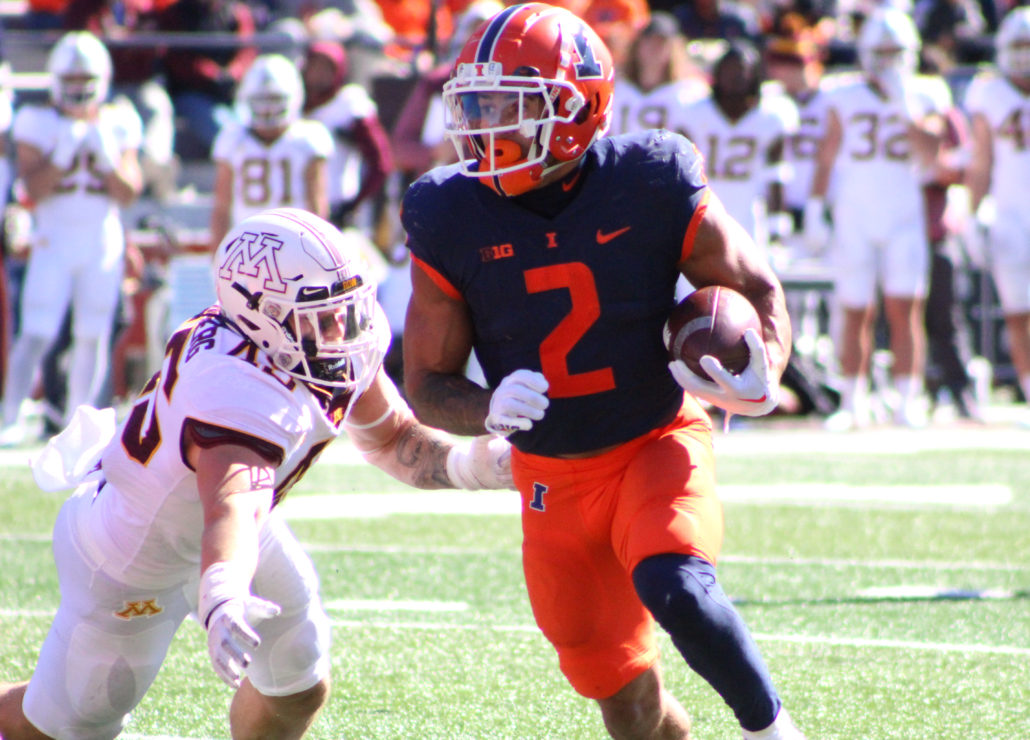 CHAMPAIGN, Ill. — Illinois' star running back leads the nation in carries and rushing yards, so there's no denying he's starting to put his name in the Heisman discussion.
Chase Brown is coming off a monster outing in the double-digit win over Minnesota. His workhorse capabilities were on full display in the physical battle. Brown carried the ball a jaw-dropping, 41 times, which was a career-high, and finished with 180 yards on the ground.
He raised several eyebrows across the country with his heroics. After all, Brown only stands 5-foot-11, and weighs 205 pounds, but is extremely productive despite constantly absorbing hits. That's because he's elusive enough to make defenders miss, and has the vision to scan the field during the process.
Even Minnesota Coach P.J. Fleck was in awe of what Brown accomplished against his defense.
"He's a special back, he got speed, twitch, quickness and power, he's got it all," Fleck said.
Brown is College football's first player to eclipse the 1,000-yard mark in 2022. Not to mention he became the Fighting Illini's first back-to-back 1,000-yard rusher since Robert Holcombe. There's no denying the Canadian is carving his name in Illinois lore.
Brown is well on his way to breaking Mikel Leshoure's single-season rushing record, which was set back in 2010. He's enjoying being the big man on campus, but continues to remain humble through a potential Heisman campaign.
"It's cool, I walk down the street sometimes, and have people shouting at me Heisman, Heisman, Heisman," Brown said. "But that's not on my mind right now."
Brown is a team-first guy, and he appreciates the recognition for all of his hard work, but could care less about the personal accolades. After all, Brown knows he wouldn't be in this position without the work from the big boys up front. The offensive line absorbs just as much contact as he does on carries, and he feels they deserve some of the spotlight.
As far as the Heisman discussion, a running back hasn't won the hardware since Alabama's Derrick Henry. However, what benefits Brown is the fact that he's consistent with his production. The Fighting Illini also moved up to No. 18 in this week's AP Poll, and the more they keep winning, the more consideration Brown will receive.
He'll have to score more touchdowns though. Brown only has four rushing scores this fall. There'll be plenty of opportunities for him to accomplish that in the remaining six games though. As for now, Brown is glad Illinois will have week eight off. He's definitely going to need time to heal from all of the collision against the Golden Gophers.
"I know 41 carries is a lot, but I'm willing to do whatever it takes to win games, and I just got to take my recovery to a whole new level," he said. "Just come back stronger, use this bye-week to get my body back, and come back explosive against Nebraska."
The former three-star prospect is putting together an All-American caliber season, which solidifies his amazing journey. And his success didn't happen overnight. Brown along with his twin brother and fellow teammate Sydney, are gym rats, who work out constantly and take their dieting very seriously.
Coach Bret Bielema joked about how he took Brown out to eat during their stay in Indianapolis for Big Ten Media Days. And Brown asked him if it was okay if he could order a coke to drink. It was just a reminder to Bielema how intense Brown is with his body. And he's sculpted like an action figure.
Illinois (6-1) is already bowl eligible, and tied for first place in the Big Ten West standings after Saturday's victory. Brown is just proud to be part of the program's rise back to national credibility. Still, he understands there's more work to be done on the gridiron.
"Being bowl eligible is sweet, we're really blessed to be in this position, be we have bigger goals than just being bowl eligible," the 21-year old said. "We want to compete for a Big Ten Championship, and move up in the rankings."
There hasn't been this much buzz about the Fighting Illini since Ron Zook led the team to the Rose Bowl in 2007. As long as the team keeps winning, the spotlight will become bigger each week for Brown to wow fans. And that's more than enough to keep his name in the Heisman discussion for now.