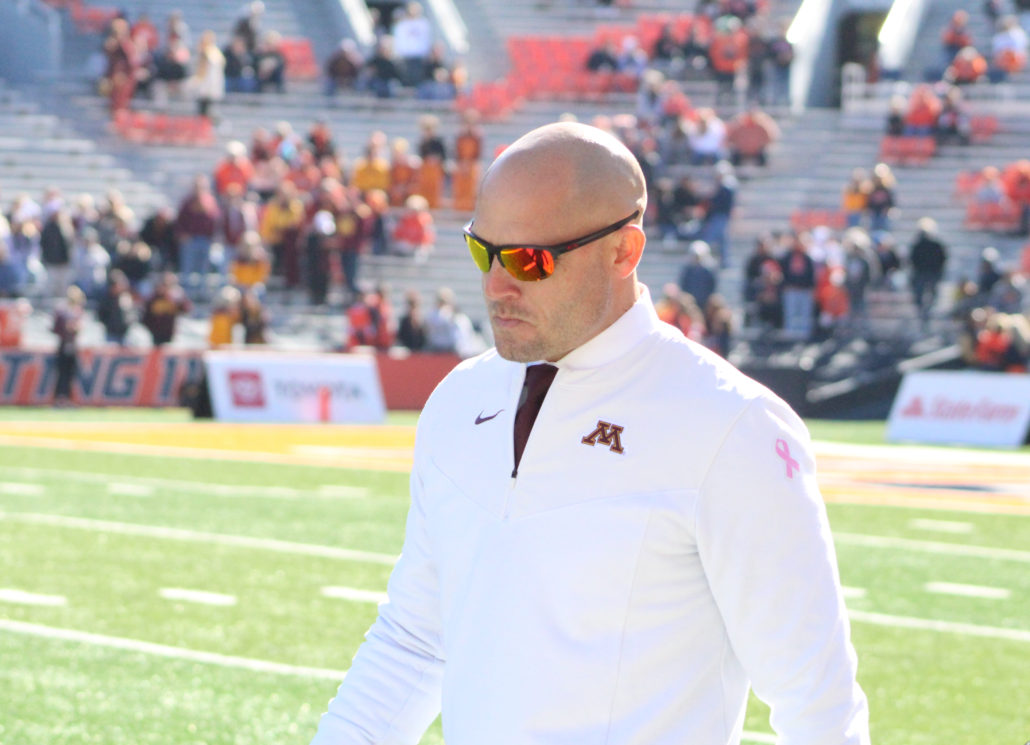 CHAMPAIGN, Ill. — There's no denying the Golden Gophers walked into a snake pit Saturday morning, and failed to match the intensity of the opposition.
Illinois outmuscled Minnesota 26-14, and the loss left Coach P.J. Fleck with more questions than answers about his team. After all, Fleck is known for being a great game day motivator, but his players came out flat. Which is a head-scratcher, considering the Golden Gophers were coming off a bye-week.
Fans expected the team to be healthy and motivated. Instead the players didn't look inspired like they wanted to be there. And that's mind-boggling because the Golden Gophers were very much in the mix of the Big Ten West standings heading into the contest.
Minnesota finished with 180 yards of total offense, which was a season-low. Not to mention the Fighting Illini ran 44 more plays than the Golden Gophers, and dominated them in time of possession. The Fighting Illini stockpiled 472 yards of total offense, which was their highest output in Big Ten play this season.
"They were able to stay ahead of the chains, they were able to convert fourth downs," Fleck said. "We just couldn't get off the field, and I don't think we tackled very well."
The Golden Gophers were down 10-0 in the second quarter, which forced them to alter their normal game plan. Fleck's squad still rallied back and took the lead early in the second half. However, Minnesota's defense couldn't make key stops and the offense couldn't answer the bell down the stretch.
It didn't help that quarterback Tanner Morgan got knocked out of the game early in the fourth quarter, and was taken to the hospital for further evaluation. Minnesota's aerial attack was abysmal with Morgan behind center. He only completed four of his 12 passes for 21 yards and an interception. The offense sputtered even more during his absence, and Illinois' defense smelled blood in the water.
Freshman Athan Kaliakmanis filled in for the signal-caller, and looked like a deer in headlights in the pocket. Kaliakmanis was picked off on each of the Golden Gophers' final two possessions. The offense could never gain any consistency and that's what frustrated Fleck the most. He knows first-hand, it's hard to overcome three costly turnovers.
"We didn't get any takeaways, we gave the ball away, things like that and that's how we usually win," he said.
Coach Bret Bielema used running back Chase Brown as a battering ram. He finished with a jaw-dropping, 41 carries for 180 yards. Brown appeared to get stronger with every carry in Fleck's eyes, and late in the fourth quarter no Golden Gopher defender wanted to tackle him.
"He (Brown) is really talented, one of the best running backs in the country, we all knew that," the 41-year old coach said. "He's a workhorse man, they do a really good job with how patient of a runner he is, and their scheme matches what he does really well."
Illinois' offense finished with 220 yards on the ground, which was the most Minnesota's defense has surrendered all season.
On the bright side running back Mohamed Ibrahim had a stellar outing back on the gridiron. He rushed for 127 yards and a score. Regardless, it wasn't enough and the Fighting Illini made the Golden Gophers one-dimensional.
Senior safety Tyler Nubin finished with a game-high, 13 total tackles, including nine solo. He didn't get much help from his supporting cast though. Minnesota (4-2) allowed Illinois to convert 27 first downs for its' second-straight loss of the season.
Still, Fleck is optimistic that his team can turn everything around for the remaining six games. It won't be an easy task though, starting off with a road match against a ticked off Penn State team in week eight.