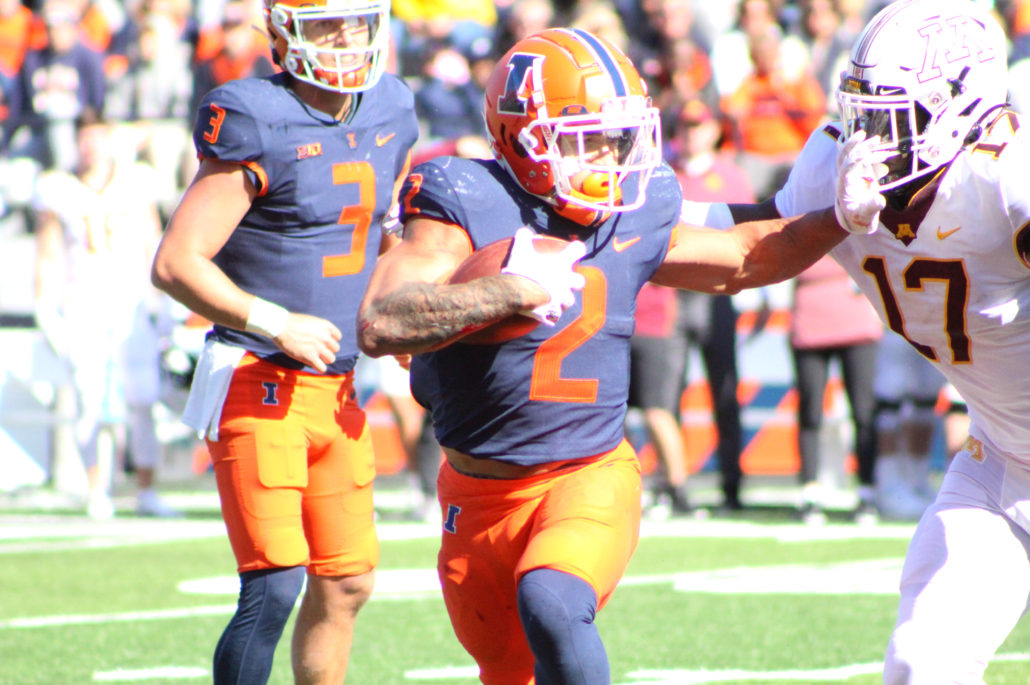 CHAMPAIGN, Ill. — The Fighting Illini earned their sixth victory of the season after stifling the Golden Gophers 26-14 Saturday afternoon, in front of a Homecoming crowd.
The win made the program bowl eligible for the first time since 2019. It also put Illinois in first place with Purdue in the Big Ten West standings. There's no denying Coach Bret Bielema has a clear-cut recipe for success this fall. Pounding the ball, smart quarterback play, and relentless tackling has the Fighting Illini surging in year two under Bielema's leadership.
And that's exactly what was on display against Minnesota. Star rusher Chase Brown had a stellar outing and proved he's a true workhorse. He carried the ball a jaw-dropping, 41 times. It was a career high for Brown, and he finished with 180 yards on the ground.
Bielema thought Offensive Coordinator Barry Lunney orchestrated a great game plan, with the way he utilized the running backs.
"One of Barry Lunney's goals this week was to protect the ball carrier and the ball," Bielema said. "A lot of people say protect the ball, but he wanted to protect our ball carriers, and that's something for Chase to get that many touches and come out on the back end."
The impressive part about Brown's performance was the fact that he accomplished it against a defense that's been solid against the run. Brown leads the nation in rushing, and he eclipsed the 1,000-yard mark on the season in just seven games.
Quarterback Tommy DeVito was a game-time decision by Bielema after he suffered an ankle injury against Iowa. And it turned out to be a great one. The gunslinger completed 25 of his 32 passes for 252 yards, two touchdowns and an interception.
"I had a feeling he (DeVito) was going to get better in a hurry, he truly did practice a little bit Tuesday, and he was good to go all the way from Wednesday on," he said. "Tommy is incredibly tough and competitive."
Bielema knows the value DeVito brings to the team overall, and loves the moxie he plays with in the pocket. The signal-caller had complete command of the offense against the Golden Gophers.
Not to mention the Fighting Illini finished with 473 yards of total offense, which was their highest output this season in Big Ten play. It's mind-boggling that Illinois ran 44 more plays than Minnesota, finished with 15 additional first downs and dominated in time of possession.
The Fighting Illini's defense dominated in the trenches. The unit held the Golden Gophers to 180 yards of total offense, which was a season-low. Illinois was too physical up front, mauled Minnesota's offensive line, and that's why three different defenders picked off a pass.
It's unfortunate Minnesota's quarterback Tanner Morgan got knocked out of the game early in the fourth quarter, and was taken to a local hospital for evaluation. Backup Athan Kaliakmanis filled in for Morgan, but threw two interceptions on the final two drives.
True freshman Gabe Jacas tallied a team-high, six total tackles and a sack. Senior safety Sydney Brown finished with five stops, and hauled in the game-clinching interception. Bielema appreciates how his defense compliments the offense, and that there's a stud at every level.
"They're hungry, they're good players that play with a lot of confidence, and I think it's really easy to get guys that believe that they can do something, can do it," the 52-year old said. "They have a little edge to them."
Illinois (6-1) will have week eight off, before returning to the gridiron with a road clash at Nebraska. Normally coaches don't like having a bye-week because it often times messes up the teams' rhythm. However, Bielema is glad his team won't be in action next Saturday.
So he plans on utilizing that time off to get everyone healthy, and add a few wrinkles. Regardless of the matter, Bielema's boys will continue to ride that big wave of momentum, considering they're on their first five-game winning streak since 2011.