Sean Clifford confident offense made most out of bye-week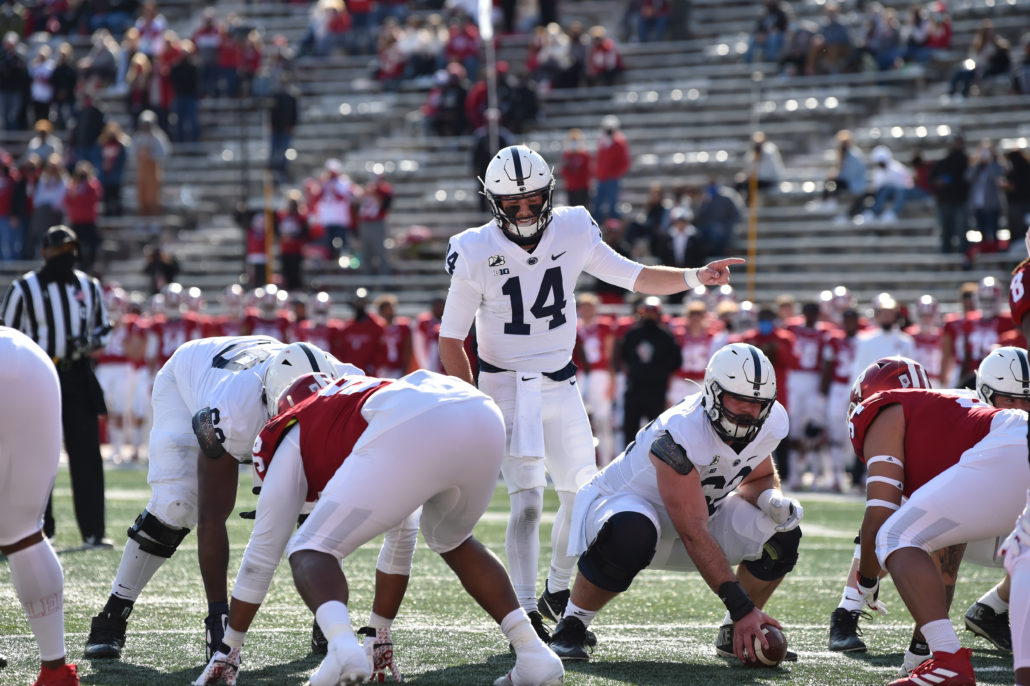 UNIVERSITY PARK, Pa. — Although the Nittany Lions didn't play in week six, they still put in quality preparation in their quarterback's eyes.
Sean Clifford felt the time off was refreshing for Penn State's offense. After all he and his teammates had more time to gel, the saff added a few wrinkles and most importantly everyone got healthy.
Off the field Clifford thought it was important for him to clear his head and enjoy life. So he spent time with his girlfriend and family, plus he attended a pumpkin patch. The signal-caller got to see other Big Ten teams in action in week six, including Michigan, which is Penn State's next opponent.
The Nittany Lions remained No. 10 in this week's AP Poll despite missing in action, and they're 5-0 for a second-straight year. Clifford believes the vibe is different this time around because of the way they utilized the bye-week.
"From a preparation perspective I thought that we handled the bye-week pretty well, which we've done in the past, but I think we took it up a notch," Clifford said. "I thought we worked really smart this week, we also worked hard and got a lot out of it, so I'm excited to come in this week with an edge."
Clifford is one of the most experienced gunslingers in the country, but even he knows traveling to the Big House won't be an easy task. The stakes are high, considering the Wolverines are the No. 5 team in the country and the reigning Big Ten champs.
However, Clifford believes the offense has been in a groove all season, Which is why he's looking forward to picking up where he left off. The veteran threw for a season-high, 282 yards and four touchdowns in the opening victory over Purdue. Not to mention Clifford has four touchdown tosses over the past two games. He also has a rushing score in each of the first four contests.
Penn State was missing a solid rushing attack in 2021, but this fall the talented young backfield has been more efficient and consistent. True freshman Nick Singleton has five touchdowns on the ground. And he eclipsed the century mark in rushing against Ohio and Auburn. Fellow true freshman Kaytron Allen rushed for 111 yards and a score against Central Michigan. And sophomore Keyvon Lee hauled in a touchdown pass against Purdue.
The Nittany Lions' aerial attack is what really has Clifford thrilled about what they can accomplish against the Wolverines. Senior Mitchell Tinsley has caught a touchdown in three different games. And Clifford has been able to spread the wealth too.
Four different players caught a touchdown against the Boilermakers, including wideout KeAndre Lambert-Smith. And junior tight end Brenton Strange has been Clifford's safety net. Clifford is enjoying the chemistry with his pass catchers, and believe they're just cracking the surface.
"I have a lot of confidence across the board with all the wideouts, so I'm really excited to keep building because I think they're a hungry group," he said. "It's week seven now and they're still the same way, if not better than it was at the beginning of the season, so they're continuing to develop, and it gives me a lot of confidence as a quarterback."
Clifford has had better protection up front this season, unlike last year when the Nittany Lions tied for the worst in the conference in sacks allowed. Penn State (5-0) has only allowed seven sacks thus far.
Michigan (6-0) has a ferocious pass rush though. The Wolverines are fifth in the FBS in total defense, and they lead the Big Ten, with a jaw-dropping, 22 sacks.
So there's no denying Michigan's defense will be Clifford's toughest test yet. Regardless, he and his teammates are out to prove their ranking is valid. It just so happens that four of the Nittany Lions' five games this season have been against opponents that are currently without a winning record.
Still, the Nittany Lions have scored at least 33 points in four of their five games. Penn State has enough firepower to make Saturday's matchup of unbeatens a shootout. And the winner will likely crash the top-four and have a clear-cut path to the Playoffs.