Grading the Big 12 approaching week seven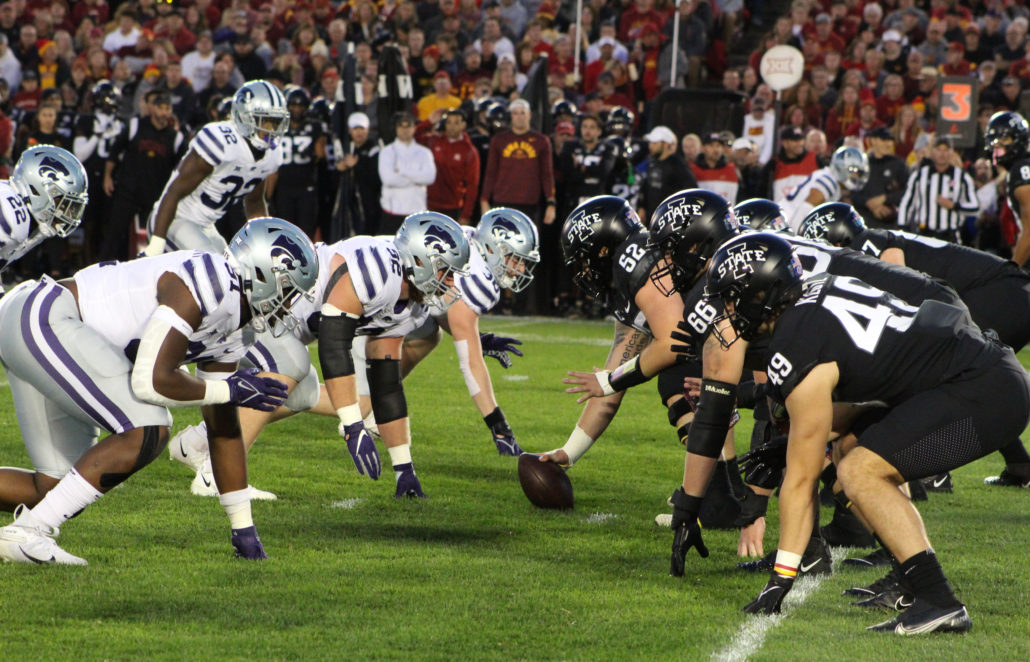 The conference had eight teams in action in week six, which separated the contenders from the pretenders.
A light bulb has come on with Texas. Kansas is no longer unscathed. Oklahoma and Iowa State is still winless in league play. TCU and Oklahoma State remain undefeated, while Kansas State sits atop the Big 12.
There's still a lot of football left to be played though, and it's still any given Saturday with a step closer towards Big 12 supremacy for these teams in week seven.
Baylor, (3-2): The Bears had week six off, which was needed to regroup after their second loss of the season. Oklahoma State defeated Baylor by double-digits and knocked Dave Aranda's boys out of the AP Poll. Aranda is a smart coach though, who's a natural at making adjustments. After all, he has won seven of his last nine games against Big 12 foes. Now Baylor is back on the road with a battle under the Thursday night lights against West Virginia. The Mountaineers are hungry for their first conference win of the season. So Aranda should expect West Virginia's best. The home team has won the last four games in the series. The Bears had the Big 12's best ground attack in 2021, but are currently 37th in the FBS in rushing offense. Blake Shapen was picked off twice against the Pokes and needs to play smarter with the football.
Iowa State, (3-3): The Cyclones are 0-3 in Big 12 play for the first time since Matt Campbell's initial season in Ames. Iowa State is on a three-game losing streak after coming up short at home against Kansas State. Campbell's squad is one of three winless teams in Big 12 play. The offense has really struggled this fall. The Cyclones are dead last in the league and 96th in the FBS in total offense. It doesn't help that Iowa State has been held scoreless in the fourth quarter over the past two contests. Quarterback Hunter Dekkers has struggled against Power Five opponents this fall. He combined for 953 passing yards, four touchdowns and five interceptions against Iowa, Baylor, Kansas and Kansas State. Dekkers desperately needs help in the backfield, after all, Iowa State is 116th in the country in rushing offense. A road battle at Texas is next for Campbell.
Kansas, (5-1): Although the Jayhawks are coming off their first loss of the season, they're still in a good position to make a run at the Big 12 Title. Despite the loss, Kansas remained No. 19 in week seven's AP Poll. However, star quarterback Jalon Daniels will miss the rest of the season with a shoulder injury he suffered against TCU. Backup Jason Bean had that next man up mentality, and finished with a encouraging outing against the Horned Frogs. He completed 16 of his 24 passes for 262 yards, four touchdowns and an interception. Bean will need to continue that momentum as Kansas heads to Oklahoma. The Sooners are slumping at the moment, but the Jayhawks will need to improve on defense. Kansas' defense allowed 42 points to West Virginia, 30 to Houston, 27 to Duke and 38 to TCU. Expect shootout games down the stretch.
Kansas State, (5-1): The Wildcats currently sit atop the Big 12 standings. Kansas State has won its' first three conference games for second time in three years after a nail-biting road win at Iowa State. Adrian Martinez has been performing like one of the best quarterbacks in the country. He has weapons in his arsenal in All-American rusher Deuce Vaughn, plus speedy receivers Malik Knowles and Phillip Brooks. Martinez also leads all FBS quarterbacks in rushing yards. Not to mention the Wildcats are first in the Big 12 and fifth in the country in rushing offense. On defense the Wildcats have a dangerous pass rush tandem in Felix Anudike-Uzomah and Khalil Duke. Kansas State is tied for second in the conference, with 16 sacks. Now Chris Klieman's boys are getting a much deserved bye-week, and will resume play at undefeated TCU.
Oklahoma, (3-3): The Sooners have been performing like the worst team in the conference. It's mind-boggling that Oklahoma isn't ranked and winless in Big 12 play. The shutout loss to Texas was embarrassing. It appears Lincoln Riley took all the elite talent with him to Los Angeles, and left Brent Venables with a major rebuilding job in Norman. The Sooners are 0-3 in conference play, and on a three-game losing streak for the first time since 1998. Oklahoma's offense have been abysmal ever since quarterback Dillon Gabriel got knocked out of game five. It's no mystery Venables has no passing attack with Gabriel sidelined. Oklahoma's defense hasn't fared much better for Venables during the losing streak. The unit allowed a jaw-dropping, 41 points to Kansas State, 55 to TCU and 49 to Texas. Up next for Oklahoma is a ranked Kansas team at home.
Oklahoma State, (5-0): Mike Gundy has his team 5-0 for a second-straight season. The Pokes are the Big 12's highest-ranked team at No. 8. Oklahoma State has a ton of momentum after a double-digit victory over Texas Tech. The Pokes have a dynamic offense this fall too. Oklahoma State is averaging a jaw-dropping, 45.2 points per game, which ranks second in the Big 12 and fourth in the FBS. A lot of the Pokes' success can be attributed to veteran quarterback Spencer Sanders. He has played magnificent in 2022, with 12 touchdown passes and two interceptions. Oklahoma State appears to be on a collision course with TCU. It just so happens the two teams will meet this Saturday, and the winner will be tied with Kansas State for the top spot in the Big 12 standings. However, Oklahoma State has lost its' last two trips to TCU.
TCU, (5-0): Sonny Dykes appear to have the Horned Frogs a year ahead of schedule. He couldn't have asked for a better start to his first season with TCU. After all, the Horned Frogs are one of the hottest teams in the country, and they're No. 13 in the AP Poll. It's TCU's highest ranking since 2017. Not to mention the Horned Frogs are one of two undefeated teams remaining in the Big 12. Dykes has made a tremendous impact on the offense. There's no denying that when the Horned Frogs are numero uno in the league, and third in FBS in total offense. Quarterback Max Duggan has been playing out of his mind this fall. He's No. 2 in the entire country in passing efficiency. Duggan has Heisman numbers, with 1,305 passing yards, 14 touchdowns and an interception. The Oklahoma State matchup will be the ultimate measuring stick.
Texas, (4-2): The Longhorns are riding high after their shutout victory in the Red River Rivalry since 1975. It was Texas' largest margin of victory in the storied series. The shutout was the program's first in the last 14 games. Not to mention Steve Sarkisian earned his first Golden Hat and the Longhorns surfaced back in the AP Poll at No. 22. Quarterback Quinn Ewers returned back to the starting lineup and didn't miss a beat. He completed 21 of his 31 passes for 289 yards, four touchdowns and an interception. All-American rusher Bijan Robinson has eclipsed the century mark yards in the last four games. Sophomore wideout Xavier Worthy has caught four touchdowns over the last three contests. The defense got a boost of confidence after holding Oklahoma to a fat goose egg. Iowa State is winless in Big 12 play and visits Austin Saturday.
Texas Tech, (3-3): The Red Raiders have lost three of their last four games. And that's mainly because of Texas Tech's woeful defense. The Red Raiders have allowed 29.83 points per game, which ranks dead last in the Big 12 and 95th in the FBS. First-year coach Joey McGuire is still getting adjusted to the speed, style of play and coaching in the conference. The Red Raiders have put points on the scoreboards, which has kept the team in games. Texas Tech has scored 31 or more points in four of its' six games in 2022. All three of the Red Raiders Big 12 contests have been shootouts, and that won't change until their defense improves. Now McGuire's team is getting a much-needed bye-week to regroup for the remaining six games on the slate. Regardless, a Big 12 gauntlet looms when the Red Raiders return to the gridiron.
West Virginia, (2-3): Neal Brown has arguably one of the hottest seats in the country, considering the Mountaineers have lost three of their first five games in his fourth season on the job. Not to mention West Virginia is 0-2 in Big 12 play. Besides the blowout victory at Virginia Tech, Neal's boys have struggled against Power Five competition. West Virginia allowed 38 points to Pittsburgh, 55 to Kansas and 38 to Texas. The reigning Big 12 Champs are up next for the Mountaineers, and they get them under the Thursday night lights at home. Quarterback JT Daniels has been a bright spot for the offense and played solid over the last three games. He has 995 passing yards, five touchdowns and an interception during that span. It helps that West Virginia is coming off a bye-week and should be well prepared against Baylor. Brown is facing a must-win.