Ranking the Pac-12 quarterbacks approaching week seven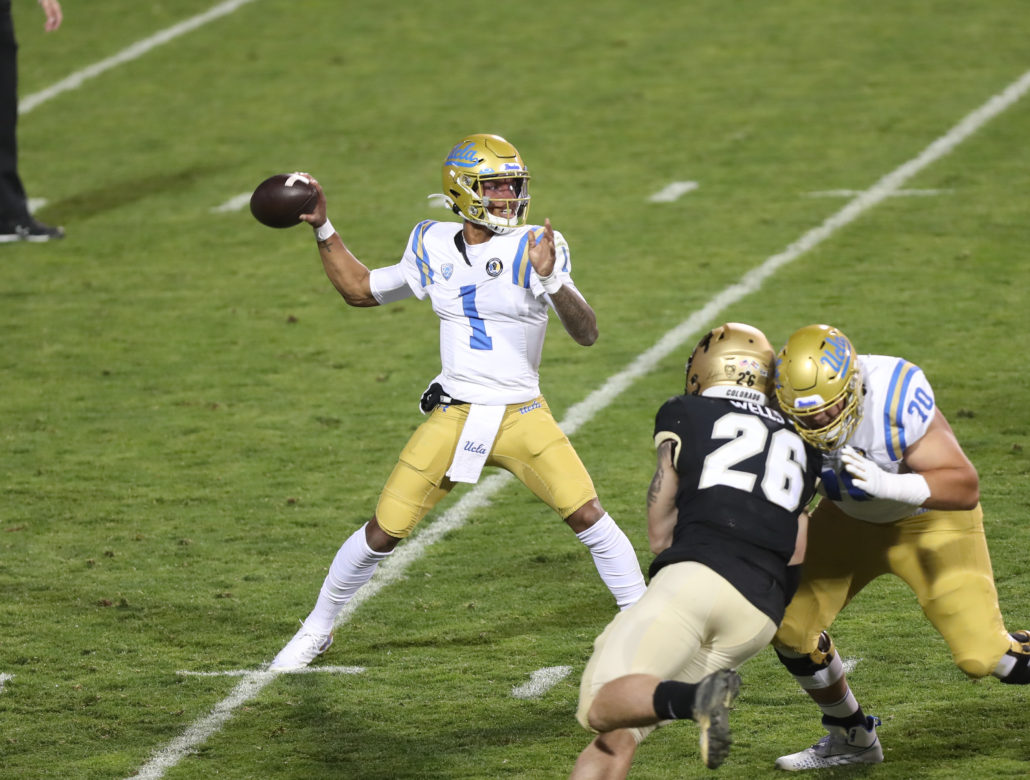 With half of the season in the books, several gunslingers around the league have made a statement on the gridiron.
From new faces, to seasoned veterans, the Pac-12 has had stellar play at the quarterback position this fall. A couple them have even led their teams to undefeated campaigns. There's still a lot of football left to be played though.
And it's still any given Autumn Saturday approaching week seven.
12. Owen McCown, Colorado: The true freshman has only played in three games this season, but has started the last two for the Buffaloes. McCown has done a solid job, considering the talent he's been operating with, and the protection up front. He threw for 258 yards, a touchdown and an interception against UCLA. McCown also rushed for a score against the Bruins. The Texas native followed up that performance with 186 yards through the air, 43 on the ground and scored two touchdowns at Arizona. Colorado didn't play in week six, and fired Karl Dorrell. Mike Sanford is the Buffaloes' interim. McCown and his teammates have rallied behind Sanford, and should play inspired at home against California. If Dorrell would've nabbed McCown as his starter for the 2022 season, he'd still have a job.
11. Chance Nolan, Oregon State: There's no denying the junior has struggled this season. Nolan leads the Pac-12 in interceptions. Nolan had a stellar performance against Montana State, when he threw for 276 yards and four touchdowns, which were both season-highs. However, there's been bumps on the road. Although Oregon State won its' season-opener over Boise State, Nolan threw two interceptions. His worst outing happened at USC, when Nolan got picked off four times. He threw two additional interceptions against Utah, and suffered a neck injury. It also kept Nolan out of last week's victory over Stanford. Coach Jonathan Smith started Ben Gulbranson, who completed 20 of his 28 passes for 250 yards and two touchdowns. It's unclear if Nolan will return back to the starting lineup in week seven.
10. Emory Jones, Arizona State: The former Florida Gator has had a rough start transitioning in the Pac-12. Jones has had some bright spots, like when he rushed for two touchdowns in the opening win over Northern Arizona. He even threw a touchdown against Oklahoma State and Eastern Michigan. Jones passed for a season-high, 261 yards against Utah, but was picked off twice. He followed up that performance with an interception against USC, but threw for 243 yards and scored twice. However, he received a hard blow to the head and was knocked out of last week's game against Washington. Junior signal-caller Trenton Bourguet filled in for Jones nicely though and led Arizona State to its' first Pac-12 victory of 2022. The Sun Devils also snapped a four-game losing streak, but they're on a bye in week seven.
9. Jack Plummer, California: The former Purdue Boilermaker has made an immediate impact for California this fall, with solid numbers on the gridiron. Plummer threw for three touchdowns apiece in victories over UC Davis and Arizona. He finished with a season-high, 278 yards through the air in the win over UNLV. The Arizona native scored twice in the road loss at Notre Dame. Plummer couldn't find the endzone at Washington State though. However, he still passed for 272 yards against the Cougars. California didn't play last week, but is back in action on the road against a winless Colorado team, that has an interim coach. The Golden Bears' have a tough schedule after the Buffaloes, so this would be Plummer's best chance to get his team another Pac-12 victory. Plummer could potentially have a career day.
8. Tanner McKee, Stanford: The Californian has been somewhat inconsistent this fall. McKee has put up solid numbers, but has thrown an interception in four of Stanford's five games. He got off to a hot start, and passed for a season-high, 308 yards and two touchdowns in the opening victory over Colgate. McKee followed up that performance with 220 yards through the air and two scores against USC, but was picked off twice. The six-foot-six, 230-pounder had a season-high, three touchdown tosses at Washington. McKee finished with two touchdown passes and no interceptions against Oregon. And nearly led the Cardinal to their first Pac-12 victory of 2022 last week. However, Oregon State escaped with the narrow win. Stanford is on a four-game losing streak, and still winless in Pac-12 play.
7. Jayden de Laura, Arizona: The former Washington State Cougar is making a name for himself with the Wildcats. Which shouldn't come as a surprise, considering de Laura was the Pac-12's Freshman Offensive Player of the Year in 2021. de Laura has thrown for 15 touchdowns this fall, which is currently tied for second-best among Pac-12 quarterbacks. He has also been picked off seven times, which is tied for the most in the league. de Laura has great chemistry with star wideout Jacob Cowing. The Hawaii native threw for four touchdowns and an interception in the opening win over San Diego State. de Laura was picked off three time in the following game against Mississippi State. However, he passed for a jaw-dropping, 484 yards and six touchdowns against Colorado, which were both career highs.
6. Cam Ward, Washington State: He has had a smooth transition coming from the FCS ranks to Power Five football. Ward ranks second in the Pac-12, with 1,617 passing yards. He's tied for second in the league with 15 touchdown tosses. However, Ward is tied for first in the conference with seven interceptions. The Texas native threw for three touchdowns in the opening victory over Idaho. Although Ward was picked off twice at Wisconsin, he led the Washington State to the upset win. Ward followed up that performance with four touchdown tosses against Colorado State, which was a season-high. The six-foot-two, 223-pounder passed for a season-high, 375 yards, and scored three times in the loss to Oregon. Ward bounced back with 343 passing yards against California, plus 172 in the loss at USC.
5. Cameron Rising, Utah: The former four-star prospect has pretty much picked up where he left off last season. Rising has put up solid numbers through the air and on the ground with his dual-threat capabilities. He nearly led Utah to a signature road win at Florida, but was picked off in the endzone on the final play. Over the next two games against Southern Utah and San Diego State, Rising went on a tear and combined for 478 passing yards and seven touchdown tosses in those victories. His four passing scores against the Aztecs were a season-high. The Californian threw or 260 yards, two touchdowns and an interception at Arizona State. Rising scored four total touchdowns in the win over Oregon State. Last week's loss at UCLA was the first time this fall that Rising failed to pass for a touchdown.
4. Bo Nix, Oregon: The former Auburn Tiger has had a stellar campaign thus far at Oregon. Nix leads all Pac-12 quarterbacks in 2022, with 20 total touchdowns, including eight on the ground. Although Nix had a rough outing and was picked off twice in the opening loss against Georgia. He responded with a stellar performance in the victory over Eastern Washington, and passed for a season-high, five touchdowns. The Alabama native completed 13 of his 18 passes for 222 yards and scored five total touchdowns against BYU. Nix followed that up with a season-high, 428 passing yards in the road win at Washington State. The former five-star prospect finished with 161 yards through the air, 141 on the ground and scored four times against Stanford. Nix generated three rushing scores against Arizona.
3. Michael Penix Jr., Washington: The former Indiana Hoosier has took the Pac-12 by storm this fall. Penix leads the conference with 2,044 passing yards and 16 touchdown tosses. He threw for four touchdowns apiece against Kent State, Michigan State and UCLA. Penix's 397 passing yards in the victory over the Spartans were a season-high. Not to mention he has passed for 300-plus yards in every game this season. The left-handed signal-caller is clearly one of the best players in the Pac-12 when healthy. He'll have to cut down on the turnovers though, after getting picked off three times over the last two games, which were both losses. Penix is fourth in the Pac-12 and 37th in the FBS in passing efficiency. Now he'll be matching wits with de Laura when Washington hosts Arizona, which should be a shootout.
2. Caleb Williams, USC: The sophomore phenom has made his presence felt in the Pac-12. Williams has led USC to a 6-0 start for the first time since 2006. Not to mention the Trojans are the Pac-12's highest-ranked team, at No. 7 in the AP Poll. Williams has been shredding defenses all season. He's third in the league with 14 touchdown tosses, and just one interception. Coach Lincoln Riley continues to prove he's one of the nation's best quarterback whisperers with Williams' success on the gridiron. The Washington D.C. native threw for 341 yards, and a season-high, four touchdown tosses in his Pac-12 debut against Stanford. Williams scored four touchdowns apiece against Fresno State and Arizona State. His 348 passing yards against the Sun Devils were a season-high too. Williams' toughest test yet will be at Utah.
1. Dorian Thompson-Robinson, UCLA: He's in year five as the Bruins' starter, and everything has come full circle for him this fall. Thompson-Robinson has led UCLA to its' first 6-0 start since 2005. The Bruins are also 11th in this week's AP Poll, which is their highest ranking since 2015. Thompson-Robinson is well on his way to becoming the program's all-time leader in total offense. The Las Vegas native has scored 19 total touchdowns this fall. Not to mention he's first in the Pac-12 and sixth in the FBS in passing efficiency. Thompson-Robinson threw for three touchdowns apiece against South Alabama and Washington. His 315 yards through the air against the Huskies were a season-high. The six-foot-one, 204-pounder also had a season-high, with four touchdown tosses in last week's victory over Utah.