Chris Klieman preparing Wildcats for toughest test of 2022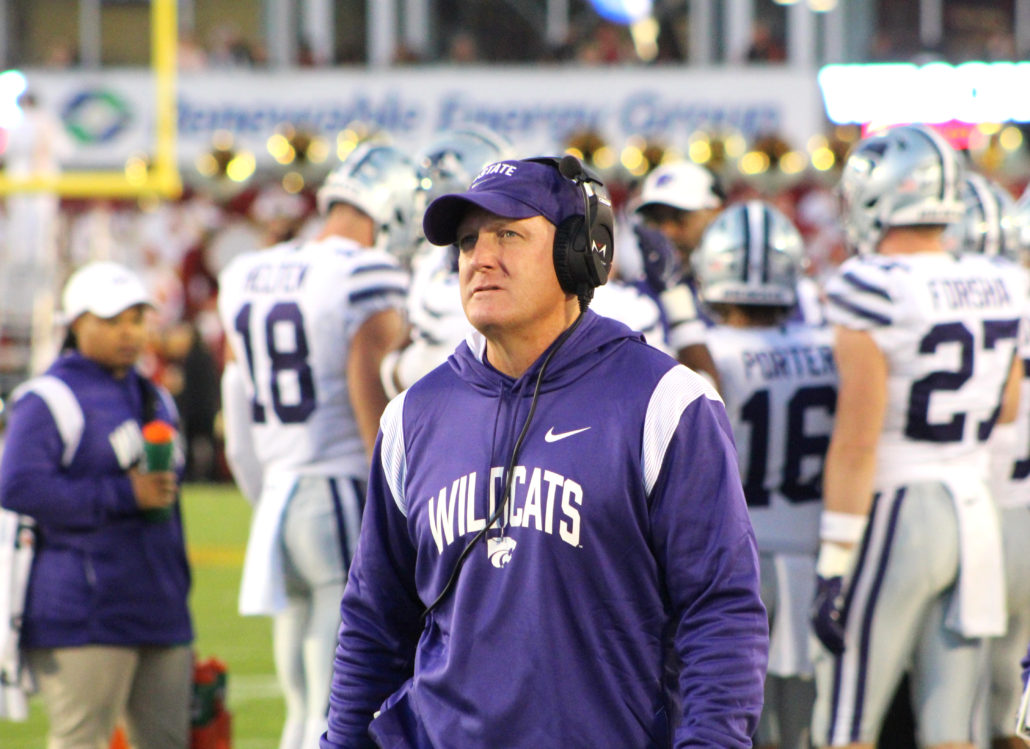 MANHATTAN, Kan. — The Wildcats are coming off a bye-week, and their coach believes they're in great shape approaching the ultimate measuring stick.
Although Kansas State's Chris Klieman is 3-0 against TCU, there's a totally different vibe about the matchup this time around. The Horned Frogs have a new coach in Sonny Dykes, who's taking the Big 12 by storm. This will also be the first time since 2014 in this series, that both teams are ranked in the AP top-20.
Not to mention both teams are tied atop the Big 12 standings, and their quarterbacks are Heisman contenders. So it's no mystery that there's going to be a lot on the line. And the battle will be inside Amon G. Carter Stadium under the lights.
Klieman understands his team could be potentially walking into a snake pit. However, he anticipates everyone that played in the victory over Iowa State will be available Saturday. TCU's quarterback Max Duggan has caught Klieman's attention for several reasons.
After all, Duggan is one of the most experienced gunslingers in the country, with a ton of production and leadership. The Council Bluffs native has 16 touchdown tosses and just one interception on the season. He's also equipped with dangerous mobility and is sixth in the FBS in passing efficiency. Those numbers have definitely raised Klieman's eyebrows.
"His ability to run the football, whether it's a designed run or scrambles, has been a nightmare for teams," Klieman said. "As well as spreading the ball out."
Klieman knows his defense is in for a big challenge. The Horned Frogs are first in the Big 12 and third in the FBS in scoring and total offense. The big boys up front have been solid at protecting Duggan, allowing only 1.3 sacks per game, which is fourth-best in the league.
"They're blocking up front really well, and then you mix in the amount of tempo they're running, they're getting a lot of people misaligned," he said.
Kansas State's defense has been a stingy bunch, allowing 16.6 points per game, which ranks 14th in the FBS. Still, Klieman will need to find other ways to keep TCU's explosive offense on the sidelines. In order to accomplish that, the Wildcats' offense will have to navigate long drives.
And that's what Kleiman's boys do best. The Wildcats have the Big 12's best rushing attack, and they're also seventh in the FBS, averaging a jaw-dropping, 244.5 yards per game. All-American rusher Deuce Vaughn already requires extra attention from defenses. And having quarterback Adrian Martinez under center is like having an extra running back for Klieman, because he's deadly with his legs.
So when defenders load the box to stop the run, Martinez burns them with the play-action pass deep down field. Wideouts Phillip Brooks and Malik Knowles are dynamic enough to score at any given moment. Regardless, the last thing Klieman wants is quick scoring drives, because those usually lead to shootout games.
And the Horned Frogs have been in a couple of those already this fall. Which is why Klieman wants to be strategic with how he attacks TCU's defense.
"They're doing the 3-3-5 like a lot of people are," the 55-year old coach said. "Just watching them evolve over the year and through the season, you can tell how more confident the guys are in where they're supposed to be, and how they're trying to attack teams."
The No. 8 Horned Frogs has a bend, but don't break defense, but they allowed 31 or more points in three of their last four games. Offensive Coordinator Collin Klein's No. 1 goal is to exploit those weaknesses with favorable matchups out in space.
TCU (6-0) was down by 17 points to Oklahoma State last week. That was before the Horned Frogs stormed back to win the game in overtime. Klieman doesn't want to make the same mistake the Cowboys did. So if Kansas State (5-1) jumps out to a big lead, Klieman intends to keep his foot on the gas.
This will be the biggest battle yet for the No. 17 Wildcats, but Klieman is approaching it like any other game.
"We talked about one-week seasons, and we got six left and the stakes keep getting higher."