Adrian Martinez enjoying stellar campaign with Kansas State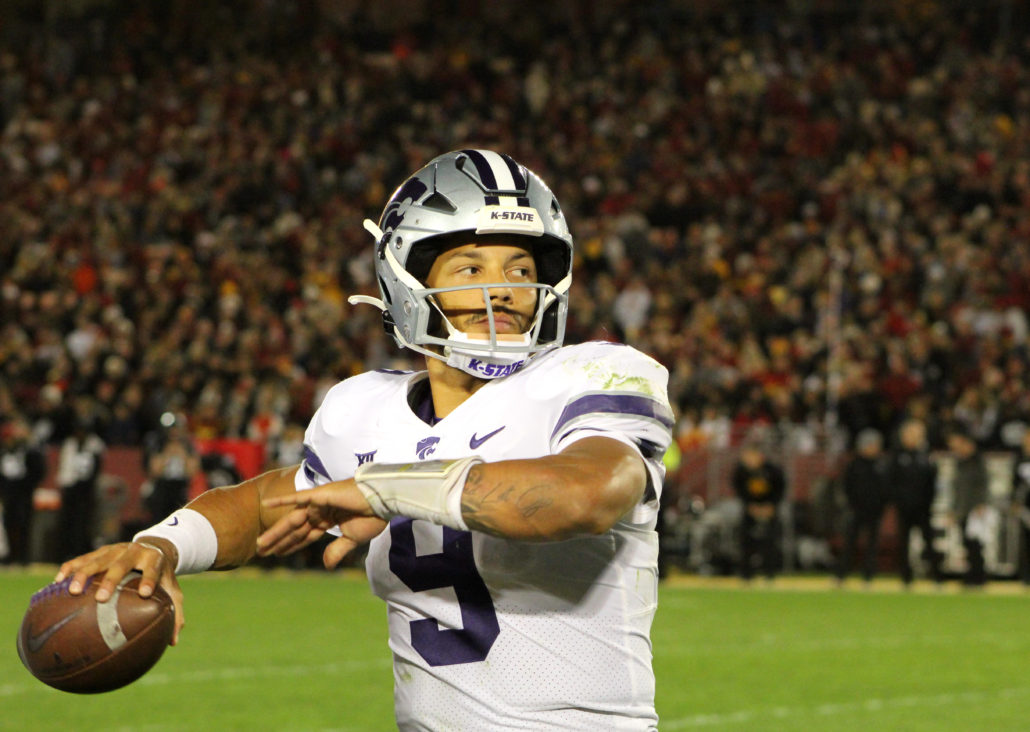 AMES, Ia. — The former Nebraska quarterback has raised several eyebrows across the Big 12 with his gutsy performances this fall.
Although Adrian Martinez never led the Huskers to a winning season during his four years as a starter in Lincoln, he still left as the program's all-time leader in total offense. The Californian has carried his dual-threat capabilities to Manhattan, and been playing out of his mind for the Wildcats.
After all, he's stockpiling the accolades. Martinez was named the Davey O'Brien National Quarterback of the Week for his heroics in the victory over Oklahoma. He was also named the Big 12 co-Newcomer of the Week after Kansas State's win over Texas Tech.
He's a big reason why the Wildcats are 3-0 in Big 12 play. Kansas State (5-1) also sits atop the Big 12 standings after its' nail-biting 10-9 victory at Iowa State last Saturday. Not to mention the Wildcats are No. 17 in this week's AP Poll.
There's no denying the gunslinger has had a long journey leading up to this point, and it's all paying off in 2022. Ever since Kansas State's head-scratching home loss to Tulane, Martinez has stepped his game up big time. And the numbers don't lie.
The former four-star prospect has thrown for 596 yards, three touchdowns and no interceptions in Big 12 play. However, Martinez has done most of his damage on the ground. He leads all FBS quarterbacks, and is 19th overall in the country with 546 rushing yards.
Kansas State is also numero uno in the league in rushing offense, averaging a jaw-dropping, 244.5 yards per game. His dangerous mobility has a lot to do with that eye-popping production.
The Wildcats' fourth quarter rally against the Cyclones was impressive because Martinez delivered in the clutch. He's proud of his solid outing, knowing all of his hard work is bringing positive results.
"Find a way to win, that's all it's about," Martinez said. "I have a lot of faith in my teammates, a lot of faith in myself too, and tonight we didn't know what will happen."
Martinez connected with wideout Phillip Brooks for an 81-yard touchdown in the first quarter, which was his longest of the season. He would've passed for another score if wide receiver Malik Knowles didn't fumble the ball at the one-yard line, which resulted in a touchback.
It's mind-boggling that fans thought the coaching staff was holding back his arm talent during the first three games. Martinez has clearly silenced all of the naysayers who criticized his arm in the past. He has played with grit and determination as a Wildcat, something he never showed as a Husker.
And he carried the Wildcats to the finish line in another hostile environment on the road.
"It was 9-7, and guys never faltered, and that's what it's about," he said. "This is my fifth year playing College football, just really excited to be a part of this squad and have that type of confidence, no matter how the game is going."
The six-foot-three, 225-pounder has made others around him better, which is what great quarterbacks are supposed to do. Coach Chris Klieman and his staff trust Martinez, and they're fully confident in his capabilities. Big time players step up in big moments, and Klieman thought Martinez did just that against the Cyclones.
"Boy he doesn't panic, he's so calm, he got us out of some plays and got us into some different plays," Klieman said. "He does such a good job of being calm and relaxed, and trying to keep us out of the negative plays."
All of Martinez's experience, production and leadership has been vital for the Wildcats. Klieman believes Martinez is just scratching the surface to what he can accomplish this season. And that's a scary thought for the rest of the Big 12.
Still, Martinez remains humble through all of the success. He's been on that other side of the coin plenty of times in his career. The kid is tough as nails and ready for whatever obstacles that'll come his way over the remaining six games. With the second half of the season looming, Kansas State is getting a much-needed bye-week.
And Klieman plans on using the time off wisely. The players will get time to heal, the coaches can add a few wrinkles and they'll all get to watch the other Big 12 teams in action. Martinez's career up to this point has been nothing short of inspirational.
The 22-year old is going to enjoy the victory over Iowa State, but knows there's more work to do, as Kansas State navigates through the Big 12 meat grinder.
"It's kind of ugly, but we found a way, guys stepped up and made big plays in big moments, so we're happy at the end of the day."