Cyclones picking up the pieces after dropping third-straight game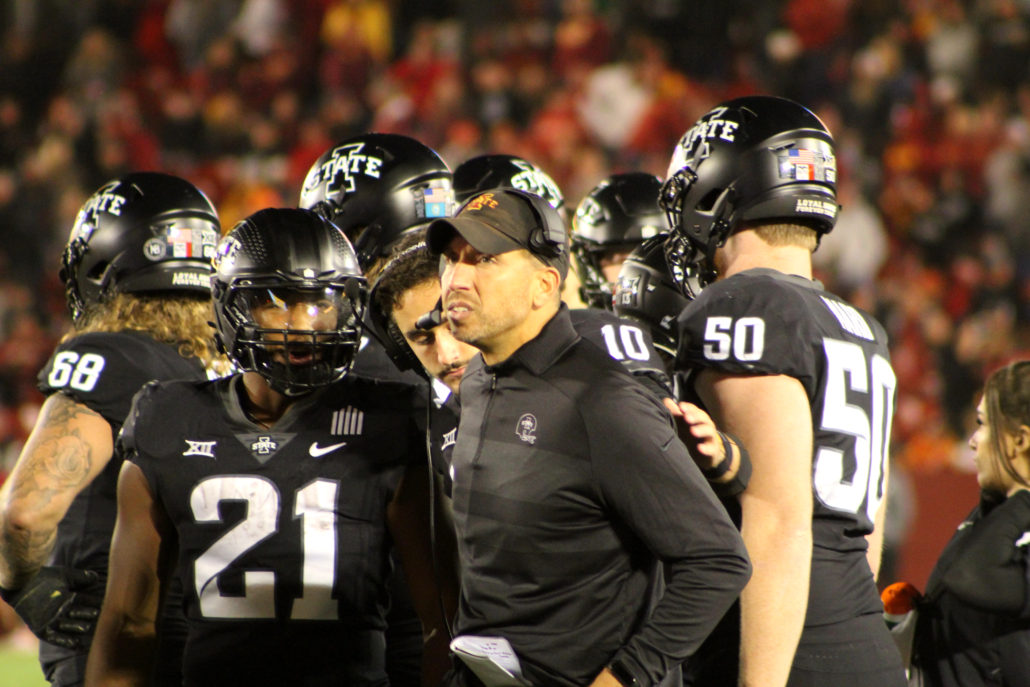 AMES, Ia. — Saturday night was the first time the Cyclones were back in black this season, but their magic jerseys didn't wield them much luck.
Kansas State invaded Jack Trice Stadium and outmuscled Iowa State 10-9, in front of a crowd of 60,561. Now the Cyclones are on their first three-game losing streak during the regular season under Matt Campbell since 2016. Not to mention Campbell's boys are still one of three remaining teams in the Big 12 that are winless in conference play.
As a matter of fact, Iowa State is 0-3 in conference play for the first time since Campbell's first season in Ames. The offense completely sputtered against the Wildcats too. It was the first time in the last nine games that Iowa State was held to single digits.
Despite the fact that Iowa State converted more third downs than Kansas State and ran four additional plays, it still couldn't pull out the win. There's no denying the loss was a gut punch to the players, coaches and fans.
October is when the Cyclones play their best ball under Campbell. However, Iowa State is 0-2 this month. He knew there'd be growing pains with the young players navigating through the gauntlet of their Big 12 schedule. Having to adjust on the fly has been challenging for the seventh-year coach though.
"I thought we had a good plan coming in, obviously the inconsistency of that plan continues to show up," Campbell said. "I am part of that as anybody, but I don't feel like we are totally off kilter, it is just our consistencies."
The Cyclones were held scoreless in the fourth quarter for a second-straight game. It didn't help that starting rusher Jirehl Brock got banged up, and couldn't contribute much. The offense was limited to a mere 78 yards on the ground. Iowa State hasn't eclipsed the century mark in rushing yards since the victory over Ohio.
It's unfortunate the Cyclones lackluster rushing attack has put more pressure on young quarterback Hunter Dekkers. The first-year starter has been stuck in neutral with his maturation process. With Dekkers struggling, the Cyclones' defense continues to be on the field too long at times. And that's what has frustrated Campbell the most.
"Just young players playing that are playing inconsistently at times," he said "And when all those things come together, it creates an inconsistent offense, and that is what we are seeing."
All-Big 12 wideout Xavier Hutchinson had another stellar outing, with his ninth career 100-yard performance. He also hauled in a game-high, eight passes. Still, Hutchinson couldn't come up with the clutch fourth-down reception that would've extended the Cyclones' last drive.
The Florida native still leads the FBS in receptions per game, and he's first in the Big 12 in receiving yards. Regardless, Dekkers needs a second viable option to step up in the catching department.
"I still think you want the ball in your best players hands," the 42-year old coach said. "We have great faith in Sean (Shaw), Jaylin (Noel) and Demetrius (Stanley), it is not a matter of a one-man show out there."
The protection up front is getting any better, and the offensive line allowed two critical sacks. Iowa State's offense has now allowed 14 sacks on the season, which is the second-worst in the Big 12.
The Cyclones defense is what has kept them in games, and they were active the entire night. Senior safety Anthony Johnson tallied a team-high, nine tackles. He also forced a fumble in the endzone that would've gave Kansas State a second touchdown. Beau Freyler and Gerry Vaughn each generated eight total stops.
Campbell and his players have no time to hang their heads, with a road trip looming against a ranked Texas team next Saturday. The Cyclones could use a bye-week to regroup, but that won't come until after they play the Longhorns.
Clearly the players must find more leaders among themselves. The coaching staff need to go back to the drawing board.
Anything to put the players in the best positions to be successful. There's still a lot of football left to be played Iowa State (3-3) and Campbell has a track history of turning things around.
"We are not as consistent as we need to be to win football games right now."