Wildcats snap losing streak at Jack Trice to remain atop Big 12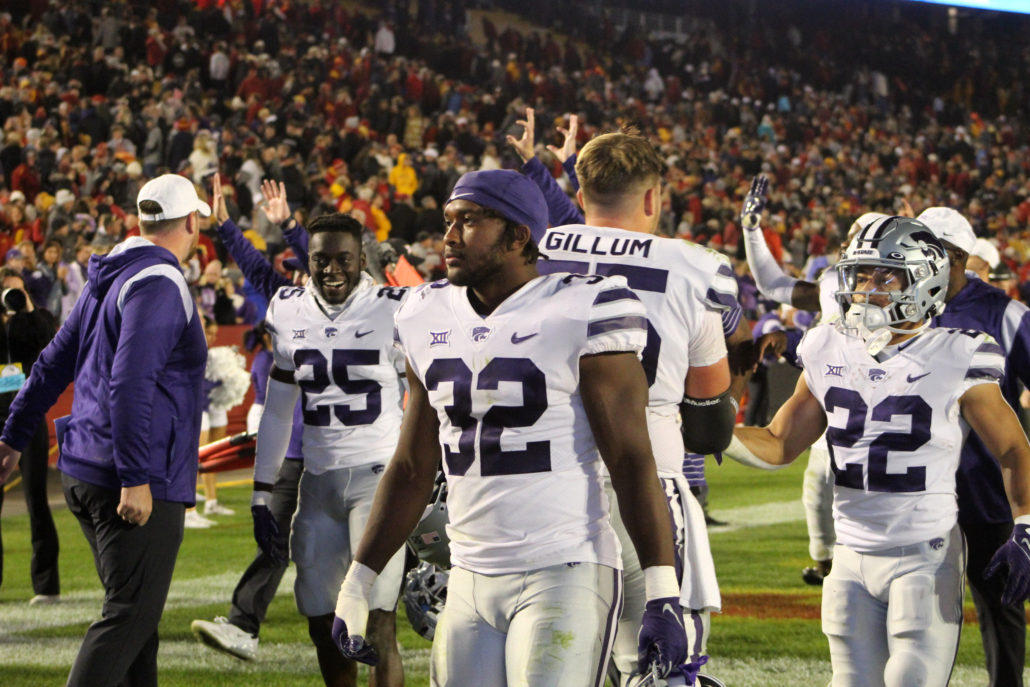 AMES, Ia. — Kansas State is riding high after storming into Jack Trice Stadium Saturday night, and leaving with a thrilling 10-9 victory over Iowa State.
It was the Wildcats' first win at the venue since 2016, and they did it in front of a crowd of 60,561. After starting 0-3 in Big 12 play last season, Coach Chris Klieman has his team 3-0 this fall against conference foes for the second time in the past three years.
Beating the Cyclones in their black jerseys under the lights at Jack Trice was a big deal. After all, that's usually when Matt Campbell's boys play their best football. It was a defensive slugfest, and didn't have much offensive fireworks, but the Wildcats showed grit and persevered with a fourth quarter rally.
It's something Klieman appreciates from his players, and he believes winning these types of close games, is going to help Kansas State down the stretch.
"This is what's it's going to be like in Big 12 play, you're going to have to win games in the fourth quarter," Klieman said. "Our guys did that, and I am so pleased with the defense."
The Wildcats' defense had one their best performances of the season. Not to mention it was the first time in nine games that Iowa State scored in the single digits. And those type of numbers Klieman appreciates.
"We had really good field position the entire fourth quarter, and we kept blitzing them, putting pressure on their offense," he said. "We knew they were going to have a lot of crossing routes and under routes, and we really made some good plays on balls, had some great tackles in space."
Senior safety Josh Hayes had a game-high, 11 tackles, including eight solo and one for loss. Edge rushers Felix Anudike-Uzomah and Brendan Mott both put the quarterback to the turf. It was also Anudike-Uzomah's fourth sack in the last two games.
On offense Kansas State sputtered at times, but quarterback Adrian Martinez made clutch plays when his team needed it the most. He threw an 81-yard touchdown strike to wideout Phillip Brooks in the first quarter. And Martinez would've had another passing touchdown, if it wasn't for wide receiver Malik Knowles fumbling the ball at the goal line, which resulted in a touchback.
Martinez completed 12 of his 19 passes for 246 yards and a touchdown. For the first time in the same game this season, both Knowles and Brooks eclipsed the century mark in receiving yards.
It was unfortunate that Deuce Vaughn couldn't contribute more. The All-American rusher got injured early in the contest, but freshman DJ Giddens was there to provide that next man up mentality. He averaged four yards per carry and finished with 32 on the ground.
Kansas State (5-1) finished with more offensive yards and first downs than Iowa State. Although the Wildcats had a turnover, converted less third downs, and was held scoreless in the second and third quarter, they still won. And that solidifies the team has grit, and can pull out victories in all phases in Klieman's eyes.
"It's fun to be able to have these teams win," the 55-year old coach said. "Whether it's offense one week, defense the next week or making a big special teams play."
The 20th-ranked Wildcats have now won six of their last seven games overall, and sit atop the Big 12 standings heading into their bye-week. Regardless, Klieman will need to keep everyone focused during the time off, because a road clash with an undefeated TCU team looms when Kansas State returns back to the gridiron.
Still, Klieman is going to celebrate a hard-fought win over a scrappy Big 12 foe for now, and believes the best is yet to come.
"It is fun to be around those guys because it is a special group, and they know they have a chance to have a special season."