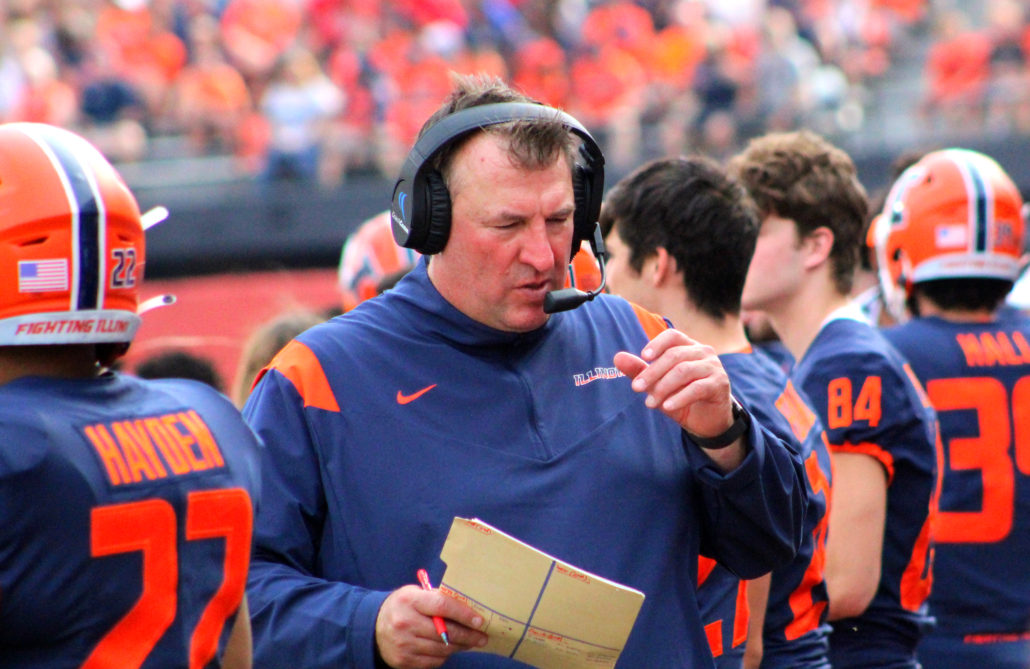 CHAMPAIGN, Ill. — He's in his second season with the Fighting Illini and has them off to their best start since 2015.
Bret Bielema knows the style of play and physicality of the Big Ten like the back of his hand. So it shouldn't come as a surprise that he has Illinois looking like contenders in the West division.
After all, Illinois just smashed Wisconsin on the road by 24 points. If it wasn't for a nail-biting loss at Indiana, Bielema would have Illinois undefeated. He clearly has impacted the program in a major way. And appears to have the Fighting Illini a year ahead of schedule.
Games are won in the trenches in the physical Big Ten. And Bielema has put an emphasis on pounding the ball, controlling the clock and playing stifling defense. So much so, that Illinois is fourth in the Big Ten in rushing offense. Not to mention the Fighting Illini are third in the country in total defense.
Bielema has used junior running back Chase Brown as a battering ram this fall. The Canadian leads the entire FBS in rushing yards too. It solidifies Bielema is a running back whisperer, with his track history of producing elite rushers.
Former Syracuse Orange Tommy DeVito has been performing like the best quarterback in the West. He has thrown for 1,121 yards, nine touchdowns and two interceptions. Bielema is proud of the offensive line for providing solid protection for the gunslinger. Especially after he took a beating for four seasons in the ACC.
"I don't care if you're a WWE wrestler, no one likes to get knocked down 86 times," Bielema said. "That's just not fun, so there was an emphasis on keeping him clean, and making him play on his feet."
First-year Offensive Coordinator Barry Lunney has found a way to utilize Illinois' weapons at the skill positions. Meanwhile Defensive Coordinator Ryan Waters has his unit playing out of their minds. The Fighting Illini's defense has been dominating on the gridiron.
Which is why Bielema wasn't making a big deal that he defeated his former team on the road. The Illinois native wants the program to get to the point where those types of victories are expected.
"I was very excited to beat Wisconsin at Wisconsin, but it wasn't a ranked opponent, and there wasn't two ranked teams on the football field," he said. "It was two good teams that fought it out and battled it out, but we came here to be ranked, we came here to win championships, we came here to play at the highest level."
Illinois (4-1) is in the driver's seat in the West and a win at home over Iowa Saturday night would put Bielema's boys in first place, and possibly the AP top-25. Bielema is confident his players are ready for the success and the spotlight that comes with it. Establishing a winning culture doesn't happen overnight, but Bielema has quickly raised the bar.
"In our building we expect it as football players, we expect it as football coaches, and in our athletic department hopefully they expect us to win games, go to bowl games and sell out that stadium," the 52-year old coach said. "That's got to be the standard, and until we win more consistently over a course of time, that's the fight I'm always trying to get through."
As of now Illinois is riding a big wave of momentum, and playing with extreme confidence. There hasn't been this much buzz surrounding the team since the 2007 season, when the Fighting Illini played in the Rose Bowl. And Bielema is trying to keep his foot on the pedal as Illinois navigates through the Big Ten meat grinder.