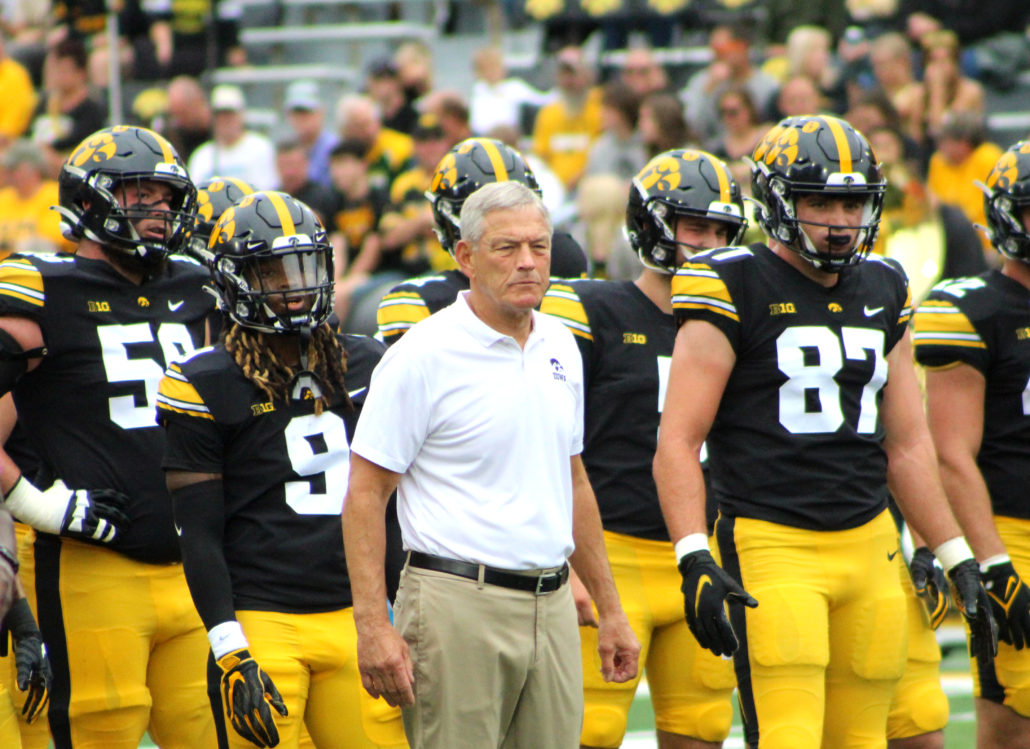 IOWA CITY, Ia. — There are five Power Five teams that have fired their coaches through the first five weeks of the season.
It all started when Nebraska parted ways with Scott Frost, then Wisconsin became the latest program to follow suit. Everything that has transpired up to this point has shocked the longest-tenured coach in the FBS. And not just because Kirk Ferentz is a rival coach of the Huskers and Badgers.
In his eyes, those knee jerk moves by the acting Athletic Directors were disappointing. After all, Ferentz is a firm believer in letting a man finish what he started. However, he understands the business in today's game, which is constantly evolving.
It has turned into a what have you done for me lately type of ordeal. And programs have to get with the times, or get left on the sidelines.
"The toll has mounted, and the ball kind of got rolling last year," Ferentz said. "The one big one I remember was USC the second week of the year, and my question would be if it's that bad, why didn't you do it a year ago or a half year ago."
Some Athletic Directors have been running around like chickens with their heads cut off dealing with contract buyouts, and potential coaching replacements. The players have to pick up the pieces on the field, while the appointed interim cleans up another man's mess, and the fan base is left fractured.
Although there's been grumbling from Hawkeye fans regarding the offense for years, Iowa has avoided that drama during the season. And Ferentz is grateful for that, thanks to a supporting Athletic Director in Gary Barta. He only believes in firing an assistant or head coach if it's going to be beneficial to all parties involved with the program.
"If you thought it was going to serve an end, yeah, absolutely," he said. "I've never been in that situation as an assistant or a head coach."
Ferentz was an assistant under the late Hall of Fame Coach Hayden Fry during the 1980's. It was a time when firing a coach or an assistant while the season was in session, was basically taboo.
"Certainly as an assistant I never thought I should be changed out," the 66-year old said.
Usually when that happens, there are underlying issues the general public is unaware of, like a scandal or crime. Regardless of the matter, in 2022 all it takes for a coach to get canned is lack of success on the gridiron. Everything comes down to wins and losses, even if a coach was a former player.
And sometimes the decision is out of the Athletic Director's hands. Boosters, donors, board of regents and certain alumni have some say when a coach is hired and fired. Lately the terminations seem to be heavily fan-driven though, and there's a thin line between pulling the trigger and retaining a coach's services.
Ferentz is no stranger to rumors swirling around on social media about his job security. There's no denying when it happens it's a distraction to the players and the staff. Still, he understands that's what comes with the territory in a position of power in today's game.
So it's all about how a coach responds to adversity. Success builds positivity, while failure consumes negativity, and Ferentz has been on both sides of the coin during his 24-year tenure in Iowa City. He's just saddened that's it's happening to programs in his same division, with several games left on the slate.
"That's the world we're living in right now, so I'm not surprised but disappointed."