Which interim coach will win the most games down the stretch?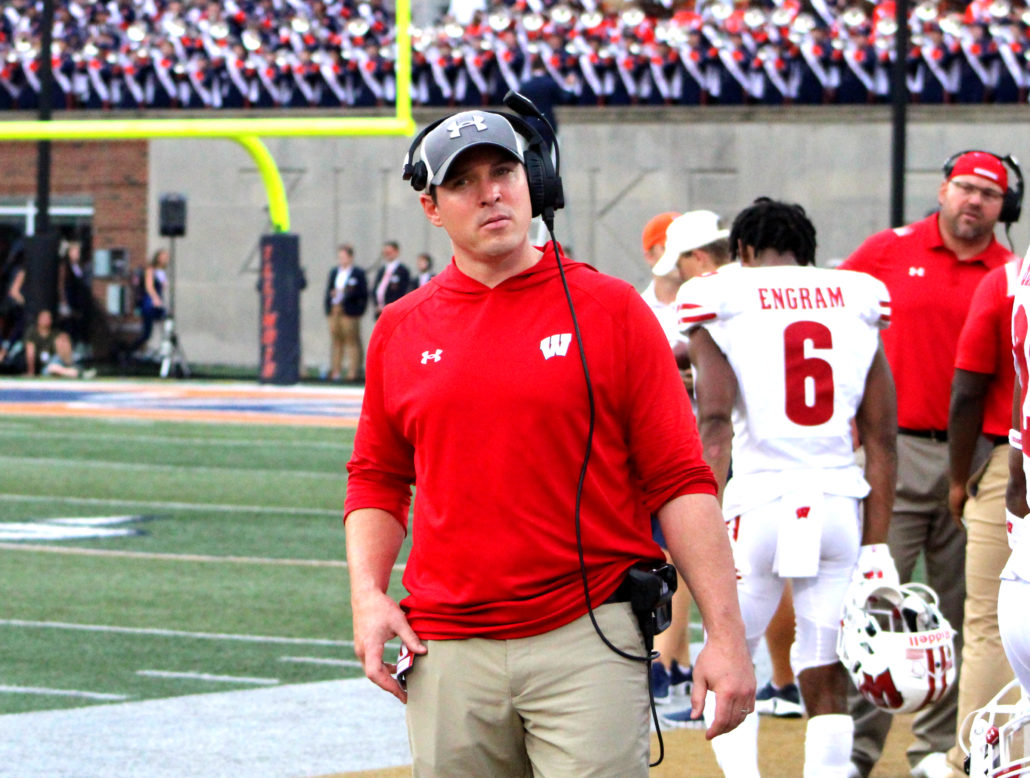 These five coaches all got their opportunity in bittersweet fashion because someone had to lose their job.
However, it's never easy cleaning up another man's mess. Black Sunday has become a trend in College football, and it's far from over as the season continues.
Despite all of the buyouts and coaching searches the Athletic Directors are dealing with, they've put their trust in each of these individuals to salvage the season.
These coaches all have an opportunity to make a lasting impression with the remaining games on the schedule, in hopes of having the interim tag removed for 2023.
Mickey Joseph, Nebraska, (1-1): He became Nebraska's first-ever African American coach in any sport, after Athletic Director Trev Alberts fired Scott Frost. Joseph is a former Husker quarterback, who played under Hall of Fame Coach Tom Osborne. So he understands the program's tradition, and the passion of Big Red Nation. Although this is his first time ever as a head coach, it's been a smooth transition. Everyone has rallied behind Joseph. Nebraska was throttled at home by Oklahoma in his debut, but bounced back with a double-digit victory over Indiana. Now the Huskers' schedule gets tougher, with six of the next seven games against a team with a winning record. The journey has been promising, considering the Huskers have scored at least 35 points in three of their last four games. Nebraska has lost six-straight away from home, but has a chance to snap the streak at Rutgers Friday, which will be huge for Joseph.
Brent Key, Georgia Tech, (1-0): He's a former Yellow Jacket offensive linemen, who played under George O'Leary. During Key's three seasons as a player, Georgia Tech won 27 games. However, the program is a mirror of itself today, and Key is trying to right the ship. Although Geoff Collins' tenure was disastrous for the Yellow Jackets, Key has made the most out of his opportunity. He led Georgia Tech to an upset victory at Pittsburgh in his debut, which snapped a five-game losing streak to ACC foes. The players have obviously rallied behind him. Now Key has a chance to prove last week's win was no fluke. All he needs is four victories over the next seven games to get the Yellow Jackets bowl eligible for the first time since 2018. However, the remaining schedule is flat-out brutal, starting with a 4-1 Duke team this Saturday. Not to mention four of Georgia Tech's final five games are on the road. So Key has his work cut out for him.
Mike Sanford, Colorado, (0-0): Karl Dorrell's tenure came to an abrupt end this past Sunday, and Athletic Director Rick George promoted the Offensive Coordinator for the remaining seven games. The Buffaloes are arguably the worst team in the country at this point. The numbers don't lie, and Colorado is 124th in the FBS in total offense, and 129th in total defense. The good news is the Buffaloes are on a bye in week six, and Sanford will use that time to regroup and iron out wrinkles. The bad news is the remaining schedule is daunting. Not only does six of the next seven opponents have a current winning record, but three of them are undefeated in Pac-12 play. So winning any of those contests will do wonders for Sanford. After all, the team is winless, and the most important game is the first one after a coaching change. All of the players will be fired up, the fans have a breath of fresh air, and Sanford's legacy begins.
Jim Leonhard, Wisconsin, (0-0): Athletic Director Chris McIntosh raised eyebrows across College football this past Sunday when he handed Paul Chryst his walking papers. After all, Chryst was 67-26 during his tenure at his alma mater. However, the Badgers lost two of their last three games, and the players needed a new spark. And Leonhard checks all the boxes to be Chryst's successor. First off, he's a former Wisconsin safety, who played several seasons in the NFL, and been orchestrating the defense since 2017. During that span Leonhard has fielded some of the country's best defenses. He understands the speed, style of play and coaching it takes to succeed in the Big Ten. Leonhard is only 39 years old, making him the youngest head coach in the conference. Wisconsin's next two games are on the road, but against teams with a losing record. First and foremost, Leonard needs to get the Badgers back to being physical along the lines.
Shaun Aguano, Arizona State, (0-2): The Sun Devils are having their worst season since 1994. Athletic Director Ray Anderson pulled the plug on Herm Edwards' tenure after Arizona State lost to Eastern Michigan at home. Anderson promoted Aguano from Running Bach Coach to Interim, but the losses haven't stopped. The Sun Devils have lost four-straight games, including the last two under Aguano. That's not going to change unless Aguano can somehow patch up the Sun Devils' leaky defense. Arizona State has allowed 30 or more points in all four losses. Not to mention the Sun Devils are ninth in the Pac-12 and 88th in the FBS in total defense. Stanford and Colorado are the only remaining teams on Arizona State's schedule with a losing record. However, both of those are on the road, and the Sun Devils have lost four-straight away from home. The team will need to win six of the next seven to become bowl eligible.