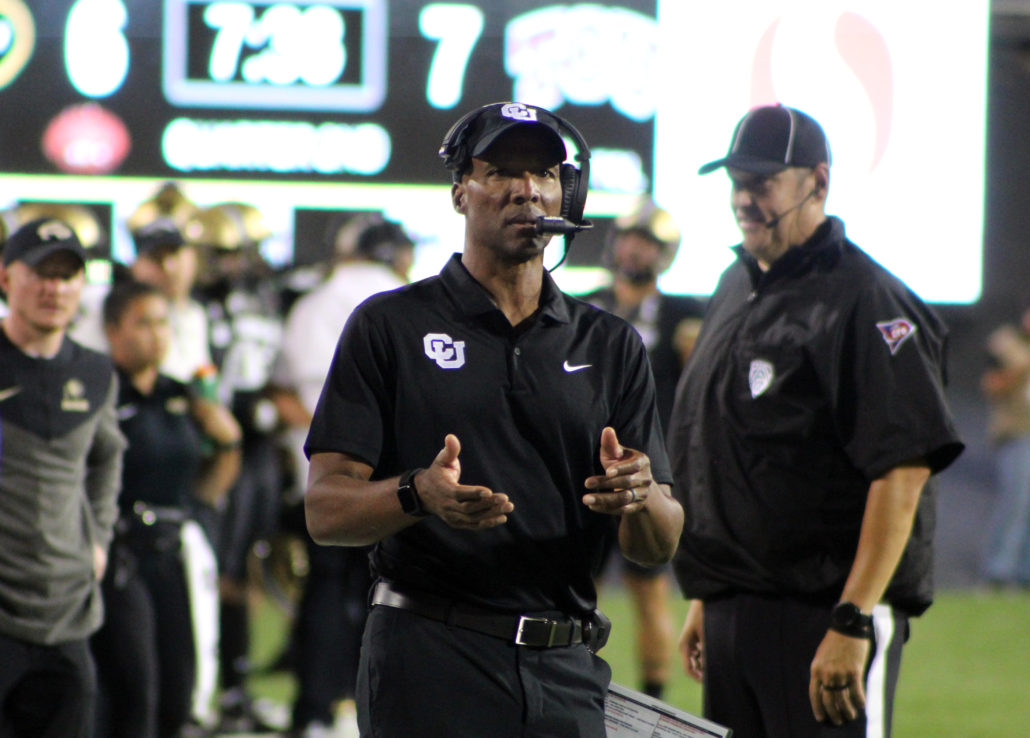 BOULDER, Co. — He's been Colorado's Athletic Director since 2013, and watched the program fall into a decade of mediocrity.
Now Rick George will be in search of a new coach for the fourth time in his career in Boulder, after parting ways with Karl Dorrell Sunday afternoon. The move was inevitable, considering the Buffaloes struggles over the past two seasons. However, it's a head-scratcher as to why everything imploded so quickly under Dorrell's watch.
After all, he was named the Pac-12's Coach of the Year in 2020. Not to mention Dorrell won five of his first seven games with Colorado. However, the Buffaloes are currently on a six-game losing streak, and they're the only winless team in the Power Five approaching week six.
The Pac-12 gauntlet is just starting, so George had to make the move after all of Dorrell's shortcomings. And George knows his decision gave the fan base a much needed breath of fresh air.
In hindsight, Dorrell's early success was because he operated with Mel Tucker's players in year one. It was hard for George to ignore the Buffaloes being 0-5 for the first time since 2006 though.
"Karl is a good man, I have a ton of respect for him, and I wish him nothing but the best in his future endeavors," George said. "However, the on-the-field performance fell well short of our expectations."
Dorrell always handled himself with class, but had some uncharacteristic moments. After blowout losses he was noticeably agitated by reporter during post game press conferences. He even pushed a photographer while exiting Folsom Field after the USC game last year.
Still, George emphasized that none of those incidents had anything to do with Dorrell's abrupt departure. As a matter of fact, George is proud of what Dorrell accomplished off the field.
"He made our young men better off the field, both in the classroom and in the community, he led our program to the
highest GPA in our history, and his team was involved in a lot of different community activities," he said. "I hired Karl and it didn't work out the way any of us wanted it to."
George promoted Offensive Coordinator Mike Sanford to interim for the remaining seven games, but had to let a certain assistant go. Colorado's defense has been playing so horrible this season that George fired Defensive Coordinator Chris Wilson too.
The numbers don't lie. The Buffaloes are currently dead last in the Power Five and 129th in the FBS in scoring and total defense, allowing 43.2 points and 508.8 yards per game.
That type of production won't cut in the Pac-12, or any conference for that matter, and George wants to see immediate improvement. It helps that Colorado's defense has nowhere to go, but up. Still, the Buffaloes will have to go back to the fundamentals in terms of tackling technique, and George understands that doesn't get better overnight.
"I also made the decision to relieve our defensive coordinator, Chris Wilson of his duties," the 62-year old said. "Our defensive performance also did not meet our expectations of where we needed to be."
George nabbed Gerald Chapman as Colorado's Defensive Coordinator, and Clay Patterson as Offensive Coordinator for the remaining seven games. It helps that the Buffaloes have a much needed bye-week to soak up everything that transpired Sunday evening.
George will still be conducting a national coaching search. Regardless of the matter, he believes Colorado is in good hands with Sanford at the helms in the meantime.
"I have full confidence in Mike to lead this football program."