Xavier Hutchinson building stellar legacy with Cyclones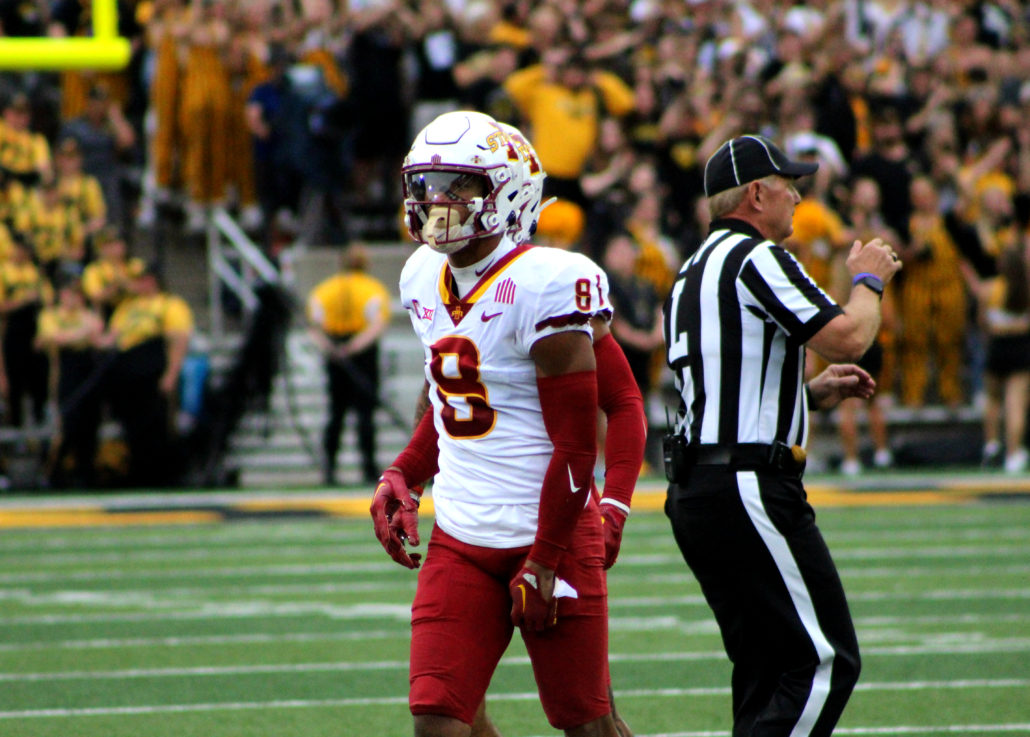 IOWA CITY, Ia. — Iowa State's senior wideout has put together jaw-dropping numbers through the first two games, and he's inching closer to the program's record book in the process.
Xavier Hutchinson was the hero of the Cy-Hawk victory, when he hauled in 11 passes, including the go-ahead touchdown for his team. However, he's no stranger to delivering in the clutch.
The Florida native has led Iowa State in receptions and receiving yards over the past two seasons. And Hutchinson has picked up where he left off, with a fabulous start to his 2022 campaign. The former juco currently ranks fifth in the FBS in catches per game. Which shouldn't come as a surprise, considering Hutchinson has been turning heads since he became a Cyclone.
After all, he was the Big 12's Offensive Newcomer of the Year in 2020. Not only is Hutchinson a two-time, All-Big 12 performer, but he also set a single-season, school record with 83 catches last year. So when he played a key role in Iowa State's 99-yard touchdown drive, it was a testament to all of the hard work he's put in as a Cyclone.
He wasn't afraid of the moment and his play on the gridiron built confidence in quarterback Hunter Dekkers to get him the ball.
"It was simple, just get the first down, and everything else will come together, and boy did it come together," Hutchinson said. "To have that happen at such a critical moment, it just showed how everybody was so  dialed in."
After the game Hutchinson emphasized how he never panicked, and took it one play at a time. He always wants the ball in his hands when the game is on the line. The six-foot-three, 205-pounder knew Iowa was running a cover zero scheme, which is basically man-to-man coverage, and he took advantage.
The cherry on top for Hutchinson's performance was hoisting the Cy-Hawk trophy afterwards. He couldn't help but think about all of the former Cyclones that came before him, but never beat the Hawkeyes. Players such as Brock Purdy, Breece Hall, Charlie Kolar and JaQuan Bailey.
"Just so many people pointed to this program and they built the foundation for this team," he said. "And just to have us, this new senior class stamp that, it felt great."
Hutchinson is proud of his teammates for the way they showed grit and persevered through adversity. Now they're battle-tested. Still, he understands there's 10 more games to be played. So keeping everyone humble, hungry and focused is his No. 1 priority.
Hutchinson's experience, leadership and production has brought him to new heights. On top of that he's well-respected amongst his teammates. Not to mention Hutchinson was named one of Iowa State's four captains prior to the start of the season. With that much influence in the locker room, there's no limit to what the Cyclones can accomplish this fall.
And having the Cy-Hawk hardware in the trophy case for a year will be a constant reminder to Hutchinson of his amazing journey, and how far he's come.
"To bring it back to Ames, man it feels terrific," the 22-year old said. "I hope the Cyclone fans are happy, and hopefully we'll start our own streak here soon."
Everything is coming full circle for the talented pass catcher. The Cyclones are riding a big wave of momentum, and Hutchinson is putting together an All-American campaign. He has caught at least one pass in 27-straight games, and needs just 76 receptions to surpass Allen Lazard as Iowa State's all-time career leader.
In the meantime, Hutchinson is going to keep his foot on the pedal, because there's obviously some chemistry between him and Dekkers. And game three will be another opportunity for Hutchinson to add more heroics to his amazing legacy.
"We have a long season ahead of us, so we have to focus on Ohio."