Chris Klieman downplaying Wildcats' alarming passing numbers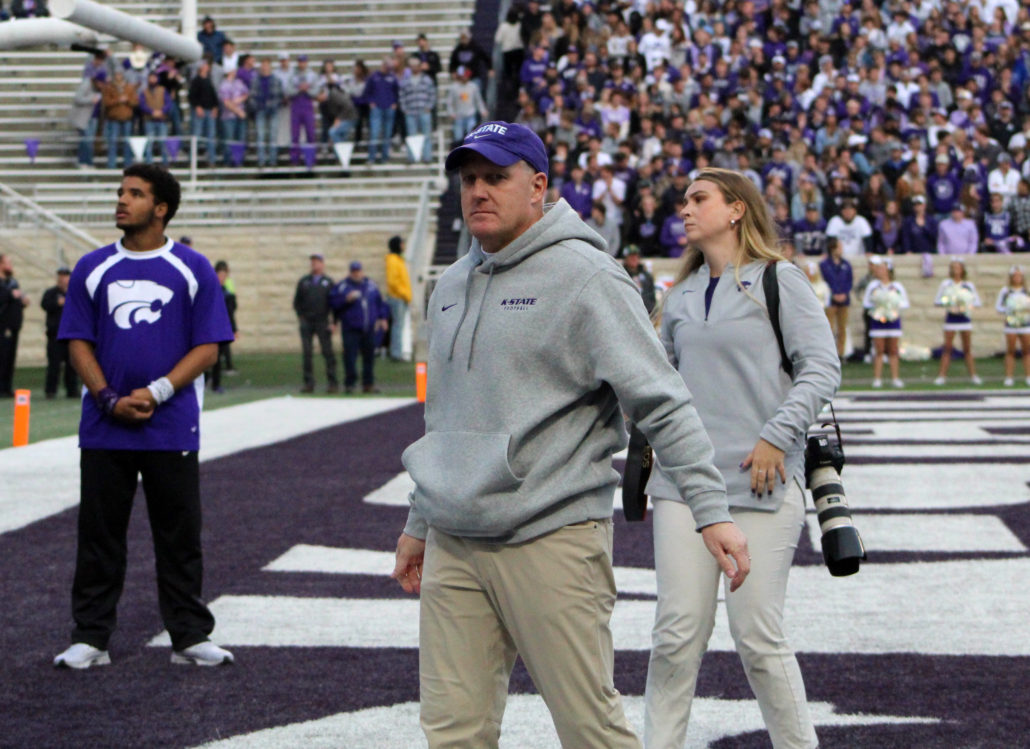 MANHATTAN, Kan. — Although Kansas State is undefeated after two blowout victories, there's been a glaring issue with its' offense.
The Wildcats are one of the best rushing teams in the country. It's tough to argue against that when Kansas State leads the Big 12, and is No. 7 overall in the FBS in rushing yards per game. However, Coach Chris Klieman found himself explaining why the offense has yet to air the ball out at his weekly press conference.
After all, the Wildcats are averaging a mere 98 yards per game through the air, which ranks dead last in the league. New quarterback Adrian Martinez has completed 20 of his 35 passes for 154 yards, but has yet to throw his first touchdown with the Wildcats.
There hasn't been much passing required through the first two games. The tilt against South Dakota was a blowout, and it rained against Missouri.
All-American running back Deuce Vaughn has been the focal point of Collin Klein's offense thus far. The Texas native has carried the ball 42 times for 271 yards and three touchdowns. Not to mention Vaughn has went over the century mark in rushing yards in 11 of Kansas State's last 15 games.
Which is why Klieman is expecting defenses to load the box with defenders to slow down Vaughn, and dare the Wildcats to throw the ball.
"People are going to continue to try to stop number 22, they're going to continue to put more people near the line of scrimmage," Klieman said. "And if they don't, then we're going to nickel and dime them into a throwing game, and let Deuce run wild."
Offensive Coordinator Collin Klein will eventually match wits with a Big 12 Defensive Coordinator determined to shut down Vaughn. So Martinez will need to be ready to connect with speedy receivers Malik Knowles and Phillip Brooks. Vaughn is also dangerous out of the backfield, with his soft hands. Martinez will have options.
Klein doesn't think twice about pounding the ball. And by theory that makes defenders inch up closer, when they're most vulnerable to the play-action pass.
Klieman explained how Missouri's defense ran a cover zero scheme, which is basically man-to-man coverage. On top of that the Wildcats led the rest of the game after they fell behind 3-0 in the first quarter.
After two games Martinez has yet to experience true adversity. Kansas State's efficient rushing attack has put the offense in short-yardage situations. Still, Klieman understands Martinez will be judged when the ball is in the air. He's anticipating that'll happen when the Wildcats have third and longs, obvious passing downs or when the team has to come from behind to win a game.
"I'm excited for us to continue to improve on it, and part of it is good," he said. "We've had three weeks of practice with Adrian and the wide receivers, tight ends and backs, so we're getting a lot of work in and it's going to pay off."
The 54-year old coach believes the Wildcats' aerial attack will take place when needed. In Klieman's eyes, the offense has the potential to make a statement Saturday against an undefeated Tulane team.
The Green Wave have some offensive firepower though. So if  Kansas State's defense run into problems slowing down Tulane, the game could turn into a shootout. Which would likely require Martinez to throw the ball more often.
Regardless, Klieman remains confident in Klein's play-calling when it comes to running and throwing the ball. He can't wait for Martinez to spread his wings as a passer. And he's not concerned that Kansas State is currently 128th in the country in passing offense. As a matter of fact, Klieman feels the best is yet to come from the unit.
"We're just in my mind scratching the surface of what we're going to be able to do throwing the football."