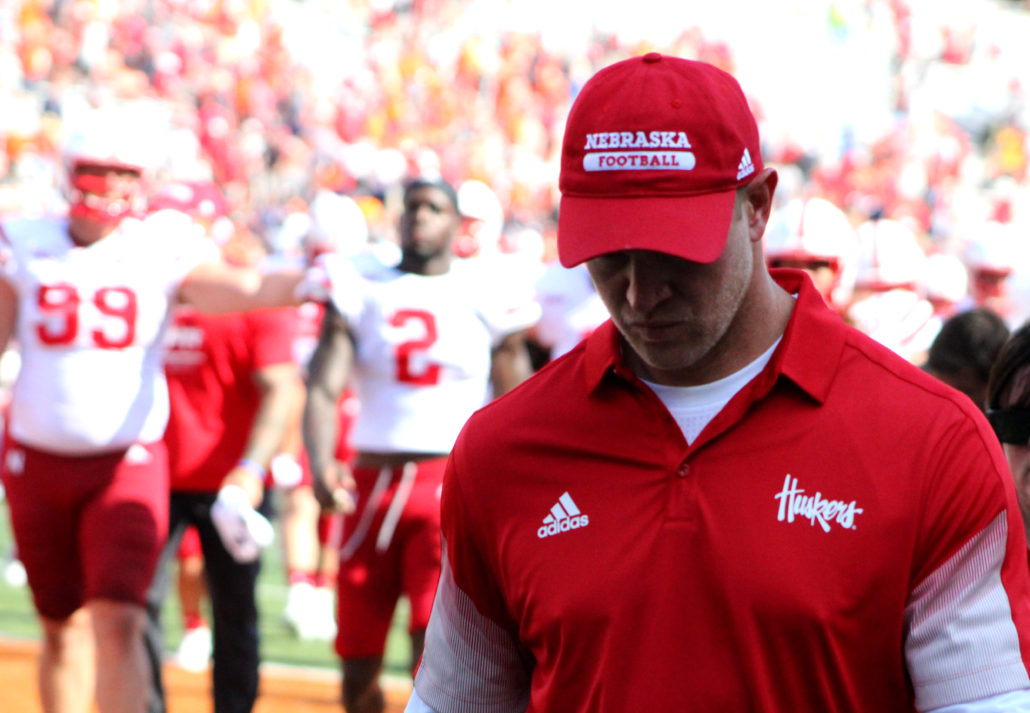 A disastrous tenure has come to an end three games into the 2022 season.
Although Scott Frost's departure goes deeper than wins and losses, Big Red Nation needed a breath of fresh air for the remaining nine games. Frost's record speaks for itself, with a 16-31 mark over four-plus seasons. Not to mention he was 10-26 in conference play, including a 5-20 mark against Big Ten West foes.
Frost's arrogance, lack of adjustment on the fly and stubborn mentality wound up costing him his job. There's no denying the program has hit rock bottom under his watch, but Nebraska has nowhere to go, but up from this point moving forward.
Now that the healing process has started, here's the top-20 reasons why Frost was ousted by Trev Alberts before his buyout clause even went into effect.
20. Failing to make the lines a priority in recruiting: Ever since Frost took the job in Lincoln, he was more focused on luring in skill position players, instead of loading up on the offensive and defensive line. It worked for him down at Central Florida, but he quickly found out that the Big Ten wasn't the AAC. In the Big Ten games are won in the trenches. A team must have depth in those areas to compete and make it through a season of physicality in league play. Nebraska is clearly lacking in those departments in 2022. Unfortunately, Cam Jurgens was the only Husker offensive linemen to earn All-Big Ten honors under Frost. Nebraska had zero defensive linemen earn All-Big Ten consideration.
19. The lack of developing his players: There's no denying Frost had an eye for talent and recruited like a monster in Lincoln. After all, the Huskers annually lured in the best classes in the Big Ten West under his watch. He even grabbed several gems from the transfer portal. However, for whatever reasons, those players never blossomed to their full potential. This year's NFL Draft was a clear sign that Nebraska had talent under Frost, with four former players selected, including Kentucky's WanDale Robinson. Since 2018, several Huskers have entered the transfer portal for greener pastures. Like Robinson, a few of them had success elsewhere, which left Husker fans scratching their heads.
18. Throwing Mark Whipple under the bus: After Nebraska's season-opening loss to Northwestern, there was plenty of finger pointing going around in the locker room. Frost threw shade during his post game press conference when he mentioned that the offense needs to be more creative in the Big Ten. Although Whipple later downplayed the situation, Frost clearly threw shade at his new Offensive Coordinator. Not to mention Whipple is the Huskers' third Offensive Coordinator under Frost. Troy Walters and Matt Lubick were handed their walking papers for Nebraska's shortcomings on offense. When all along Nebraska never corrected the root of the problem, which was its' head coach.
17. The losing streak to Wisconsin: It's a game that's pivotal in the Big Ten West race. However, the Huskers haven't beat the Badgers since 2012. A streak that includes the last two years of Bo Pelini's tenure and all of Mike Riley's, is still in place to this day. Nebraska didn't play Wisconsin during the pandemic year in 2020. Still, in the last three meetings against the Badgers, the Huskers have been outscored 113-53. Wisconsin don't recruit at the level Nebraska does, but it develops the talent it gets. There's always a glaring Husker weakness when the two team clash, and that's along the lines. Frost clearly couldn't get it done, and the West will continue to run through Wisconsin.
16. Not implementing the fullback position in the offense: It's a position that's rare in today's game, but was a vital piece of the Huskers' incredible run in the 90's. Frost's scheme never included a fullback though. Which is mind-boggling, because the position requires extreme physicality from a player that's not afraid to get his nose bloody. Playing full back is blue-collar, hard-nosed, and vital in the trenches. Nebraska has struggled in short yardage situations. Having a fullback carry the rock, or block a blitzing linebacker would've went a long way with converting third downs and scoring at the goaline. Andy Janovich was the last of  the dying breed, and he was a Pelini recruit.
15. Bringing his UCF staff to Lincoln: The AAC is not on the same level as some of the premiere Power Five conferences. However, Frost convinced former Athletic Director Bill Moos that it would be a great idea to bring along his entire UCF staff when he accepted the Husker job. They all quickly found out it was a terrible decision. That entire staff was inconsistent in the Big Ten. That uptempo, spread style of play only works in the league when a team has speed and talent like Ohio State. Yet Frost didn't make changes until the 2021 season concluded. Defensive Coordinator Erik Chinander was retained from Frost's UCF staff, and he has really struggled through the first three games of 2022.
14. The losing streak to Iowa: Nebraska fans always argue that Iowa isn't their real rival. And the Hawkeyes have used that as motivation and made Big Red Nation respect them. Kirk Ferentz always seems to have his players dialed in for the annual clash on Black Friday. It's clear Iowa takes the rivalry more serious. And Frost always got outcoached. The two even took shots at each other. From complaining about hand clapping, to Keith Duncan's finger-pointing gesture after the game-winning kick in 2019, the series has heated up. Frost was 0-4 against Ferentz and always got schooled on the sidelines. Very few Nebraska fans thought Frost would stick around for this year's game anyway.
13. For trying to restructure his contract like Michigan's: After Trev Alberts announced that he was retaining  Frost for another season, there were inquiring minds about his restructured contract. Frost's idea was to do what Michigan had done with Harbaugh's contract. It mainly required a significant salary decrease and centered around the buyout clause. Although it worked for the Wolverines, and they won a Big Title last season, it hasn't for the Huskers. The buyout would've went into effect in October 1, but didn't matter because Alberts fired Frost three games into the season. Thinking Nebraska would put up with mediocrity because he's getting paid less was a bad idea from the start.
12. The probe by the NCAA for having too many coaches: Frost and Nebraska went under investigation for NCAA violations last year. The Huskers' improper use of analysts and consultants during practices and games became public, and put a dark cloud over the program. Nebraska's special teams have been a liability throughout Frost's tenure, so of course he tried to correct those problems. However, Frost handled it the wrong way, and improperly used analysts and consultants during special team drills in Nebraska's practices. There were individuals who worked with the players despite not being one of the Huskers' 10 full-time assistants. So Frost was basically cheating and still couldn't win.
11. Getting swept by Colorado: The hated Buffaloes beat the Huskers with two different head coaches in their recent home-and-home series. Not to mention Frost got outcoached in both meetings. Colorado stormed into Memorial Stadium with Mike MacIntyre in 2018 and ruined Frost's debut. The following year the Huskers blew a 17-point lead and let Mel Tucker and the Buffaloes storm back for the victory. In both games Nebraska scored enough points on offense to win. However, the Huskers allowed 33-plus points on defense in each contest. Frost had to take that long walk of shame back to the locker room both times, knowing he left plays on the field that could've won those games.
10. The mishandling of Maurice Washington: Frost put all of his eggs in the former rusher's basket. Washington had to jump through loopholes to become eligible to play for Nebraska. And despite the running back's questionable past as a prep athlete, Frost still rolled the dice with rewarding him a scholarship. Washington had some promising moments, but the bad often outweighed the good. Frost decided to let him play, despite a felony charge that lingered over his head. He emphasized how giving players second chances could be rewarding. However, Washington became a huge team distraction during the Huskers' 2019 campaign, and started a downward spiral. He eventually left the program.
9. The failed onside kick against Northwestern: It was arguably the worst play call of his Husker tenure. There's no denying the stakes were high for Frost entering the 2022 opener. After all, Nebraska was riding a six-game losing streak, and desperately needed a win. The Huskers were up by 11 points in the third quarter and had all of the momentum before the kickoff. And Frost raised several eyebrows across the stadium when Nebraska decided to get cute and fancy with the onside kick. After it failed, and Northwestern responded with a touchdown on that next drive, all of Nebraska's momentum faded and it never recovered. Frost later admitted to making the bone-headed call.
8. The Georgia Southern debacle: It was the final nail in Frost's coffin. Losing to a Sun Belt team at home in year five was completely unacceptable. However, it was a testament to how far the program has fallen under Frost's leadership. Anytime an offense puts up 42 points, that's more than enough to win a game. Unfortunately it wasn't for the Huskers under the lights at Memorial Stadium Saturday. The Blackshirts couldn't tackle and looked fatigued in the fourth quarter. Frost got outcoached by Clay Helton, who was fired in similar fashion from USC last season for his mediocrity. It's a head-scratcher that a first-year coach outwitted a fifth-year coach, but that was the norm under Frost.
7. Failure to land enough star in-state prospects in recruiting: There was once upon a time when every prep athlete in the state of Nebraska dreamed of playing for the Huskers. has produced some Power Five talent over the last five years, but those players wanted no part of Frost and Nebraska. His track record and shortcomings made elite in-state players apprehensive about signing with the Huskers. The only thing that helped Frost lure in talent was lucrative NIL deals for players. Still, in-state prospects has signed with the likes of Missouri, LSU and Oklahoma during Frost's time on the sidelines in Lincoln. Bottom line, student-athletes want to be part of a success and not a sinking ship.
6. The Cameron Jurgens experiment: When Frost signed him he described the offensive lineman as the next Dave Remington. That put a lot of pressure on Jurgens from day one, and he never lived up to those expectations. Instead, Jurgens struggled at center and mishandled plenty of snaps. However, he always had tremendous upside, but wasn't coached up to his potential. Jurgens had impressive results at this year's NFL Combine and was eventually selected in the second round by the Philadelphia Eagles. It was a smack in the face to Husker Nation that Jergens became the program's highest draft pick since 2011, but Frost couldn't utilize his talents to make the offense better.
5. The Wan'Dale Robinson experiment: The explosive wideout was one of Frost's prized recruits. Robinson played two seasons for Nebraska, but Frost tried to use him more like a running back instead of utilizing his talents out of the slot. Robinson had the speed and quickness to stretch the field on secondaries, yet Frost had him catching dump passes out of the backfield. He transferred to Kentucky after the 2020 season to be closer to his mother, but Husker Nation knew there were underlying issues that played a part in Robinson's departure. Regardless of the matter, Robinson shined bright in his only season with the Wildcats, and became the New York Giants' second round pick.
4. Missing out on Joe Burrow: Both of the quarterback's two older brothers Jamie and Dan played for Nebraska, as well as his father. So it was a no-brainer that he wanted to continue the family legacy in Lincoln. However, that never came to fruition, because Mike Riley never pursued him and Burrow wound up signing with Ohio State. Even after Burrow decided to transfer from the Buckeyes, Frost had an opportunity to pursue him, but decided to put all of his eggs in the Adrian Martinez basket. Not only did Burrow go on to win the 2019 Heisman Trophy, but he also won a Natty at LSU and was the No. 1 overall NFL Draft pick, while Martinez orchestrated four losing seasons with Nebraska.
3. Retaining his UCF staff after three seasons of mediocrity: Nebraska's numbers told a story 32 games into Frost's tenure. The Huskers were inconsistent on offense at best, but Frost decided to retain Offensive Coordinator Matt Lubick, Offensive Line Coach/Run Game Coordinator Greg Austin, Running Backs Coach Ryan Held, and Quarterbacks Coach Mario Verduzco. They all were on Frost's staff at UCF and struggled with the transition to the Big Ten. Yet and still, Frost kept them around for the 2021 season and it backfired. The offense stayed stuck in neutral and Martinez never progressed. Which is why they were all let go last November. Meanwhile Chinander is still around.
2. Staying committed to Adrian Martinez: When Frost lured the former four-star prospect away from Tennessee, it was a big deal to the fans. Although Martinez put together four seasons of mediocrity, he still left Nebraska as the career leader in total offense. Martinez failed to lead the Huskers to a winning campaign, and was often injured throughout his career in Lincoln. Still, Frost was stubborn and remained committed to the embattled signal-caller, despite his inconsistency. Frost tried giving Luke McCaffrey a nod, but he was too limited as a passer. Martinez had a chance to return to Nebraska for another season, but left for Kansas State. He's currently 2-0 as the Wildcats' starter.
1. The number of close losses: Talk about having bad luck. The jaw-dropping number of close losses became a trend for Nebraska under Frost. However, it was a red flag that he couldn't match wits with the opposition. The Huskers found new ways to lose games week after week. It's tough to argue against that when Nebraska became the first team in the history in major college football to lose seven-straight games, with all seven losses coming by single digits. The Huskers always played down to their competition, and battled with the elite teams, and in the end Frost delivered the same results. His lack of adjustments was detrimental to the Huskers, and the numbers don't lie.