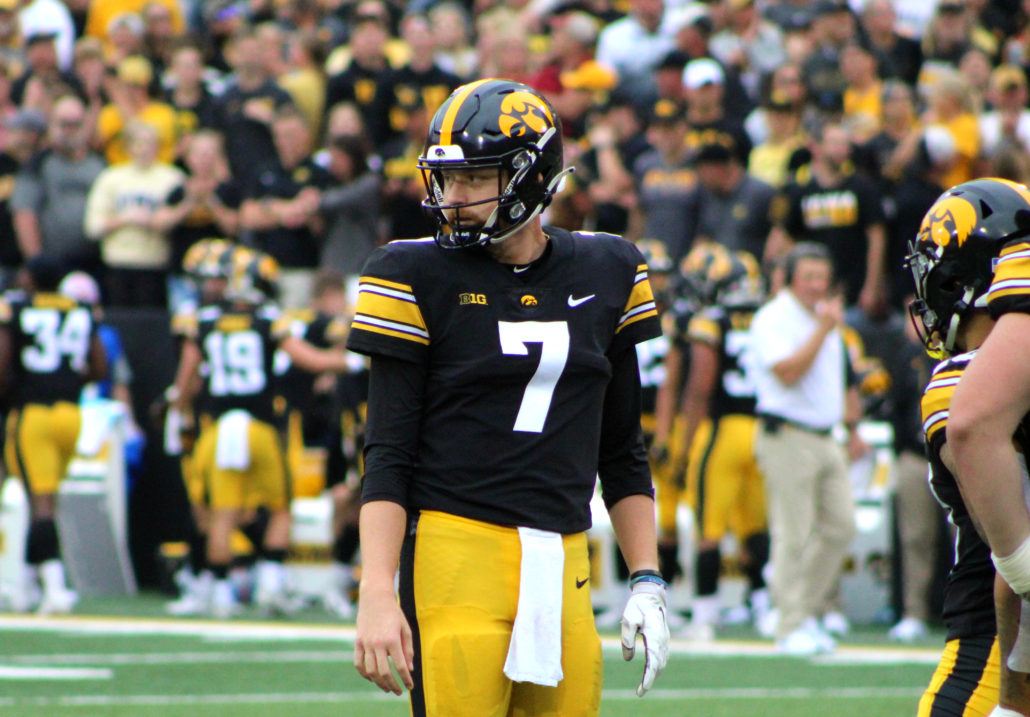 IOWA CITY, Ia. — The Hawkeyes' embattled quarterback is coming off his second-straight subpar performance, which has fans grumbling about his maturation process.
With two games in the books, Iowa is dead last in the FBS in scoring and total offense, and Spencer Petras is receiving the shoulder of the blame. After all, he has only completed 45 percent of his passes, with no touchdowns and two interceptions.
And that's mind-boggling, considering Petras worked hard throughout the offseason to improve his game. He even attended the Manning Passing Academy back in June. However, his play on the gridiron has regressed in 2022.
Coach Kirk Ferentz believes the lack of pass catchers has a lot to do with Petras' numbers. Wideouts Charlie Jones and Tyrone Tracy transferred to Purdue during the offseason.
Not to mention Keagan Johnson has been sidelined with an injury and has yet to play. Nico Ragaini is Iowa's most experienced receiver and he's been missing in action too, as well as Diante Vines.
In return defenses has kept All-Big Ten tight end Sam LaPorta, who's Iowa's safety blanket, under wraps.
Still, it's early in the season, and Ferentz believes there's light at the end of the tunnel for Petras once key pieces return.
"To me, both these games he's still not getting enough help to really do a fair assessment," Ferentz said. "He (Petras) hasn't been perfect, nobody has."
Iowa was shutout for the last three quarters against Iowa State. That has happened twice over the Hawkeyes' last four games overall. And Petras is anticipating an intense practice this week approaching game three. There's no denying leaders have to emerge on offense, and adjustments must be made.
"I think the biggest thing is going to work every day and working to improve because I still feel this is not representative of our offense," Petras said. "I'm sure that is not what people want to hear because that's what we have shown the last two weeks, but the process is kind of a long and winding road."
Several Hawkeye fans believe Offensive Coordinator Brian Ferentz is the main reason why Petras has been a liability. And it's tough to argue against that when he calls the plays and works closely with the quarterbacks. Petras is a senior and should be playing his best football, but instead he's still making fundamental mistakes.
And that's a head-scratcher, considering he plays the most trusted position on the field. Regardless of Petras' struggles, Ferentz has yet to insert backup Alex Padilla into the lineup. As of now, Iowa's offense has more questions than answers. That's not stopping Petras from grinding though, and feels the offense has nowhere to go, but up.
"I still have a lot of high hopes for our unit and for our team, so this doesn't change any of our goals," he said. "The only thing we can't be is undefeated, but the rest of our goals are still out in front of us."
Seeing is believing for fans when it comes to Petras. And after his 17th career interception, something has to give in Iowa's quarterback room. It'll be intriguing to see if the gunslinger starts against Nevada, or if some new wrinkles will be added for the offense to be more effective.
Petras knows the offense is capable of accomplishing more than averaging 158 yards per game. So everyone, from the players to the coaching staff, are going back to the drawing board and searching for answers. The team knows the fans deserve better, especially Petras. And he's confident the Hawkeyes will be fielding a more competitive group at home against the Wolfpack Saturday night.
"Sound like a broken record but the key is just improving."