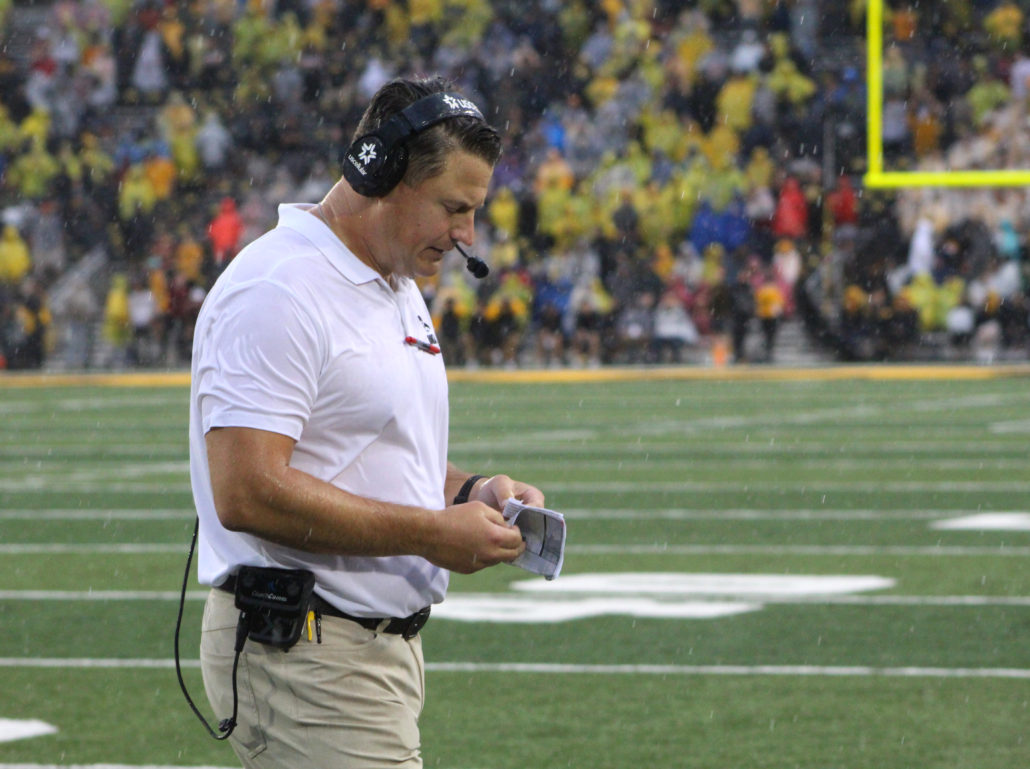 IOWA CITY, Ia. — There's no denying Iowa's 10-7 loss to Iowa State was a new low for the offense under Brian Ferentz's leadership.
The numbers don't lie. Not only were the Hawkeyes held to 150 yards of total offense, they converted just three third downs, and turned the ball over three times. It was also the first time since last year's Big Ten Championship game against Michigan that Iowa was held scoreless for the final three quarters.
The Hawkeyes' shortcomings on offense is flat-out embarrassing. So much so, that it's hard to place the blame on one individual. It's no mystery quarterback Spencer Petras struggled mightily against Iowa State. The senior only completed 12 of his 26 passes for 92 yards and an interception. Not to mention Petras has thrown five interceptions over Iowa's last three games overall.
However, Ferentz never pulled the signal-caller out of Saturday's game for backup Alex Padilla. After all, Ferentz doesn't want to destroy Petras' confidence, or point any fingers. Instead he understands improvements must be made before Iowa starts Big Ten play. And that starts with his son Brian, who calls the plays and works closely with the quarterbacks.
Iowa State (2-0) finished with 27 additional plays and had 10 more first downs than Iowa. The Hawkeyes' formula of playing great field position with tremendous punts to make offenses sustain long drives backfired. The results allowed the Cyclones to dominate in time of possession. And that's mind-boggling for a Ferentz-coached team to perform in that way.
He emphasized during his post game press conference that key players on offense are still out. Players like stud wideout Keagan Johnson,who Ferentz believes will make an immediate impact once he returns to the lineup.
"We have a lot of moving parts right now on offense, and then we're shorthanded a little bit at a couple positions," Ferentz said. "We'll keep working through it and we'll talk about it tomorrow and see what happens moving forward."
It remains to be seen if Ferentz is going to give Padilla the start in next week's clash against Nevada. Regardless, something has to be done about the Hawkeyes' play-calling. Iowa only averaged 2.9 yards per play against Iowa State and 2.7 against South Dakota State.
It has all been frustrating for Ferentz. Which is why he's anticipating an intense week of practice for the offense, with adjustments and a few wrinkles. Although the offense has looked dreadful up to this point, Ferentz isn't ready to hit the panic button, and knows patience is a virtue.
"Really we just need to find some ways to move the football and score," he said. "We're two weeks into it now, we should have a better idea of what we can do and what we can't do and where the hotspots are and try to compensate for that, and then hopefully we'll get some personnel back, too."
Life after Tyler Goodson and Tyler Linderbaum has clearly showed that the Hawkeyes are rebuilding on offense. Having no receiver to stretch the field on secondaries, and the offensive line unable to get a consistent push up front, has made the offense one-dimensional. And Iowa (1-1) will face some elite defenses down the stretch, including Ohio State, Michigan, Wisconsin and Minnesota.
Hawkeye fans will continue watching the offense with their arms crossed, hoping better days are ahead. Still, Ferentz expects his players to rally behind each other and respond to all of the adversity. It's times like these that builds the character of a team. And Ferentz is confident the offense will eventually turn the corner.
"Just got a locker room full of guys that are really invested, that play hard, that care about each other," the 66-year old coach said. "Don't have many answers right now other than we go back to work tomorrow and see what we can figure out and try to move forward."
Having no Cy-Hawk hardware in the trophy case for a year should be more than enough to warrant change.